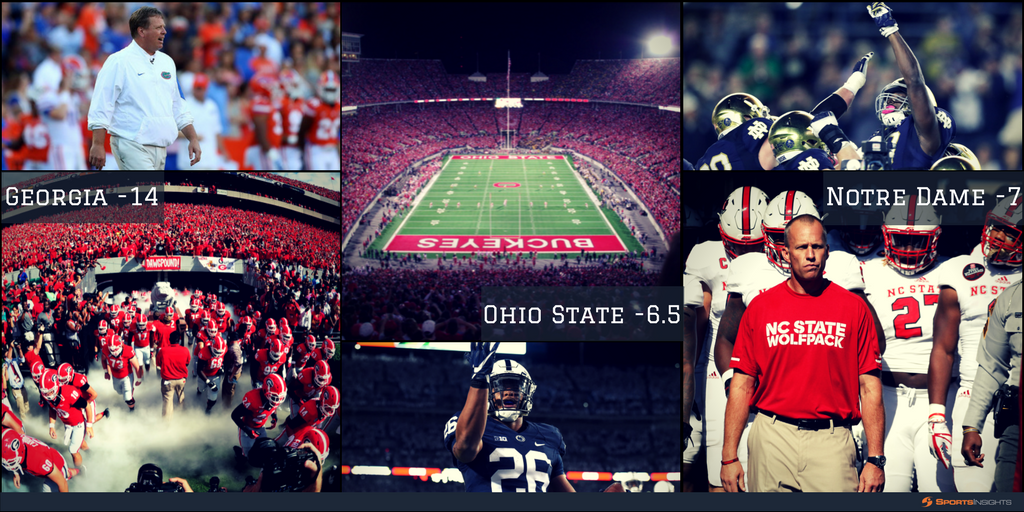 College Football Week 9 Marketwatch
We nearly got another big weeknight upset on Thursday but Oregon State fell 15-14 to Stanford as 18-point underdogs. Stanford RB Bryce Love (ankle) missed the game which affected the line about 3 points from open to close, and he entered the night with the second-best Heisman Trophy odds behind only Penn St RB Saquon Barkley.
This weekend's big matchup is Ohio State hosting Penn State, and although we've seen public action on the Nittany Lions, the sharp line moves have come in on the Buckeyes. This game is getting more than twice as many betting tickets as any other game on the slate, so the public has a massive interest.
The other marquee matchups this weekend are Notre Dame/NC State, Oklahoma State/WVU, and Georgia/Florida. All three will have a major impact on the playoff odds, where the SEC and Big-Ten currently rules. Here are the latest odds to reach the playoffs:
Best odds to make the NCAAF playoff

Alabama -800
Ohio St -140
Penn St +110
UGA +130
Wisconsin +200
Clemson +260
TCU +300
Miami FL +350

— Sports Insights (@SportsInsights) October 27, 2017
BYU is 1-7 SU and 0-8 ATS this season, longest ATS losing streak since 2009 (Kansas). They actually opened -15.5 this weekend against San Jose State, but they've dropped all the way down to -12. Despite BYU's brutal start, they're still getting nearly 60% of public bets around the market. Odd time for the public to jump on, but perhaps they feel that the ATS losing streak is bound to end at some point. We've never tracked a team to lose 10 games in a row ATS within a season.
FSU is 2-4 SU and 0-4-2 ATS, the only other NCAAF team yet to cover a game. The Seminoles have moved from -3.5 to -5.5 for Friday night's game at Boston College. It's the smallest spread for a BC/FSU game since 2009.
Central Florida is 5-0-1 ATS and Georgia Tech is 6-0 ATS, only undefeated teams ATS left in NCAAF. Central Florida is 17-0-1 on 1H/2H/Game spreads combined. This week UCF hosts Austin Peay as 45-point favorites, and Georgia Tech is +14 at Clemson.
Kentucky is favored over Tennessee for the first time in 10 years. Wildcats are currently -3.5/-4 around the market and getting the slight majority of betting tickets. Vols HC Butch Jones still looks to be gone by the end of the year, but odds on the next head coach for 2018 have barely budged since opening.
West Virginia is a very trendy underdog pick, getting nearly 70% of spread bets against Oklahoma State. Despite the huge public exposure on WVU, the line hasn't dropped below 7.
Texas A&M is another very trendy "underdog" pick this weekend, as they're just +2 but getting more than 70% of the wagers. This looks to be a great contrarian spot to bet on Mississippi State to win and cover on the road.
The biggest line moves of the weekend belong to New Mexico (+3.5 to -2) at Wyoming, and Fresno St (-18 to -21) vs. UNLV.
New Mexico has moved 5.5 points since opening despite getting just 40% of tickets, so clearly sharp money taking the Lobos on the road.
Most Lopsided Spread Tickets:
Louisiana Tech 95%
Kansas State 82%
Marshall 78%
Georgia 78%
FAU 78%
Wisconsin 78%
Most Bet Games:
Penn State/Ohio State
NC State/Notre Dame
Georgia/Florida
Extreme Totals:
Highest: SMU/Tulsa 76.5
Lowest: Northwestern/Michigan St 40.5
And finally, here's a glimpse from our Sharp Action Report showing the sharp money bets, available with the Advantage membership: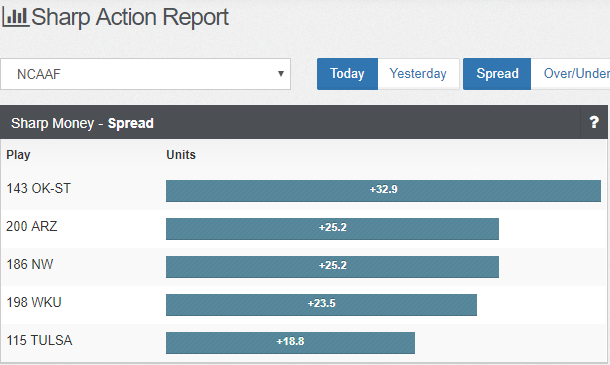 Track all the latest odds, betting percentages, sharp money and more with our brand new Advantage membership for just $39/month.
Updated National Championship Odds