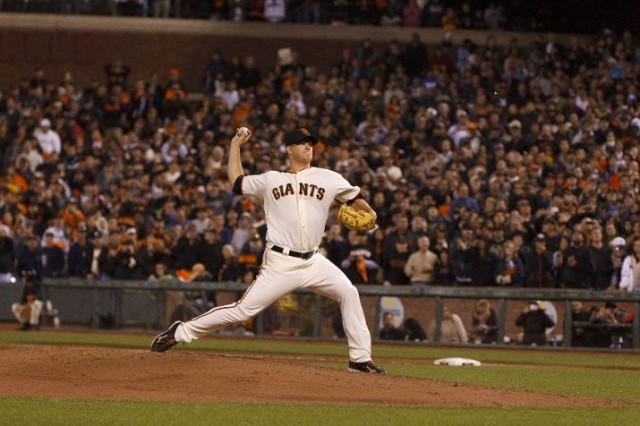 Cain is Willing, But is he Able? Examining Value Following a No-Hitter
Last Wednesday, Giants' pitcher Matt Cain tossed arguably the greatest game in the long and storied history of Major League Baseball. In an era dominated by hitters, the 27-year old right hander threw just the 22nd perfect game in league history, complete with 14 strikeouts, in a 10-0 victory over the Houston Astros. Tonight, Cain (8-2, 2.18 ERA) will take the mound for the first time since this dazzling display with many wondering how he will follow up his momentous feat.
The Giants opened as -116 favorites against the Los Angeles Angels and the betting percentages have been fairly equal with San Fran receiving just 55% of moneyline wagers. Despite this even split, the line has dropped significantly, making Cain a +101 underdog in L.A this evening. But why would such a dominant pitcher be an underdog after a career game? The table below — with line data taken from Pinnacle — displays all four of this season's no-hitters (the Mariners combined no-no excluded) and examines how each of the starters faired in their next outing.
Pitcher

Opening/Closing Line

Betting %

Total

Result

Stat Line

Phil Humber*
-130/-101
42%
8
10-3 L
5 IP, 9
ER
Jered Weaver
-180/-167
83%
7.5
8-3 W
6 IP, 1ER
Johan Santana
+113/+141
49%
9
9-1 L
5 IP, 6
ER
Matt Cain*
-116/+101
55%
7
?
?
* Denotes perfect game
There are a few interesting observations that can be made based on this information; the first of which concerns the unusual line movement in each of these games. The line dropped at least 13 points in each of these games, even when the public betting percentages were split on both sides. This tells us that oddsmakers anticipate the public will overvalue a pitcher based on their last impressive outing and shade their lines accordingly. For bettors looking to fade a pitcher following a no-no, the best time to place a bet is immediately after the line is posted. For those who want to ride a hot arm, it would seem the best time to place a bet is right before first pitch.
Another potentially profitable trend deals with the total. Common logic tells us that if a pitcher is hitting on all cylinders we should take the under, but the overs are actually 19-11-1 in the next start after a pitcher throws a no-hitter including all three this season.