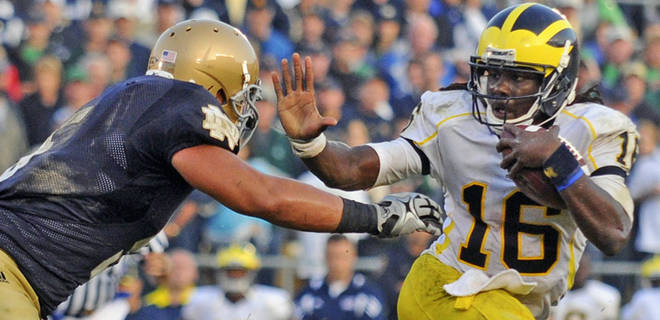 Breaking Down the Heisman Race
Believe it or not, the football season begins in just three days with five straight days of college ball. We've already addressed the discrepancies between the AP voters and oddsmakers, but who do the sportsbooks like to win the Heisman? Like every publication and media outlet, Matt Barkley is a heavy favorite — and for good reason.
The senior quarterback has been the starter since he stepped onto campus as a freshman, so there is no shortage of experience. In fact, the 6'2″ signal caller would have been a likely top 5 pick in the NFL draft last season after passing for over 3,500 yards with a staggering 39:7 touchdown to interception ratio. Instead, he opted to return to school where he is surrounded by weapons. The team returns a pair of dynamic receivers in sophomore Marqise Lee (73 catches, 1143 yards and 11 TD's last season) and Robert Woods (a ridiculous 111 receptions for 1292 yards and 15 scores).
Add in Penn State defector Silas Redd (over 1200 yards rushing in 2011) and this offense is loaded. What's more, 10 of 11 Heisman winners since 2000 have been quarterbacks. With history on his side Barkley is a strong Heisman candidate, but in a game where one week can change your season's fortune, there is no such thing as a sure thing.
The table below, with data taken from Bovada's players prop page, shows the top 25 competitors for this illustrious award.
| | | |
| --- | --- | --- |
| Player | Team | Odds |
| Matt Barkley | USC | 3/1 (+300) |
| Montee Ball | Wisconsin | 6/1 (+600) |
| Denard Robinson | Michigan | 15/2 (+750) |
| Geno Smith | West Virginia | 8/1 (+800) |
| Landry Jones | Oklahoma | 8/1 (+800) |
| Aaron Murray | Georgia | 15/1 (+1500) |
| Marcus Lattimore | South Carolina | 18/1 (+1800) |
| De'Anthony Thomas | Oregon | 20/1 (+2000) |
| A.J. McCarron | Alabama | 22/1 (+2200) |
| E.J. Manuel | Florida State | 30/1 (+3000) |
| Tyler Wilson | Arkansas | 33/1 (+3300) |
| Rex Burkhead | Nebraska | 35/1 (+3500) |
| Sammy Watkins | Clemson | 40/1 (+4000) |
| Keith Price | Washington | 45/1 (+4500) |
| Tajh Boyd | Clemson | 45/1 (+4500) |
| Knile Davis | Arkansas | 50/1 (+5000) |
| Robert Woods | USC | 55/1 (+5500) |
| Braxton Miller | Ohio State | 65/1 (+6500) |
| Joseph Randle | Oklahoma State | 65/1 (+6500) |
| Marqise Lee | USC | 70/1 (+7000) |
| Marquess Wilson | Washington State | 70/1 (+7000) |
| Collin Klein | Kansas State | 75/1 (+7500) |
| Logan Thomas | Virginia Tech | 75/1 (+7500) |
| Taylor Martinez | Nebraska | 80/1 (+8000) |
| Eddie Lacy | Alabama | 85/1 (+8500) |
A few trends become apparent while looking at this table as 15 of the 25 players listed are quarterbacks including five of the top six. It's also interesting to note that the first wide receiver listed — Clemson's Sammy Watkins at number 13 overall — has been suspended for the first two games of the season after an offseason drug arrest. Although the 6'1″ receiver is a phenomenal talent who led all freshmen in all-purpose yards (2,288) and touchdowns (13), it is tough to imagine him competing for the Heisman after missing one-sixth of the season.
Also interesting is that while Watkins is listed at 40/1 to take home this storied trophy, his quarterback (who will not be missing any game time) is currently listed at 45/1. Last season in his first year as the starter, Boyd threw for nearly 4,000 yards while compiling 33 touchdowns versus 12 interceptions. Down the stretch Boyd had more turnovers that a pastry shop (nine picks in the team's final six games), but with a potentially weak ACC, Boyd would appear to be a far safer bet than his athletic teammate.
If you are looking for an all-purpose performer like Watkins who can create big plays in the run, pass and return game, look no further than Oregon's De'Anthony Thomas. At only 5'9″ this little man entered the college football landscape in a big way last season. Despite the presence of LaMichael James and Kenjon Barner in the backfield, Thomas managed to rush for 595 yards on a video game-esque 10.8 yards per carry. Add in his 605 receiving yards and 983 return yards and you have a home run threat on par with any of the juiced-up MLB sluggers from the early 90's. If Oregon can take down USC in their November 3rd matchup (USC is currently a 3.5-point favorite in that game), the Ducks could run the table and Thomas could join Tim Tebow, Sam Bradford and Mark Ingram as the only sophomores to win the Heisman.
Searching for a deeper sleeper? Then take a look at Alabama's Eddie Lacy. Last season as the primary backup to Trent Richardson, Lacy totaled 674 yards and seven touchdowns on just 95 carries (7.1 yards per carry). Also, consider this: In 2011 as the primary backup to Mark Ingram, Richardson rushed for 700 yards and six scores on just 112 carries — numbers eerily similar to Lacy. The following season when Richardson took over the starting job, he rushed for nearly 1,700 yards and 21 touchdowns which helped catapult the burly back to a third place finish in the Heisman voting. With Alabama owning the second best odds to win the National title, and an offensive line capable of bulldozing the competition, Lacy seems like an excellent value at 85/1.
Still, the college landscape has changed over the years and it is now more of a rarity that a running back wins the Heisman. The prevailing offensive philosophy used to be run heavy, but with high scoring spread offenses and run and gun passing attacks the game is now being dominated by quarterbacks. With that in mind there is a pair of SEC gunslingers with intriguing upside this season — Georgia's Aaron Murray and Arkansas' Tyler Wilson.
In his junior season Wilson was a model of efficiency, racking up over 3,600 passing yards and 24 touchdowns while keeping turnovers to a minimum with just six interceptions. In an October matchup with Texas A&M, Wilson truly showed his star power throwing for over 500 yards and three scores in a 42-38 victory. Although he lost his top two receivers in Jarius Wright and Joe Adams, the Razorbacks will return a pair of highly capable targets in Cobi Hamilton and tight end Chris Gragg. Considering the team gets to host both LSU and Alabama, Wilson seems like a decent value at 33/1.
While Wilson does have some upside, the truly interesting player is Georgia's Aaron Murray at 15/1. As a freshman in 2010, the 6'1″ signal caller completed 61% of his passes en route to a 3,000 yard, 24 touchdown, 8 interception season. Although he did not take the leap many had anticipated, Murray was nonetheless impressive in 2011. The Tampa product saw a rise in both his touchdowns (35) and interceptions (14) although his yardage stagnated. Still, with three of his top four receivers returning to campus and easily the most favorable schedule in the conference (the Bulldogs don't have a scheduled matchup with either Alabama or LSU) the red carpet seems to have been rolled out for Georgia.
If you are looking for a more lucrative quarterback to invest in, perhaps Virginia Tech's Logan Thomas would be more intriguing. At 6'6 260-pounds, the converted tight end is still unpolished as a passer, but clearly scouts like what they have seen. Thomas is already being rumored as a first round selection in the 2013 NFL draft and is the number 11 prospect in the country according to Scouts Inc.
Last season in his first year as a starter, Thomas struggled early in the season but seemed to improve with every game. By season's end the massive quarterback accumulated over 3,000 passing yards while emerging as one of the best goal line weapons in college football.
Despite Thomas' size, he is exceptionally mobile and managed nearly 500 rushing yards and 11 touchdowns. With David Wilson now playing on Sunday's, Thomas promises to be an even larger part of the offense. Virginia Tech is constantly atop the ACC standings having made the conference championship game four of the past five seasons. Given the weak competition, the Hokies season could come down to an October 20th game in Clemson and a November 8th matchup against Florida State. If VT can win those games and Thomas continues to improve, he could greatly reward bettors who are willing to take those long 75/1 odds.
Who do you think has value in the Heisman race? Are there any surprising omissions? Can anybody knock off Barkley or is it his to lose? Please leave your thoughts and questions in the comment section below.