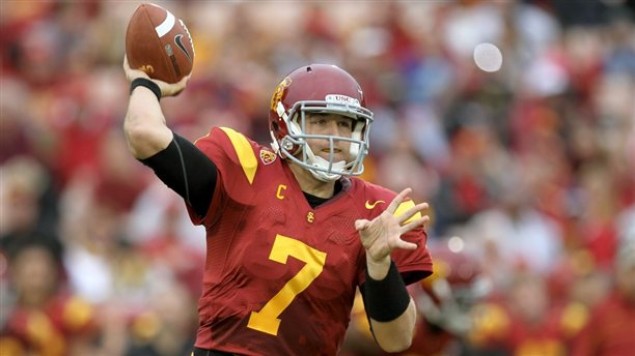 Who are the Most Overrated and Underrated Teams in the AP Top 25?
The Associated Press recently released their pre-season top 25 for the upcoming College Football campaign and to nobody's surprise, the University of Southern California sits atop the rankings. With Heisman front-runner Matt Barkley leading the charge, the Trojans were able to edge out SEC powerhouses Alabama and LSU — although the USA Today Poll has those two southern schools ranked higher. But how accurate are these AP writers? Last season Oklahoma entered the season as the clear-cut favorite, yet finished just 10-3 and settled for playing in the Insight Bowl. In 2011, eventual National Champion Auburn barely cracked the top 25 — coming in at number 22.
In fact, a strong argument can be made that these College Football rankings are one of the least telling barometers in sports. No analyst can possibly watch every team in the nation play, meaning that often time a team's ranking is based on little more than reputation. These same AP writers also seem to follow a very simple formula: if you lose you get dropped, if you win you climb up, regardless of mitigating circumstances. A one-point road loss to a top ten team should indicate that a team has the talent to compete with the nation's elite — even
in a hostile environment. On the flip side, a lopsided victory over a non-BCS school tells us absolutely nothing about that team. So if these supposed experts from the Associated Press aren't the most reliable source, who is? That honor should be awarded to the bookmakers.
Oddsmakers quite literally put their money where their mouth is, and any error in handicapping a game can be exploited by sharp bettors for significant losses. These are the individuals who know the quality of a team regardless of win-loss record. So who do they like this season? The table below compares the futures market from Sportsbook.com with the AP top 25.
| | | |
| --- | --- | --- |
| Rank | AP Poll | Oddsmakers' Selection |
| 1 | USC | USC (+300) |
| 2 | Alabama | Alabama (+500) |
| 3 | LSU | LSU (+600) |
| 4 | Oklahoma | Oregon (+800) |
| 5 | Oregon | Oklahoma (+800) |
| 6 | Georgia | Florida State (+800) |
| 7 | Florida State | Texas (+1500) |
| 8 | Michigan | Georgia (+1500) |
| 9 | South Carolina | Florida (+3500) |
| 10 | Arkansas | Arkansas (+3500) |
| 11 | West Virginia | Wisconsin (+4000) |
| 12 | Wisconsin | Notre Dame (+4000) |
| 13 | Michigan State | Virginia Tech (+4000) |
| 14 | Clemson | Michigan (+5000) |
| 15 | Texas | Nebraska (+5000) |
| 16 | Virginia Tech | Oklahoma State (+5000) |
| 17 | Nebraska | South Carolina (+5000) |
| 18 | Ohio State | Stanford (+6000) |
| 19 | Oklahoma State | Michigan State (+6000) |
| 20 | TCU | West Virginia (+6000) |
| 21 | Stanford | Clemson (+6000) |
| 22 | Kansas State | Boise State (+7500) |
| 23 | Florida | Auburn (+10000) |
| 24 | Boise State | TCU (+10000) |
| 25 | Louisville | Utah (+10000) |
The first team that jumps off the page is Notre Dame, who do not appear in the AP rankings, yet have the 12th best odds at Sportsbook.com at 40/1. This may excite many ND backers, however, there are two potential explanations for this variance. The first is that oddsmakers simply believe that Notre Dame is a better team than the Associated Press is giving them credit for. With QB Tommy Rees (2,871 yards and 20 touchdowns as a sophomore) and RB Cierre Wood (1,102 rushing yards and 9 scores) both returning, Notre Dame's offense looks capable of competing at the highest level.
On the flip side, this is a team that finished just 8-5 last season and will play five teams that are currently ranked inside the top 25 (MSU, Michigan, Stanford, Oklahoma and USC). That said, Notre Dame is a very public team which means no matter what their futures price, there are many bettors who will still take the Irish. This means that the price on ND could just as easily be an indicator of their popularity as it could be an indicator of their potential.
Looking for two underrated teams? How about perennial powerhouses Florida and Texas. Last season the Longhorns went just 8-5 including a 55-17 humiliation against the rival Sooners. That poor performance has Texas ranked just 15th in the AP poll, but oddsmakers disagree. At Sportsbook.com, Texas has the seventh highest title odds at 15/1. The Gators have a similar story as they struggled with a 7-6 record (including a 3-5 mark in the SEC) but could be set for a bounce back year. Florida returns 17 starters including 10 on the defensive side of the ball. Perhaps more importantly, they do not have Alabama on the schedule and play LSU at home. The Gators have the 9th best title odds (35/1), yet rank just 22nd in the AP poll.
If Florida and Texas are underrated by the Associated Press, the big question becomes which teams are the most overrated? There are a few interesting cases but perhaps the most fascinating is that of West Virginia. The Mountaineers will enter their first year in the Big 12 conference having previously dominated the weaker Big East. Last season the Mountaineers offense ranked sixth in the nation in passing yards (346.9/game) and 13th in points (37.6/game). This potent attack was led by returning quarterback Geno Smith, who is considered one of the early Heisman frontrunners. With two 1,000 yard receivers returning (Stedman Bailey and Tavon Austin), West Virginia should continue to post big numbers, but will their conference change bring them back to reality? Sportsbook.com has WVU at +6000 which gives them the 20th highest odds, which is a good deal lower than their #11 pre-season AP ranking. Last season the Big East had just one other team inside the final top 25 rankings (Cincinnati), while the Mountaineers will take on five ranked teams (Texas, K-State, TCU, Oklahoma St and Oklahoma) in 2012. This tougher schedule could explain the gap in rankings.
Who do you think is overrated? Who is underrated? Are there any futures you plan on taking? Start the discussion in the comments section below.