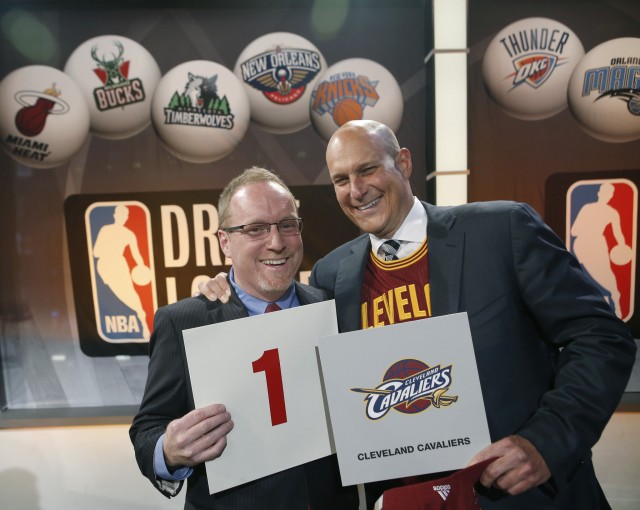 What Bettors Should Know for Wednesday, May 21
1. NBA
– Last night the Miami Heat defeated the Indiana Pacers 87-83 to even the series at 1-1. No sportsbook has posted Game 3 odds yet, but make sure to view our free NBA Betting Trends page for the latest odds and public betting data.
– The NBA Draft Lottery was held last night, and a familiar face wound up with the first pick:
For the 3rd time in 4 years, the #Cavs have won the #NBADraftLottery. At Sportsbook, Cleveland was +5000 to win the #1 overall pick.

— SportsInsights.com (@SportsInsights) May 21, 2014
2. MLB
– Since 2005, simply betting $100 on the under in every game that Bill Miller has umpired would have resulted in a $4,138 profit. Find out which umpires have been the most profitable when betting the under.
– Yesterday we posted the 2014 MLB Divisional Odds from BetOnline. Click here to view them.
– Key injuries for today's games include:
Reds 1B Joey Votto, Quad, Doubtful
Royals C Salvador Perez, Thumb, Doubtful
Rangers 1B Prince Fielder, Neck, Doubtful
Giants C Buster Posey, Back, Doubtful
Angels OF Mike Trout, Hamstring, Probable
Diamondbacks 2B Aaron Hill, Shoulder, Questionable
Athletics OF Coco Crisp, Neck, Doubtful
– For the latest injury and lineup information, make sure to check out our MLB injury page. 
– One of this off-seasons top free agents has finally found a home:
According to @Ken_Rosenthal the Boston Red Sox have re-signed SS Stephen Drew.

— SportsInsights.com (@SportsInsights) May 20, 2014
3. NHL
– Public betting is extremely split in tonight's Kings/Blackhawks game with 51% of moneyline bettors taking Chicago (-150 at the time of publication).
Updated NHL Series Prices (via CRIS): #Blackhawks -285 vs. #Kings +235 #Rangers -900 vs. #Canadiens +620 — SportsInsights.com (@SportsInsights) May 20, 2014
4. NFL
– Using point spreads from CG Technologies (formerly known as Cantor Gaming) and win totals from the LVH, we have projected the 2014 win totals for all 32 NFL teams.
5. Soccer
– The World Cup is less than a month away and we have updated World Cup odds and betting percentages from multiple offshore sportsbooks.
If you have any questions or would like assistance with your account, please contact our customer service department at 877-838-2853 or utilize our live chat to speak directly with a representative.
[adrotate group="4″]