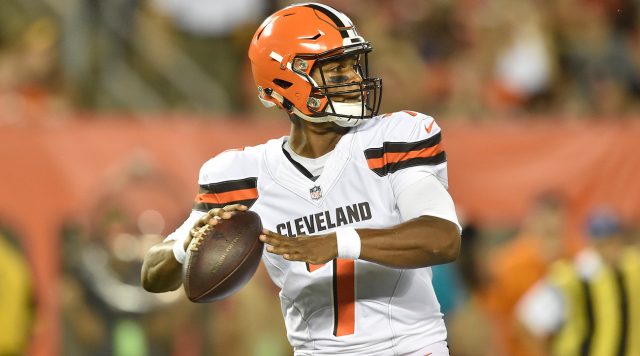 Betting on Last Season's Underachievers a Strong September Strategy
Last year, we knew heading into the season that the Browns, 49ers, and Rams weren't exactly Super Bowl contenders. What we didn't know is just how bad they would be. Their preseason win totals were a combined 17.5…they ended up winning just seven. In fact, they finished just 12-34 against the spread and 10-32 ATS if you exclude the two games in which the 49ers and Rams played each other.
You know you're bad when sportsbooks can't even keep up with your proclivity to suck. None of these teams have gotten considerably better this offseason. At BetOnline, the Browns win total is 4.5, the 49ers are at 5, and the Rams are at a lofty 5.5.
Guess what, though? Historically, teams like this have been great to bet on at the start of the season.

Teams that had a 30% ATS record or worse have gone 33-16 ATS the following September, but this isn't super surprising. Due to their horrible performance the year before, books and bettors undervalue them in the early weeks of the following season.
Right now, the 49ers (+6) are getting 13% of spread bets at home against the Panthers. At the moment, San Francisco doesn't even have a starting quarterback named.
The Browns (+9) are getting 37% at home against the Steelers. They just named rookie QB DeShone Kizer their starter, which hasn't moved the spread at all. Kind of sad for Brock Osweiler, no?
The Rams, on the other hand, have a unique situation. Some sportsbooks still have their game against the Colts on the board despite Andrew Luck's status becoming more and more doubtful for week 1. Most sharp books took it off the board with the Rams +3, though. Considering Luck's value of 5-6 points and Scott Tolzien being one of the five worst backup quarterbacks in the league, 68% of bettors have taken the Rams so far. If Luck is ruled out, you can imagine the game would re-open with the Rams around -3.
For many of these games, it will take some balls to bet on these teams given their reputation, but sometimes you have to avoid the urge to bet with your gut.
Bookmark our free odds page to keep track of the week one lines and percentages. Get the Rams now if you can!