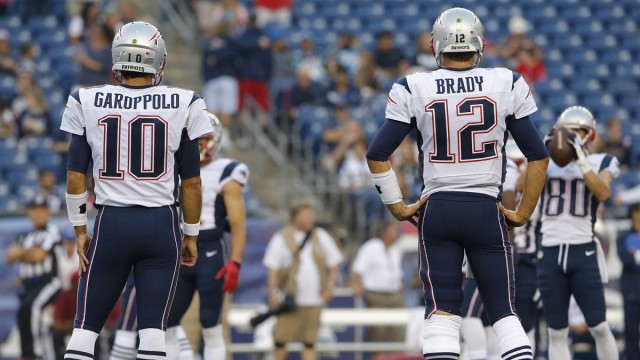 Betting Impact of Tom Brady's 4-Game Suspension
On Monday May 12th, the NFL announced the punishment for Tom Brady and the New England Patriots following the findings of the Wells Report. For their roles in deflating footballs in the AFC Championship game, Brady was suspended four games without pay while the team was fined $1 million and forced to forfeit a 1st round pick in the 2016 draft and a 4th round pick in the 2017 draft.
Last week we discussed the potential impact that various suspensions could have, and speculated that the Patriots' win total would decrease by 0.728 games if Brady were to be suspended for four games. Although these punishments are expected to be appealed, these projections appear to be quite accurate.
[ Save 40% off our Pro subscription by purchasing the Early Bird Special ]
Following the announcement of Brady's suspension, the Westgate sportsbook dropped the Patriots win total from 10.5 (over -130) to 10 (under -150). They also dropped the spread and total for the Pats' week 1 matchup with the Steelers. With second-year quarterback Jimmy Garoppolo expected to start, the Patriots moved from -6 to -1 while the total dropped from 53.5 to 49.
Now assuming that Brady is worth five-points to the spread, other potential spread changes include:
New England Patriots (from -1 to +4) at Buffalo Bills
Jacksonville Jaguars at New England Patriots (from -11.5 to -6.5)
New England Patriots (from pick 'em to +5) at Dallas Cowboys
It's also interesting to note that there were a number of prop bets at Bovada related to "Ballghazi" punishment. The popular offshore sportsbook listed Brady at -1000 to be suspended for at least one game, +1000 to be suspended for the entire season and set the over/under on his suspension at 3.5. Obviously the over on that suspension should pay out, but many analysts believe the team will be able to have this punishment reduced.
Even if the suspension is reduced, it seems quite clear that Brady will be forced to miss a handful of games, so what should bettors know about Jimmy Garoppolo? A second-year quarterback from Eastern Illinois, Garoppolo has completed 19 of 27 career passes for 182 yards and one touchdown.
In college, Garoppolo accumulated 13,156 passing yards and 118 passing touchdowns — both of which broke Tony Romo's school records. For what it's worth, Eastern Illinois ran an up-tempo, no-huddle offense which should help Garoppolo smoothly transition into the Patriots offense.
Finally, bettors should be aware of the limited impact that Brady's suspension has had on the futures market. The Patriots odds of winning the AFC East were barely impacted, moving from -225 to -220. Sportsbook.com opened the Patriots odds of winning Super Bowl 50 at +800, dropped down to +700, and jumped back to +800 following the announcement of Brady's suspension.
Of course, the Patriots aren't the only team affected by the fallout from Deflategate. The Broncos Super Bowl futures droppedd from +1400 to +1200 at Sportsbook.com, and the idea that Denver benefits from Brady's suspension seems to be shared by bettors in Las Vegas.
In an article posted on ESPN.com, David Payne Purdum writes that, "The Denver Broncos' Super Bowl odds saw the biggest improvement with the Brady news. William Hill took a bet last week on the Broncos to win the Super Bowl at 12-1 that Bogdanovich said would pay six figures. The Broncos are now 8-1 to win the Super Bowl at William Hill."
Assuming that the Patriots are unable to overturn or reduce this suspension, Brady would return to the scene of the crime for New England's Week 6 matchup with the Indianapolis Colts. The Pats are expected to be 1-point underdogs in this game, but bettors can view the latest odds and public betting trends by visiting our free NFL odds page.
Have any questions for the staff at Sports Insights? Utilize our live chat to speak with a customer service representative or e-mail us at help@sportsinsights.com.
David Solar is the Content Manager for Sports Insights and can be reached directly at David@sportsinsights.com.
Join us live Sundays at noon ET
We're now holding our members-only live Sports Betting Hangouts Sunday mornings to prepare you for a full day of NFL games. Members, simply log into your account Sunday morning to access the hangout.
Not a member? Start a trial today to join our Sports Betting Hangouts held six days a week, plus all the other Sportsbook Insider Pro benefits.