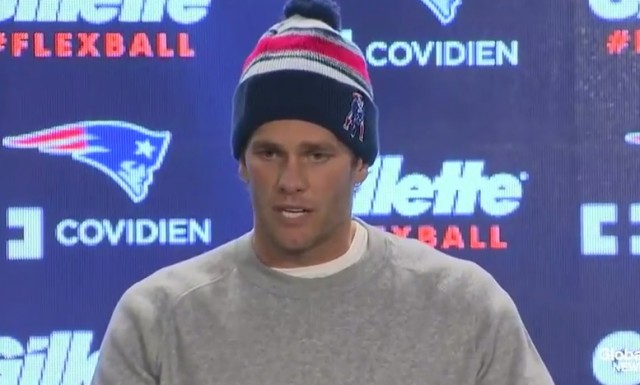 Win Total Impact of Potential Tom Brady Suspension
On Wednesday, May 6th, after months of anticipation, the Wells report was finally released. In the 243-page report Ted Wells wrote  that, "It is more probable than not that New England Patriots personnel participated in violations of the Playing Rules and were involved in a deliberate effort to circumvent the rules."
The report included the assessment that Tom Brady was more than likely, "at least generally aware" that locker room attendant Jim McNally and equipment assistant John Jastremski were deflating Patriot game balls beyond the legal limit.
[ Save 40% off our Pro subscription by purchasing the Early Bird Special ]
This news immediately caused an explosion of hot takes around the twitter sphere with some fans calling for a year-long suspension and others maintaining that Brady had done nothing wrong. In the sports betting world, it caused many sportsbooks to take the Patriots week 1 game off the board, while others merely adjusted the Patriots line from -6.5 to -3.5.
It was also interesting to hear the potential impact on the Pittsburgh/New England spread if Brady was actually suspended:
According to @golfodds at the @LVSuperBook, Steelers-Patriots line would be about a pick'em if Tom Brady was suspended. #DeflateGate

— Jason Logan (@CoversJLo) May 6, 2015
Considering that New England was a 6-point favorite at the Westgate sportsbook before this news broke, was can safely assume that Tom Brady is worth 6-points to the spread. Using this information, we re-visited the lines for every single Patriots game this season to determine what the potential line would be.
Note: The original line is listed first. The new potential line is listed second.
Pittsburgh Steelers at New England Patriots (-6.5 | PK )
New England Patriots (-1 | +5) at Buffalo Bills
Jacksonville Jaguars at New England Patriots (-11.5 | -5.5)
New England Patriots (PK | +6) at Dallas Cowboys
New England Patriots (+1 | +7) at Indianapolis Colts
New York Jets at New England Patriots (-8.5 | -2.5)
Miami Dolphins at New England Patriots (-5.5 | PK)
Washington Redskins at New England Patriots (-8.5 | -2.5)
New England Patriots (-1.5 | +4.5) at New York Giants
Buffalo Bills at New England Patriots (-5.5 | PK)
New England Patriots (+2.5 | +8.5) at Denver Broncos
Philadelphia Eagles at New England Patriots (-4 | +2)
New England Patriots (-1.5 | +4.5) at Houston Texans
Tennessee Titans at New England Patriots (-10.5 | -4.5)
New England Patriots (-4.5 | +1.5) at New York Jets
New England (PK | +6) at Miami Dolphins
Obviously it seems highly unlikely that Brady would be suspended for the entire season. In fact, it's entirely possible that Brady isn't suspended for a single game — especially when you consider that the Pittsburgh/New England matchup is the opening game of the NFL season. The league may want to compensate for their recent history of underwhelming discipline with players like Ray Rice, but they also won't want to see low ratings on opening night.
Most sportsbooks have taken the Patriots futures and win totals off the board, but we wanted to know what type of impact a potential Tom Brady suspension would have on New England's win total.
While discussing which teams were offering value, we concluded that the Patriots should be projected to win 9.969 games this season. This number fell below their Westgate win total of 10.5; however, we felt that there were better values available to bettors.
By converting these updated Brady-less point spreads into a winning percentage for every game on the schedule, we were able to determine what the Patriots win total valuation based on any potential suspension.
| Suspension Duration | Win Total Valuation |
| --- | --- |
| 1 Game | 9.767 |
| 2 Games | 9.575 |
| 3 Games | 9.429 |
| 4 Games | 9.241 |
| 5 Games | 9.058 |
| 6 Games | 8.886 |
| 7 Games | 8.712 |
| 8 Games | 8.540 |
| 9 Games | 8.346 |
| 10 Games | 8.172 |
| 11 Games | 8.000 |
| 12 Games | 7.805 |
| 13 Games | 7.611 |
| 14 Games | 7.455 |
| 15 Games | 7.261 |
| 16 Games | 7.059 |
Based on this analysis, we can determine that the drop off from Tom Brady to Jimmy Garoppolo is worth almost three wins (2.910) over the course of the season.
It's still entirely possible that Tom Brady avoids suspension, but it would appear that some form of punishment is imminent. Perhaps the league will simply issue fines and dock draft picks, but if there's one thing we can say about Roger Goodell, it's that he is unpredictable.
On Friday morning, Bovada posted odds regarding the likelihood of a Tom Brady suspension:
Of course Bovada has posted Tom Brady suspension prop bets:

At least 1 game: -1000/+500
All season: +1000/-2000
O/U games: 3.5

— Sports Insights (@SportsInsights) May 8, 2015
Although Brady opened as a -1000 favorite to be suspended for at least one game, those odds dropped to -400 within a couple of hours.
Bettors can track Week 1 odds and betting trends on our free NFL odds page or view the movement on the futures market.
Have any questions for the staff at Sports Insights? Utilize our live chat to speak with a customer service representative or e-mail us at help@sportsinsights.com.
David Solar is the Content Manager for Sports Insights and can be reached directly at David@sportsinsights.com.