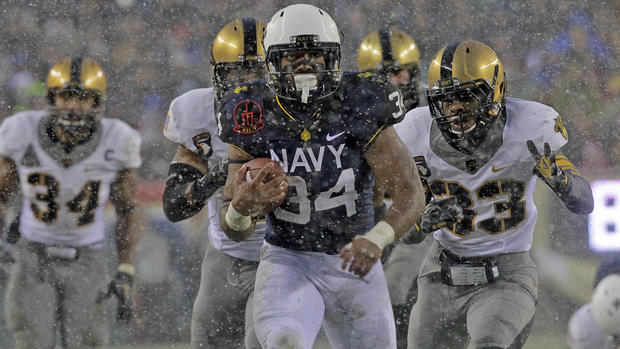 Army-Navy Betting Breakdown
The Army-Navy rivalry had been lopsided from 2002-2015 with Navy winning 14 straight games, but that seems to be changing. Army broke the streak last season in a 21-17 victory and we've seen some sharp money on the Black Knights this year, moving the line from +3.5 to +3. Here's a look at the line history at BetOnline since opening: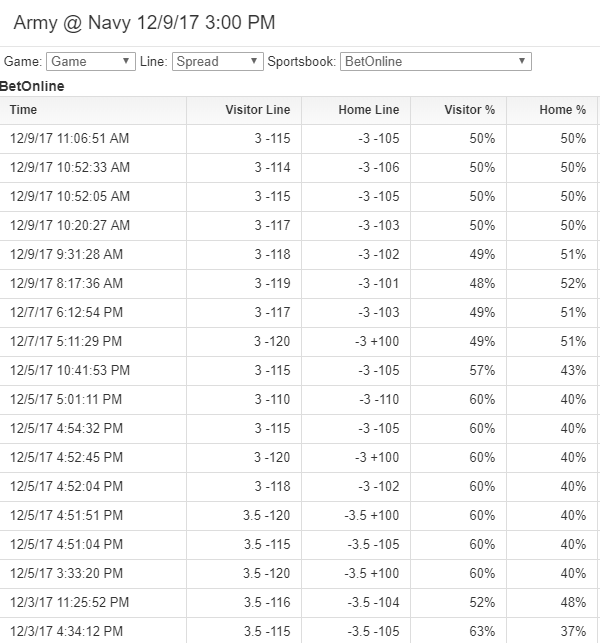 Spread tickets and moneyline tickets have been very even throughout the week, but considerably more money has been bet on the Army spread (68%) and the Army moneyline (69%). There will be plenty more action in the hours leading up to the game, and you'll want to keep a close eye on the line moving off the key number of 3.
We've also touched on the O/U movement a number of times, and sharp bettors are always quick to pound the Under when service academies play each other. In this matchup alone, the Under has 11-1 in the last twelve meetings and the total has moved nearly ten full points since opening at BetOnline. Not to mention, Unders have gone 29-8-1 when service academies meet since 2003. Here's a look at how betting on the total has looked throughout the week:

Much of the movement was on Sunday night/Monday morning, but we've still seen the line tick down a couple more points throughout the week. Snowy conditions are expected and public bettors have tailed sharp bettors on the Under to the tune of 74% of dollars wagered.

Were you able to grab the Under early in the week before the huge line movement? Now that the line is as low as 44 around the market, we could see some buyback on the Over.