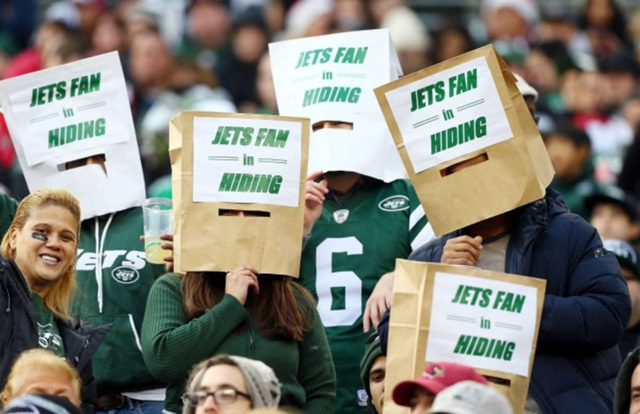 Are the 2017 New York Jets Worse Than an Expansion Team?
Breaking news: expectations for the 2017 New York Jets are not high.
No kidding, but just how bad are they expected to be? According to oddsmakers, the Jets' preseason expectations are about the equivalent of, or perhaps worse than, those of an expansion team.
Fireman Ed, if you haven't already, you might want to stop reading here.
Using historical odds data from SportsOddsHistory.com, we're able to compare the preseason perception of this year's Jets to that of the Houston Texans in their 2002 inaugural season. Need a refresher on who played for that star-studded Texans team? Here's a look at their starting roster:
| Offense | Defense |
| --- | --- |
| QB David Carr | DE Jerry DeLoach |
| HB Jonathan Wells | NT Seth Payne |
| FB Jarrod Baxter | DE Gary Walker |
| WR Corey Bradford | LOLB Kailee Wong |
| WR Jabar Gaffney | MLB Jamie Sharper |
| TE Billy Miller | MLB Jay Foreman |
| LT Chester Pitts | ROLB Jeff Posey |
| LG DeMingo Graham | CB Aaron Glenn |
| C Steve McKinney | CB Marcus Coleman |
| RG Fred Weary | SS Eric Brown |
| RT Ryan Young | FS Matt Stevens |
Led by first overall pick David Carr, the 2002 Texans entered their first-ever season with the worst odds to win the Super Bowl, AFC Championship, and division title, not to mention having the lowest projected win total in the NFL. Entering their 58th NFL season, the 2017 Jets (led by Josh McCown, probably?) have odds that are nearly identical to–and in some cases worse than–that Texans team.
2017 Jets
(7/31 Westgate)
2002 Texans
(via SportsOddsHistory)
Super Bowl
+20000
+20000
Conference
+10000
+10000
Division
+10000
+1500
O/U Win Total
4.5 wins (u-170)
4 wins
Both teams have the same Super Bowl and AFC Championship odds at +20000 and +10000, respectively. Their win totals, although separated by a half-win, can also be essentially viewed as the same, given that the under on the Jets total is now at -170, implying a 4-win season. If the line movement continues to favor the under, it would certainly come as no surprise to see the Jets' win total fall to 4.
The most striking takeaway, however, is the difference in divisional odds. At +1500, the Texans were still given a slim chance to shock the league and take the AFC South title in their opening season. The Jets, on the other hand, are at an incredible +10000 to win the AFC East this year, giving them by far the worst preseason divisional odds since 2001 (and likely well beyond that if the numbers were available). To put that in perspective, the worst divisional odds previously belonged to the 2015 Redskins at +3500.
Another eye-catcher is that this year's Jets are given the same chance to win the AFC East as they are to win the AFC Championship. Though this may say more about the Patriots' ridiculous preseason divisional odds, it reinforces just how bad the Jets' divisional odds are.
Although it's not listed in the table above (because the prop history was not tracked until 2009), the Jets also have the worst chance of making the playoffs this season at +2000, making them the least likely team to make the postseason since at least 2009. And for those expecting the second ever 0-16 season, 5Dimes has you covered, with the Jets as the most likely team to have a winless 2017 at +3000.
Join us live Sundays at noon ET
We're now holding our members-only live Sports Betting Hangouts Sunday mornings to prepare you for a full day of NFL games. Members, simply log into your account Sunday morning to access the hangout.
Not a member? Start a trial today to join our Sports Betting Hangouts held six days a week, plus all the other Sportsbook Insider Pro benefits.