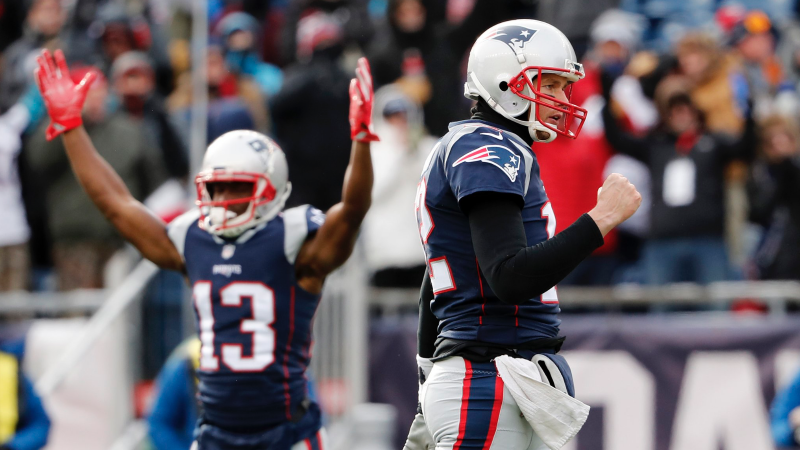 2018 NFL Playoff Odds, Schedule and Spreads
With the NFL playoff picture now set, we've compiled everything you need to know to watch, analyze and pinpoint valuable betting opportunities for each matchup.
All odds as of Jan. 11. For updated lines and percentages, check out our free NFL Live Odds page.
---
Divisional Round
Atlanta Falcons (-3) at Philadelphia Eagles | O/U: 41
Saturday, Jan. 13 | 4:35 PM | NBC
NFL Analyst Stuckey says: Cold temperatures will not be an issue in this game. The forecast calls for 58-degree temps at kickoff. That's important with the Falcons leaving the comforts of their dome. The Eagles were an elite third-down and red zone team with Carson Wentz at QB, but that hasn't been the case with Nick Files under center. But Philly should be able to run the ball against Atlanta. This is likely a stay away for me, as I'm not sure the Falcons deserve to be a 3-point road fave, but the Eagles just have no momentum after the Wentz injury.  
Tennessee Titans at New England Patriots (-13) | O/U: 47.5
Saturday, Jan. 13 | 8:15 PM | CBS
Stuckey says: The Titans cannot cover tight ends and running backs in the passing game, ranking 24th and 32nd, respectively, in Football Outsiders' coverage metrics. Expect Gronk and Dion Lewis to go off, and for Tom Brady to dink-and-dunk his way down the field at will. The Titans will be able to run on New England's 30th-ranked rush defense in DVOA. My early lean is toward the under, as I expect both offenses to keep the clock running with their styles of play, and don't expect too many explosive plays. I will grab the Titans if the line touches 14 at any point this week, as that number is simply too high. Value even sits with Tennessee at the current spread, as I make this line closer to 10.5/11.
Jacksonville Jaguars at Pittsburgh Steelers (-7) | O/U: 41
Sunday, Jan. 14 | 1:05 PM | CBS
Stuckey says: As we saw vs. the Bills in the wild-card round, the Jags' D-line can take over games. But the Steelers are well-equipped to neutralize Jacksonville's front. Pittsburgh's O-line ranks No. 1 in adjusted sack rate and No. 7 in adjusted line yards (run blocking). After getting blown out by the Jags earlier in the season, Mike Tomlin will have the Steelers ready to play. I have zero faith in Blake Bortles' current form, and Le'Veon Bell should fill up the box score against the NFL's 25th-ranked yards-per-carry defense. I like the Steelers in this spot, but wait for -7 if you missed it on the open.
New Orleans Saints at Minnesota Vikings (-5) | O/U: 46.5
Sunday, Jan. 14 | 4:40 PM | FOX
Stuckey says: These two teams played in Week 1 (Viking 29, Saints 19), but that result means nothing. Sam Bradford and Dalvin Cook were the stars of that game, and neither will play on Sunday. This contest will come down to third-down conversions on both sides of the ball. Minnesota ranks No. 1 (by a mile) in third-down conversion defense (25.3%), while New Orleans' offense surprisingly struggles (19th overall, 37.6%). In fact, the Vikings allowed the lowest single-season third-down conversion rate since the NFL started recording the stat in 1991. The Saints are even worse on defense (40.0%, 26th), compared to a Vikings offense that's been elite on third-down (43.5%, third overall). Give me Minnesota in this matchup, but I'll wait to see if I can grab a 3 before betting it.
---
Wild Card Round
Tennessee Titans at Kansas City Chiefs (-9) | O/U: 44
Saturday, Jan. 6 | 4:35 PM | ESPN
NFL Analyst Stuckey says: Marcus Mariota has performed substantially worse on the road this season (8 TDs/4 INTs at home vs. 5 TDs/11 INTs on the road). The Titans average 1.6 turnovers per game (23rd in the NFL), and that number gets much worse on the road (2.2 turnovers, 29th overall). That spells trouble in a hostile environment in January, especially against a Chiefs team that turns it over less than any other team in the league at 0.7 times per game (only 0.5 at home).
The Titans do have the ability to shut down the Chiefs' rushing attack, as they only allow 3.6 yards per rush (4th in the NFL). Conversely, the Chiefs may struggle to contain Derrick Henry, as their rush defense, which ranked 31st DVOA through 16 weeks, allows 4.3 yards per rush (24th in the NFL).
Atlanta Falcons at Los Angeles Rams (-6.5) | O/U: 48
Saturday, Jan. 6 | 8:15 PM | NBC
Stuckey says: At first glance, this line looks too high considering Los Angeles will not benefit from a massive home-field advantage. The Falcons will have opportunities to move the ball on the ground against a run defense that allows 4.6 yards per carry (30th in the NFL), and also through the air with a banged up Rams secondary (starter Kayvon Webster is on IR, and new starter Troy Hill is questionable). The Falcons have had much more success in the red zone, as they rank 5th in the NFL in red zone TD scoring percentage (Rams rank 25th). Atlanta will have a significant postseason experience advantage against a very young Rams roster. One of the Rams' biggest advantages is on special teams (third in DVOA, compared to 24th for the Falcons) is neutralized by not having stud kicker Greg Zuerlein healthy.
Buffalo Bills at Jacksonville Jaguars (-9) | O/U: 39.5
Sunday, Jan. 7 | 1:05 PM | CBS
Stuckey says: The Bills head to Jacksonville this weekend, and might not have the services of LeSean McCoy, who left Sunday's game in Miami on a cart with an ankle sprain. The MRI came back negative, but it's hard to envision Buffalo will have a fully healthy Shady ready to take advantage of a Jaguars defense that gives up 4.5 yards per rush (29th in the NFL). That spells trouble against the No. 1 pass defense in the NFL through Week 16. The Jaguars' defensive line, ranked 3rd in adjusted sack rate, should live in the backfield against a Bills offensive line ranked 30th in the same metric. I'm just not sure how Buffalo's offense, the NFL's 3rd worst per DVOA, will move the ball without a healthy McCoy, who accounted for more than 32% of the Bills' yards this season (3rd highest percentage in the NFL). Under 40 also warrants strong consideration.
Carolina Panthers at New Orleans Saints (-7) | O/U: 48.5
Sunday, Jan. 7 | 4:40 PM | FOX
Stuckey says: The Saints will look to complete a three-game season sweep of the Panthers in New Orleans, where they have compiled a 7-1 record this year. A team has not finished 3-0 over an opponent in a season since 2009, when the Cowboys swept the Eagles.
Carolina's defensive line, which ranked No. 1 in adjusted sack rate through last week, has carried them this season. However, they will run into a Saints offensive line that can neutralize their havoc (No. 1 in adjusted sack rate), helping Brees stay upright and take advantage of a weak secondary.
NFL Playoff Odds
(All odds via BetOnline as of Jan. 11)
AFC
New England Patriots: -175
Pittsburgh Steelers: +225
Jacksonville Jaguars: +800
Tennessee Titans: +2200
NFC
Minnesota Vikings: +130
New Orleans Saints: +275
Atlanta Falcons: +375
Philadelphia Eagles: +400
Super Bowl
New England Patriots: +175
Minnesota Vikings: +350
New Orleans Saints: +600
Pittsburgh Steelers: +550
Atlanta Falcons: +750
Philadelphia Eagles: +1200
Jacksonville Jaguars: +1600
Tennessee Titans: +4000
Photo via Winslow Townson-USA TODAY Sports