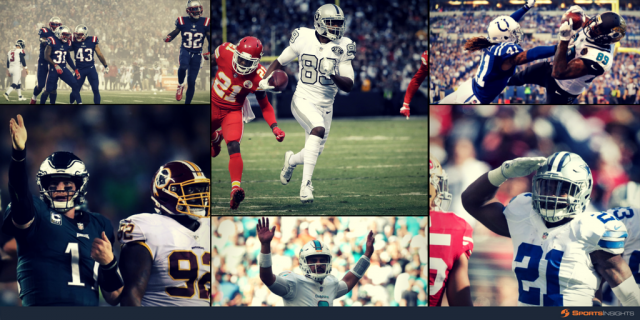 2017 NFL Week 8 Opening Line Report
Lotta big favorites this week, let me tell ya. Just a really, really bad looking week of football on paper. If you wanted to take a vacation out of the country, this is your week to do so…just don't go to England.
The final #NFL London game of the season includes a 9-point favorite (#Vikings vs. #Browns) and a total of 37.5.

You're welcome England. pic.twitter.com/zavYxzHEh4

— Sports Insights (@SportsInsights) October 24, 2017
| Matchup | Bookmaker Current | Bookmaker Open | Westgate (10/17) |
| --- | --- | --- | --- |
| MIA @ BAL (Thurs) | BAL -3 | BAL -3 | BAL -4.5 |
| MIN vs. CLE (London) | MIN -10 | MIN -7.5 | MIN -7.5 |
| CHI @ NO | NO -9 | NO -9 | NO -8.5 |
| ATL @ NYJ | ATL -4 | ATL -4.5 | ATL -7 |
| CAR @ TB | TB -2 | TB -1 | N/A |
| SF @ PHI | PHI -13 | PHI -13 | PHI -10.5 |
| OAK @ BUF | BUF -2.5 | BUF -3 | BUF -2.5 |
| IND @ CIN | CIN -10 | CIN -10 | CIN -9.5 |
| LAC @ NE | NE -7.5 | NE -7.5 | NE -7 |
| HOU @ SEA | SEA -5 | SEA -6 | SEA -6.5 |
| DAL @ WAS | DAL -2.5 | DAL -2.5 | WAS -1 |
| PIT @ DET | PIT -3 | PIT -3 | PIT -3 |
| DEN @ KC (Mon) | KC -7.5 | KC -7 | KC -6 |
Bye week: Arizona, Green Bay, Jacksonville, LA Rams, NY Giants, Tennessee
Coming off a bye: Detroit, Houston
Dolphins (3-2-1 ATS) at Ravens (3-4 ATS)
Jay Cutler is hurt, but seemingly every Dolphins player and fan is happy. You know why? (Insert Cutler joke.) But no, do you actually know why? Matt Moore, backup extraordinaire, gets to step in. Before the season began, Moore was viewed as one of the best backup QBs in the league by oddsmakers…and he still is.
According to Bookmaker.eu's @ByScottCooley, here is the point spread value difference between Jay Cutler and Matt Moore: pic.twitter.com/H5mEKLT8rp

— Sports Insights (@SportsInsights) October 24, 2017
I have a feeling that Moore and his 20-7 lifetime ATS record may end up starting for the rest of the season…just a hunch.

The majority of bettors like their chances with Matty Moore, but money is in favor of the Ravens. They are on the verge of moving to -3.5.
With both teams averaging less than 20 points per game, this total is one of the lowest we've seen in Thursday Night Football history at just 37.5. However, with 88% of bets on the over, we may see this go up by gametime.
Vikings (4-3 ATS) vs. Browns (2-5 ATS)
Dear lord, what a stinker. Poor London. If these fans only pay attention to the games played in their country, they must really think the NFL sucks.
The three final scores in London this year have been: 44-7, 20-0, 33-0. Now they get the Browns!?! At least American fans will get to watch this game in the morning unlike last week.
The Vikings have already been hammered in the early going. They were available at -7.5 at Bookmaker for a solid 12 hours or so, but made the move from -7.5 to -10 throughout the day yesterday.

Minnesota is getting close to 70% of bets and more than 80% of dollars in the early going. Did nobody notice the OT cover the Browns put up on Sunday?! If this line holds up, the Vikings would be the fourth double digit favorite in London, with two of the previous three covering.
Raiders (3-4 ATS) at Bills (4-1-1 ATS)
In Buffalo, we have another example of a bunch of bets and cash on one side driving the line.

The Raiders haven't had the year that many expected them to, while the Bills have played surprisingly well at 4-2 this season, with both losses coming in at six points or less. With that being said, the Raiders' Color Rush performance to take down the Chiefs in a wild game has done enough to get bettors' attention.
At +3, Oakland was clearly too enticing to pass up…I kinda wish I got them at that number TBH. The Raiders will be without Marshawn Lynch due to his one game suspension, but he really hasn't done anything this year anyway. Generally, theses game in the 2.5/3/3.5 region have a tendency to bounce back and forth, with buyback taking place on both sides throughout the week. You just have to pick your spot wisely.
Follow the odds and percentages by checking the free NFL odds page throughout the week.