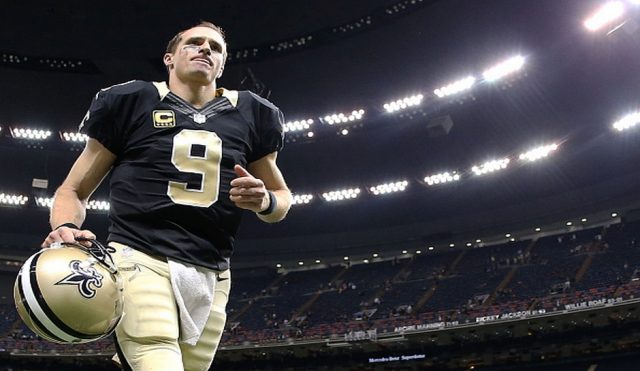 2017 NFL Betting: Who Will Lead the League in Passing Yards?
We recently broke down the odds available on BetOnline for leaders in rushing and receiving yards for the 2017 season, but now it's time to shift gears and focus on potential passing leaders. The quarterback has a significant impact on week-to-week point spreads and is widely considered the most important position in the game.
Last season, New Orleans Saints quarterback Drew Brees continued his dominance and finished as the NFL's top passer once again. He recorded the most passing yards for the fifth time in six years and surpassed 5,000 passing yards for a league record fifth time. It's no shocker that Brees opens this season as a +200 favorite to defend his crown.
| PLAYER | BetOnline (7/13) |
| --- | --- |
| Drew Brees | +200 |
| Tom Brady | +450 |
| Matt Ryan | +550 |
| Aaron Rodgers | +1000 |
| Kirk Cousins | +1400 |
| Philip Rivers | +1400 |
| Andrew Luck | +1400 |
| Jameis Winston | +1600 |
| Ben Roethlisberger | +1600 |
| Eli Manning | +1800 |
| Carson Palmer | +3300 |
| Matthew Stafford | +3300 |
| Derek Carr | +4000 |
| Russell Wilson | +4000 |
| Joe Flacco | +4000 |
| Andy Dalton | +5000 |
| Carson Wentz | +5000 |
| Blake Bortles | +6600 |
| Ryan Tannehill | +6600 |
| Dak Prescott | +6600 |
| Sam Bradford | +8000 |
| Marcus Mariota | +10000 |
| Cam Newton | +10000 |
| Alex Smith | +15000 |
| Tyrod Taylor | +15000 |
| Jared Goff | +20000 |
| Deshaun Watson | +20000 |
Last year's regular season MVP, Matt Ryan of the Atlanta Falcons, comes in at third on the list at +550 after putting together a historical season of his own. New England Patriots quarterback and Super Bowl LI MVP, Tom Brady, opens with the second-best odds at +450. Further down the list is where some real value is evident. Although four of the five top passing leaders from a year ago have the best odds at repeating, it's still tempting to take a gamble on one of the dark horses.
Matthew Stafford, who is available at +3300, is worth a look. In the past three seasons, the Detroit Lions signal caller has been crawling up the top-10 list in total passing yards. In 2014 he finished ninth, in 2015 he finished eighth and last year he made it up to sixth. If the trend continues, the veteran Stafford has a chance to make some noise as he enters the last year of his current deal.
Another underdog to consider is Seattle Seahawks quarterback Russell Wilson, who is available at +4000. Wilson is one of the most efficient passers in the game and his attempts have increased in each of his first five seasons in the NFL. Seattle has also transitioned to a more pass-heavy approach on offense, which bodes well for Wilson as he looks to air it out even more in 2017.
Who do you think will lead the league in passing next season when it's all said and done? Will Brees continue his reign at the top? Or is this the year a dark horse surprises everyone? Please leave your comments in the section below.
Have any questions for the staff at Sports Insights? Utilize our live chat or e-mail us at help@sportsinsights.com.
Join us live Sundays at noon ET
We're now holding our members-only live Sports Betting Hangouts Sunday mornings to prepare you for a full day of NFL games. Members, simply log into your account Sunday morning to access the hangout.
Not a member? Start a trial today to join our Sports Betting Hangouts held six days a week, plus all the other Sportsbook Insider Pro benefits.