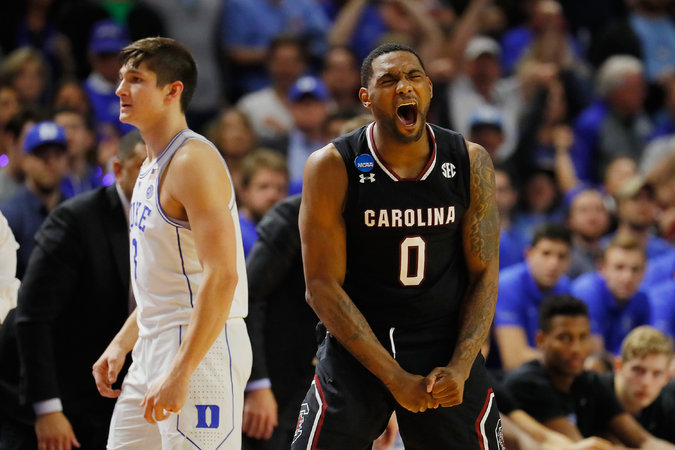 2017 NCAA Tournament: Opening Rounds Betting Recap
While the Round of 64 wasn't the most exciting (USC's +890 live moneyline comeback vs. SMU was probably most impressive), the Round of 32 brought us a ton of thrilling games. Wisconsin (+213 moneyline) upset Villanova early on Saturday, and then Xavier (+270 moneyline) crushed FSU at night. On Sunday, Michigan came back to upset Louisville in the early game, followed by great wins by Kentucky, Kansas, and UNC. In the night slate, Oregon came back to beat URI while South Carolina dominated the 2nd half to upset Duke.
Trends (includes First Four games):
Underdogs and Favorites both went 25-25 ATS
Overs went 34-17-1:
22-9-1 in Round of 64
9-7 in Round of 32
3-1 in First Four
Public bettors were thrilled, as the majority of tickets was on the Over in 50 of 52 games
All teams getting <40% of spread bets went 19-9 ATS:
11-6 in Round of 64
5-2 in Round of 32
3-1 in First Four
Favorites getting <50% of spread bets went 11-5 ATS
Favorites getting <40% of spread bets went 6-1 ATS
Best seeds were #4 (7-1 ATS) and #8 (6-1 ATS)
Worst seed was #5 (1-6 ATS)
Best conferences were SEC and Pac-12 (6-2 ATS)
Worst conference was ACC (2-13 ATS). Only UNC remains from the 9 teams that made it.
Most bet games by ticket count:
Wisconsin/Villanova 41,590 (31% on Wisconsin covered)
Oklahoma State/Michigan 41,015 (34% on Okla St covered)
Wichita State/Kentucky 40,785 (38% on Wichita pushed)
Biggest moneyline upsets:
USC +315 vs. SMU (37% of spread bets on USC)
South Carolina +270 vs. Duke (26% of spread bets on So Car)
Xavier +270 vs. FSU (57% of spread bets on Xavier)
Wisconsin +213 vs. Villanova (31% of spread bets on Wisconsin)
Prop bets that have cashed:
Most points single team: Over 97.5 (Arizona 100, Kansas 100, UNC 103 in the Round of 64)
Fewest points single team: Under 43.5 (UVA scored just 39 vs. Florida)
Most points both teams: Over 178.5 (Zona/N Dak 182 on Thursday, multiple games after)
#1-seeds winning by less than 40 pts- It wasn't a widely bet prop, but an exciting one nonetheless:
Fun ending to this prop bet as #Jayhawks flirted with 40 but UC Davis converted a 3-point play with 10 seconds left to lose by 38. https://t.co/GlKMkjDaw7

— Sports Insights (@SportsInsights) March 18, 2017
Bad Beats/Late Covers:
-Vandy late foul
After going up 1 with 15 seconds left, Vandy mistakenly fouled Northwestern to give them free throws and the win. 52% of spread bets was on Vandy (opened -1, closed -2).

-Seton Hall 'intentional' foul
This late call was controversial and unfortunate for Seton Hall backers (61% of tickets, 70% of money):
This was called a flagrant. pic.twitter.com/IcqB89sFfP

— CBS Sports CBB (@CBSSportsCBB) March 17, 2017
-OK State late three
Michigan was up 4 after late free throws but Cowboys backers (34% of tickets, 32% of money) soon rejoiced:
Michigan (closed -2.5) received 66% of spread bets according to @SportsInsights. #badbeat pic.twitter.com/aWbTph1jNC

— David Solar (@TheDavidSolar) March 17, 2017
-USC putback at buzzer
USC 'meaningless' putback- USC (opened +6.5, closed +5.5) was close with Baylor throughout but went down 6 with less than 10 seconds left. USC missed a shot but got an offensive rebound and deep putback to lose 82-78 at the buzzer, giving them the cover. This was a rare nice win for public bettors this tourney as 59% of tickets took USC.
Putback with no time left gives #USC the cover (opened +6.5, closed +5.5) but #Baylor advances 82-78.

— Sports Insights (@SportsInsights) March 20, 2017
Want to keep up with all the latest odds, betting percentages, market moves, smart money and more? Sign up for a Pro membership trial today and start making smarter bets.