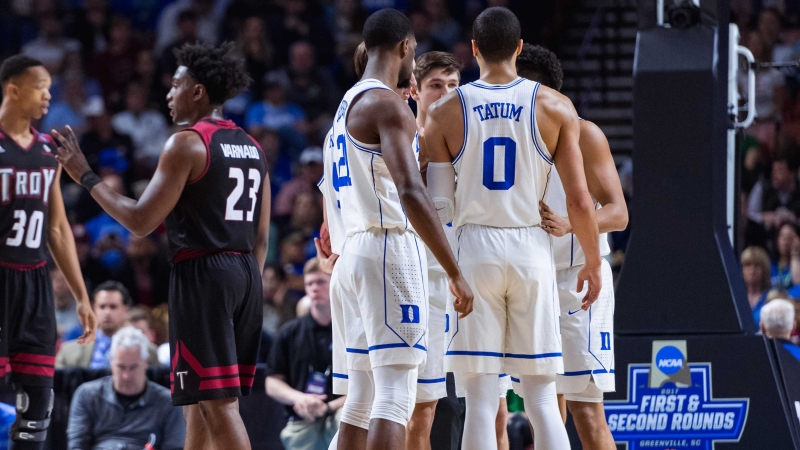 Bettors are all over Duke today, but are the Blue Devils the smart bet?
Hate them or love them, the Duke Blue Devils get a lot of attention. This year they won the ACC Tournament as the #5-seed and have pulled off 5 straight ATS covers including the opening round against Troy. Bettors are back on the Duke bandwagon, but should they be?
Duke is the favorite to win the East Region at +170 odds despite only having played 1 tourney game so far. Our Bracket Simulator has been lower on Duke than oddsmakers, though, and feel that they've been overvalued.
For their Round of 32 matchup, Duke opened -7 against South Carolina around the market on Saturday morning, and bettors were all over the Blue Devils. More than 80% of early spread tickets was taking Duke, which moved the line from -7 to -7.5. More than 75% of early spread dollars was also on Duke, meaning public wagers were very heavy on them. Sportsbooks needed to account for the one-sided action but that's when sharp bettors swooped in.
(Below shows the line graph on South Carolina at Pinnacle)


As you can see, bettors have been low on South Carolina, yet they've moved from +7.5 to +6.5. We've triggered 3 reverse-line moves on South Carolina already, at both +7.5 and +7. Square sportsbooks around the market like Bovada, Sportsbook.com, and Top Bet are still offering South Carolina +7 despite the market moving to +6.5. These books are more likely to shade numbers knowing that their bettors will take the favorites (Duke) no matter what.
Moneyline tickets are also very lopsided on Duke, with 73% of tickets and 94% of money on Blue Devils. However, the moneyline has also dropped from -310 to -275 since opening. This is a bit rare considering public bettors like to take underdogs on the moneyline, but South Carolina isn't getting any love today.
Fading the public has been our leading philosophy throughout the years, and this season tourney teams getting <40% of spread bets have gone 14-7 ATS. Betting against the public is significant during tourney time since these games are so widely-bet with public wagers. After analyzing the entire market, it's clear that square money is taking Duke while sharp money has come in on South Carolina.
Want to get all this market data as well as our Best Bet picks? Try our Pro membership today and start making smarter bets.