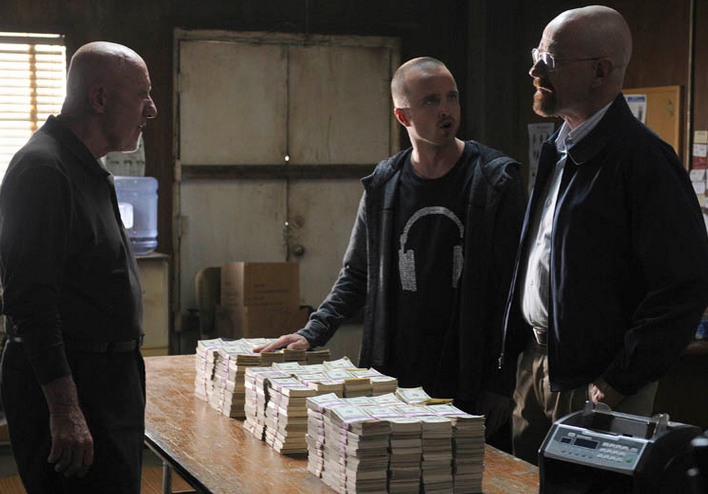 2017 MLB Regular Season Betting Recap
For years, we've detailed why baseball is one of the most profitable sports for sharp bettors.
First off, it's a money-line sport. This is a huge advantage for bettors because it means that they don't have to worry about covering a point-spread, they just have to win the game straight up. By staying away from big favorites (-150, -175, -200) and focusing on valuable plus-money dogs (+120, +140, +160), bettors can win at a less than 50% rate but still turn a profit based on the plus-money payouts. Meanwhile, football and basketball bettors must win at a 52.4% rate (assuming -110 juice) just to break even.
Add in the facts that the MLB season is so long and there are so many games every single day and it's no surprise why sharp bettors love baseball so much.
Now that the 2017 regular season has officially come to an end and we've had a chance to dissect all 2,430 games, let's take a closer look at the results.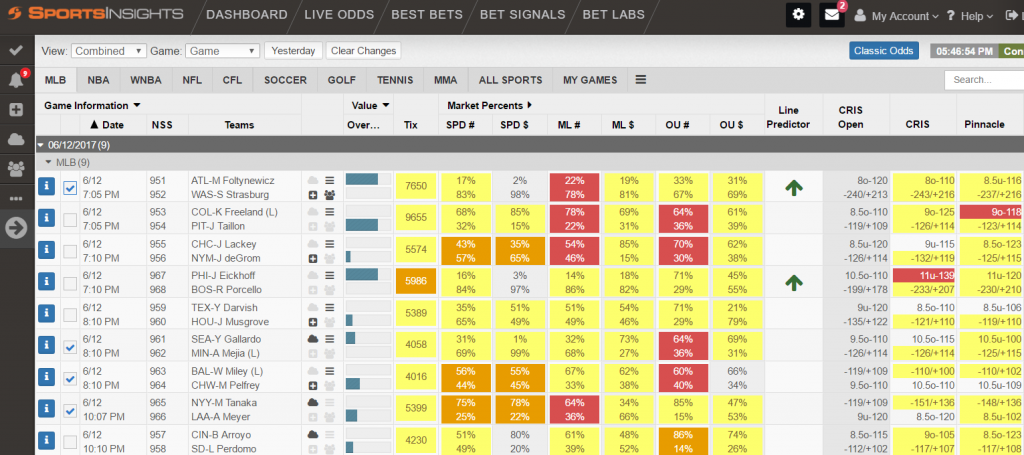 Favorites: 1394-1036 (57.4%), -67.71 units
Dogs: 1036-1394 (42.6%), -27.29 units
As you can see, favorites won at 57.4% rate, which seems profitable at first glance, but that doesn't tell the whole story. Because you were always laying a minus number, betting on favorites burned a huge hole in the pockets of square bettors. Sure, favorites win a majority of the time, but there is no value in taking them because you get crushed when they lose (a $100 bettor taking every favorite lost $6,771 this season). Simply put, the juice isn't worth the squeeze.
Blindly betting dogs wasn't profitable either, but it did limit your losses ($2,729 as opposed to $6,771).
The key is focusing on dogs within the division. Because teams in the same division play each other so often (19 times per year), they know each other's tendencies. The built-in familiarity levels the playing field and benefits the dog. A $100 bettor would have profited $3,639 betting on divisional dogs in 2017.
2017 #MLB Regular Season Betting

Dogs in Division
504-636, +36.39 units

Dogs Non-Division
532-758, -63.69 units pic.twitter.com/UbtUkaQbVY

— Josh Appelbaum (@Josh_Insights) October 2, 2017
At Sports Insights, we always stress the importance of going contrarian. More often than not, the public loses. By fading the average Joe, we can capitalize on public bias, get inflated numbers, and place ourselves on the side of the books. As we all know, the house always wins.
By incorporating a simple contrarian philosophy (taking teams getting 40% or less moneyline bets), sharp bettors were able to pad their bankroll substantially in 2017. A $100 bettor made $1,110 taking all teams 40% or less and $1,570 taking teams 30% or less. The optimal fade the public spot was teams getting 20% or less, which would have netted a $100 bettor a whopping $3,040.
2017 #MLB Regular Season Betting

Teams 40% or less
711-931, +11.1 units

30% or less
349-491, +15.7 units

20% or less
70-84, +30.4 units pic.twitter.com/9l2FKZlhx5

— Josh Appelbaum (@Josh_Insights) October 2, 2017
Bettors who combined "divisional dogs" with "fade the public" made out like bandits. A $100 bettor taking all divisional dogs 40% or less would have made $5,816. As the great philosopher Larry David once said: pretty, pretty, pretty good.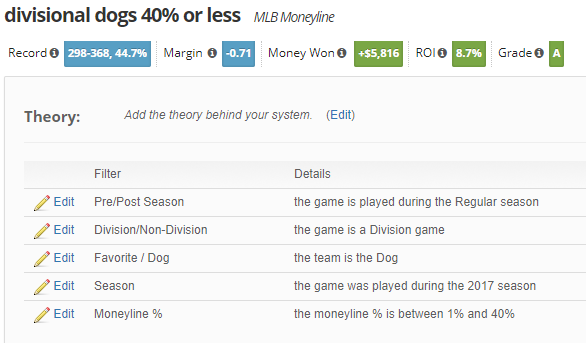 Another successful strategy was following Reverse Line Movement (RLM). This is when the betting line moves in the opposite direction of the betting percentages. It is one of the best and easiest ways to identify sharp action.
Example: the Red Sox are -150 favorites against the Yankees and 80% of bets are taking Boston. However, you see the Red Sox move from -150 to -130. Despite the majority of bets taking Boston, the line fell to New York. This means that big sharp wagers came in on the Yankees and, therefore, the smart play would be betting New York.
Taking all teams with RLM (less than 50% of bets but the line moved toward them) produced a 542-566 record in 2017, but a positive +15.88 units.
Teams that were more lopsided (40% or less) with bigger RLM (5 cents or more) fared even better. A $100 bettor would have made $4,610 following this system in 2017.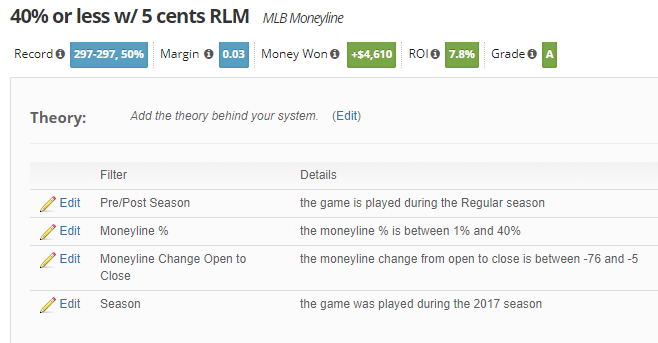 Aside from divisional dogs, fade the public and RLM, it was also a banner year for our MLB Best Bet picks. We finished the regular season 328-294, +59.75 units, our best year ever. A $100 bettor made $5,975 following our plays.
The 2017 MLB season also marked the debut of our Sports Betting Hangouts. From Opening Day until Game 162, Sports Insights Pro members were able to tune in each night and join us live as we broke down the board, discussed the most profitable plays and answered questions.
Thanks to our friends at Bet Labs, we still have some profitable postseason systems to take advantage of throughout October.
Teams getting 50% or less of moneyline bets in #MLBPlayoffs: 220-186, +68.49 unitshttps://t.co/sgd9WXEEye pic.twitter.com/J1r90BSJUy

— Bet Labs Sports (@Bet_Labs) October 2, 2017
After that, all we can do is sit back and wait for 2018.
"People ask me what I do in winter when there's no baseball. I'll tell you what I do. I stare out the window and wait for spring."
-Rogers Hornsby