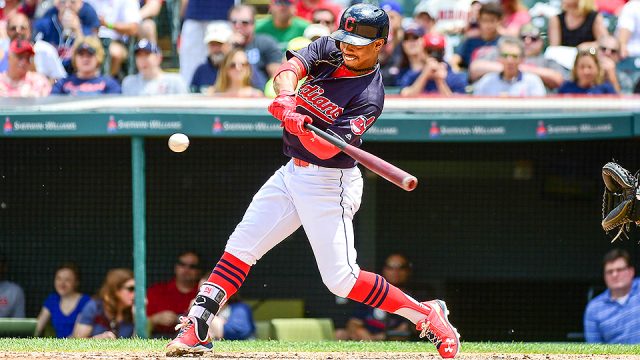 2017 MLB Preview: Our Favorite Prop Bets
The 2017 MLB season gets underway on Sunday afternoon which means that there are only a few more days for bettors to get their season long prop bets in. Throughout the off-season we have posted a full list of all available MLB player props which includes over/unders for several key statistical categories, league leader props, various award races and more.
[ Save 40% on Sportsbook Insider Pro with the MLB Early Bird Special ]
Most sportsbooks take fairly small limits on these prop bets and many of them are juiced up very heavily which can make it difficult to find value. That said, the staff at Sports Insights have picked their favorite prop bets or futures for the upcoming MLB season.
David Solar – Content Manager
Francisco Lindor AL MVP (+6000)
Let's start with the obvious — this is Mike Trout's award to lose. Last year the 25-year old outfielder won his second MVP despite his teams' losing record and his 47.7 WAR in just five seasons leaves sabermetricians (and likely MVP voters) salivating. However, let's not forget that this is a subjective award and there's always a chance that voters punish Trout if his team once again fails to post a winning record. If that happens, Francisco Lindor could be a top MVP contender.
The Indians (-650) have better odds of making the playoffs than any other team in the American League, and Lindor figures to play a massive role in that lineup. The 23-year old shortstop slashed .301/.358/.435 last season while adding 15 home runs, 19 stolen bases and playing spectacular defense. His 6.3 WAR ranked eighth in baseball, and here's the scary part — he's only getting better.
Lindor gets on base, hits for average, hits for power, steals bases, drives in runners and scores runs — all while playing Gold Glove caliber defense. He's arguably the best shortstop in baseball, and could easily post a season like Dustin Pedroia's 2008 MVP campaign (.326 BA, 17 home runs, 20 steals, 83 RBI and 118 runs). This is the best player on the best team in the AL, and he's barely scratched the surface of his potential. Lindor's defense makes him a favorite among sabermetricians, and an 8 WAR season isn't outside the realm of possibility.
Progressive Field is a more "hitter friendly" ballpark than people realize, especially with the left and right field walls just 325 feet from home plate. The Indians offense added Edwin Encarnacion over the off-season (a longshot MVP contender in his own right) to a lineup that already included Michael Brantley, Jason Kipnis, and Carlos Santana. Considering the weak pitching in the AL Central, Lindor could easily lead baseball in runs scored this season.
Normally I don't love taking MVP futures because they take so long to pay out, but getting Lindor at 60/1 is too much value to ignore.
Dan McGuire – Operations Manager
Dodgers Over 94 wins (+105)
Although bettors could have found a better number when these totals first opened, I still like the Dodgers getting to at least 94 wins this season. They're in a weak division and have the best pitcher in baseball who should be healthy all year (at least that's the forecast). I also like the contrarian value as just 15% of tickets are taking the Dodgers over at BetDSI. I'll fade the public and hope LA exceeds expectations.
Twins Over 74 wins (-105)
On paper, this team is very average — both offensively and defensively. Last year they were downright horrible, winning only 59 games, so an improvement is almost certain. Can they improve by 15 games? Their performance in AL Central games will be key, but the division isn't too strong outside Cleveland. Nearly 70% of tickets have been on the under at BetDSI, so again I'm going contrarian here and taking the over.
Corey Seager NL MVP (+1600)
I'm clearly high on the Dodgers this season and I love Corey Seager as a young player. LA's lineup isn't stacked so he should stick out if he performs close to his numbers in 2016. I think Seager will follow in the footsteps of last year's MVP winner Kris Bryant by winning the Rookie of the Year and MVP in consecutive seasons. LA also has an easy early schedule so Seager should get out to a great start and see his odds decrease quickly.
Josh Appelbaum – Customer Service Manager
Clayton Kershaw – Under 16.5 wins (-120)
Kershaw is without a doubt the best pitcher in baseball. But he is entering his age-29 season with a lot of mileage on his left arm. Last season he battled injuries and only made 21 starts. Look for the Dodgers to be cautious with him during the regular season to ensure he's healthy for the playoffs. And, oh yeah, he's only won 17 games or more twice in his career.
Kevin Gausman – Over 11.5 wins (-150)
The former 4th overall pick in 2012 is set for a breakout year in 2017. He was one of baseball's best pitchers in the second half last season and finished the year with a 9-12 record but a respectable 3.61 ERA. He got the nod to start Opening Day and is assuming the role as the Orioles' ace. Look for him to take another big step this season. I like him to win a minimum of 12 games in 2017.
Biff Tannen – Owner and Head Oddsmaker at Biff Tannen's Pleasure Paradise Casino & Hotel
Wade Davis – Under 38.5 Saves
Despite being one of the best relievers in the game in 2014 and 2015, Davis was dealt to the Chicago Cubs for Jorge Soler. That's not the type of return one would expect for an elite bullpen arm. This is because Davis dealt with a strained forearm (red flag) last season and was throwing about 2 MPH slower when he returned. Early reports are that he hasn't re-emerged as his old self so far this spring. To push 40 saves, everything has to go right and, quite frankly, the Cubs have other options at closer if Davis doesn't perform up to expectations or has injury concerns.
Lance McCullers – Over 10 Wins
Earlier this month, I noted McCullers as a possible long-shot candidate for the Cy Young. The Astros could be a World Series candidate and I think McCullers strong start to his career points to him having a possible breakout season. His offense should give him plenty of run support and boost his win total as a result.
Aaron Judge – Most Home Runs (+8000)
At 6'7", 280 pounds, Aaron Judge is built more like Gronk than a baseball player. At his size, he has the potential to make Yankee Stadium look like my batting practice sessions at the Little League field…present day, of course. Now, this is a long-shot for a reason. First of all, he isn't a lock to even make the opening day roster. Secondly, he struck out in half of his at-bats when he was called up late last season. However, when he wasn't whiffing, he was hitting the ball harder than everyone in the league besides Nelson Cruz per Statcast. When he hit the ball in the air, he did so harder than anyone.
Get used to seeing some more of this.
.@TheJudge44 likes to hit baseballs.

He hits them VERY far: https://t.co/UYvfeS3UEi #Crushed pic.twitter.com/vfJ1eudNnT

— MLB (@MLB) February 24, 2017
Looking for real-time odds, public betting trends, futures and injury updates throughout the upcoming season? Make sure to bookmark our free MLB odds page.
Have any questions for the staff at Sports Insights? Utilize our live chat to speak with a customer service representative or e-mail us at help@sportsinsights.com.