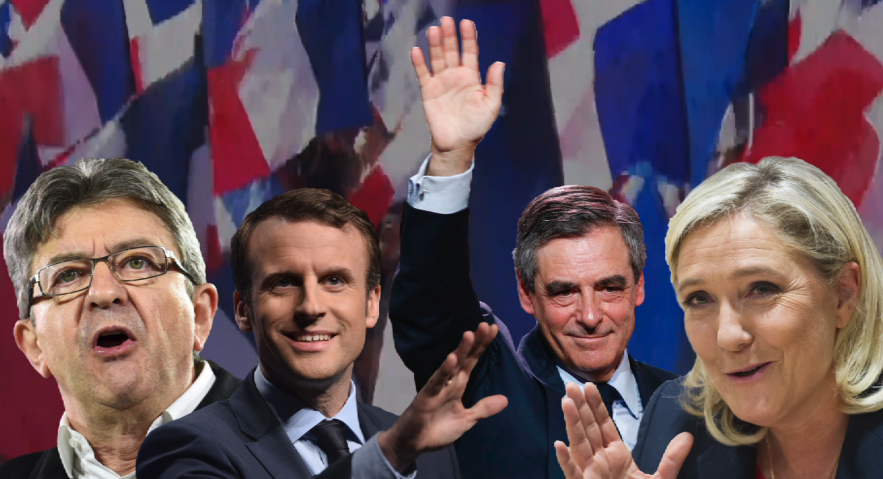 2017 French Election Betting: Macron or Le Pen?
This weekend, the people of France will flock to the polls and begin the process of electing their next president. The first round of voting begins on Sunday April 23rd. If no candidate wins a clear majority, the top two vote-getters will then face off on Sunday May 7th, with the winner set to succeed Francois Hollande as France's 25th President.
Four major candidates are in the running: Marine Le Pen (leader of the far-right National Front), Emmanuel Macron (former French Finance Minister and founder of the progressive/independent "En Marche!" movement), Francois Fillon (former French Prime Minister and member of the center-right Republican party) and Jean-Luc Melenchon (founder of the far-left "Unsubmissive France" movement).
Almost all of the media coverage has centered on Le Pen. She is the daughter of Jean-Marie Le Pen (founder of the National Front) and is often considered the "Donald Trump" of France: a fiery far-right leader who has ridden a populist, anti-immigrant wave to top political status.
While Le Pen gets the headlines, Macron has steadily risen in both the polls and betting markets.
When we first started tracking the French Election odds back in August of 2016, Le Pen was listed at +350 and Macron +1000 (via BetOnline). By February of 2017, the two had moved into a virtual tie for first place.
2017 French President Odds (BetOnline)

Juppe +175
Sarkozy +300
Le Pen +350
Hollande +850
Macron +1000
Fillon +2000 pic.twitter.com/YrqVxT9Goe

— Sports Insights (@SportsInsights) August 18, 2016
https://twitter.com/Josh_Insights/status/831556644496613376
As it stands now, on the eve of first round voting, Macron and Le Pen remain neck and neck, with Macron having a slight 23.5% to 22.5% edge according to the latest polls.
The two are considered the clear cut favorites to advance to the final round of voting.
https://twitter.com/Josh_Insights/status/854392353045590023
While the polls have Le Pen and Macron in a virtual tie, the betting markets seem to be more bullish on Macron.
At Bovada, a square book that caters to public bettors, Macron is listed as a modest -110 favorite, with Le Pen +275. At the Irish sportsbook Paddy Power, Macron is an even greater favorite (-150), while Le Pen is more of a long-shot (+333).
At Heritage and BetOnline, late betting is breaking for Macron.
President @EmmanuelMacron? Over the past week, he's moved from +110 to -135 at Heritage, -125 to -175 at BetOnline #FrenchElection #France pic.twitter.com/RNDBo253xm

— Josh Appelbaum (@Josh_Insights) April 21, 2017
MAKE FRANCE GREAT AGAIN?
The French race appears eerily similar to the 2016 American Election. Macron is the establishment, center-left front-runner (Clinton), while Le Pen is the firebrand right-wing populist/nationalist (Trump) on the rise.
Believe it or not, France even has it's own Bernie Sanders.
Melenchon is a far-left, anti-establishment candidate beloved by young French Millennials. He has surged in recent weeks. In early April he was listed as a +2500 longshot at BetOnline. By mid-April he reached as high as +850.
Jean-Luc Mélenchon, "the last Communist dinosaur of France," is shaking up French politics, Bernie Sanders-style. https://t.co/o0BDGtRwcj pic.twitter.com/pZBGxfez4G

— Foreign Policy (@ForeignPolicy) April 21, 2017
Mélenchon, France's Bernie Sanders, has skyrocketed in the polls to within a hair's breadth of the frontrunners. https://t.co/fggyeAAoY6 pic.twitter.com/6m7K8VoQZw

— The Intercept (@theintercept) April 18, 2017
If you're looking for an upset pick, Melenchon is your guy. He has captivated the imagination of young French voters and become a serious contender for president. His supporters are so die-hard that they refuse to back Macron because he is the "useful vote." Sound familiar?
A popular French meme on social media reads: "To beat Trump it would have been necessary to support Sanders. Let's not make the same mistake."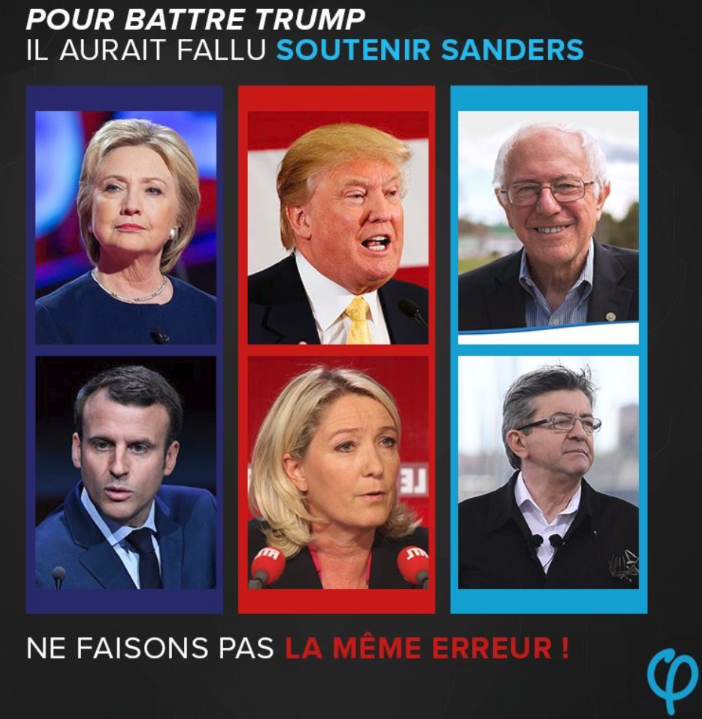 However, his supporters are walking a dangerous tight-rope. If Melenchon fails to reach the final vote and his supporters refuse to back Macron in the run-off, it could hand Le Pen the presidency, just as "Bernie or Bust" voters who refused to back Clinton helped Trump win the White House.

Fillon remains in contention, but his stock has been plummeting lately thanks to an embarrassing embezzlement scandal.
Here are the closing odds around the market.
| | Heritage | BetOnline | Paddy Power | Bovada |
| --- | --- | --- | --- | --- |
| Macron | -135 | -175 | -150 | -110 |
| Le Pen | +300 | +350 | +333 | +275 |
| Fillon | +360 | +500 | +400 | +275 |
| Melenchon | +1100 | +2000 | +1600 | +900 |
WHAT DO YOU THINK?
Will the French Election end up being a repeat of the American Election? Is Le Pen going to follow the path of Brexit and Trump? Will Macron, the odds-on favorite, secure the win that eluded Clinton? Does Melenchon have a shot at upsetting the world?
Moreover, will you ever trust polls and political oddsmakers again after they totally missed on Trump?
Feel free to leave your thoughts in the comments section below.