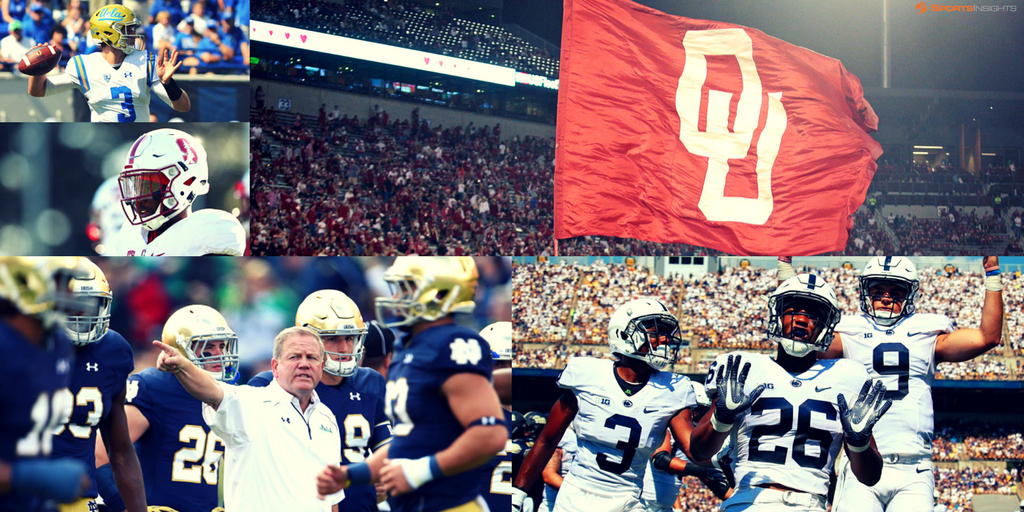 2017 College Football Week 4 Opening Line Report
Week 4 of the College Football season has arrived, and below we've compared how odds look at CRIS compared to the lookahead lines from Golden Nugget over the summer.
Matchup
Sep 18
(CRIS Current)
Sep 17
(CRIS Open)
June 24
(Golden Nugget)
Utah at Arizona
Utah -2.5
Utah -3
Pick 'em
UCLA at Stanford
Stan -7.5
Stan -6.5
Stan -9.5
Penn St at Iowa
Penn St -12.5
Penn St -11
Penn St -12
Oklahoma at Baylor
Okla -25.5
Okla -25.5
Okla -8
TCU at Oklahoma St
Okla St -12
Okla St -10.5
Okla St -4.5
Notre Dame at Michigan State
ND -4
ND -3.5
ND -4
Arkansas at Texas A&M (in Arlington, TX)
Tex A&M -3
Tex A&M -2.5
Tex A&M -6
Michigan at Purdue
Mich -10
Mich -9
N/A
Miss St at Georgia
UGA -6
UGA -6.5
N/A
Utah at Arizona: BetOnline was the first to open Utah -3.5 and the line increased to -4.5 before coming down to -3. CRIS opened -3 but has since moved to -2.5, and spread bets are relatively even.
UCLA at Stanford: BetOnline opened Stanford -7 and CRIS opened Stanford -6.5, but both books are now listing Stanford -7.5. Again, early spread tickets are pretty even, so sharper money has been taking the Cardinal to cover at home.
Oklahoma at Baylor: This line has changed dramatically since the summer, with Oklahoma now listed at -25.5/-26 around the market and getting 80% of spread bets. Baylor is in disarray and I wouldn't feel comfortable betting Baylor below +28.
TCU at Oklahoma St: Oklahoma State has looked great so far this season, and are double-digit favorites against TCU. The majority of tickets has come in on the Cowboys, pushing the line up, but we saw sharp money on their opponent last week (Pitt) so it could happen again this week. If you've watched Oklahoma State at all though, it's hard to believe sharps betting against them, even laying a big number.
Michigan at Purdue: The most bet game of the week so far has the Wolverines listed at -10 after opening -8.5. Public bettors are actually on Purdue (62%) after their big road win at Mizzou last week. Michigan struggled in a home win over Air Force, so casual bettors seem to be overreacting to recent games. This could end up being a great spot to fade the trendy underdog if you can get Michigan below -10.