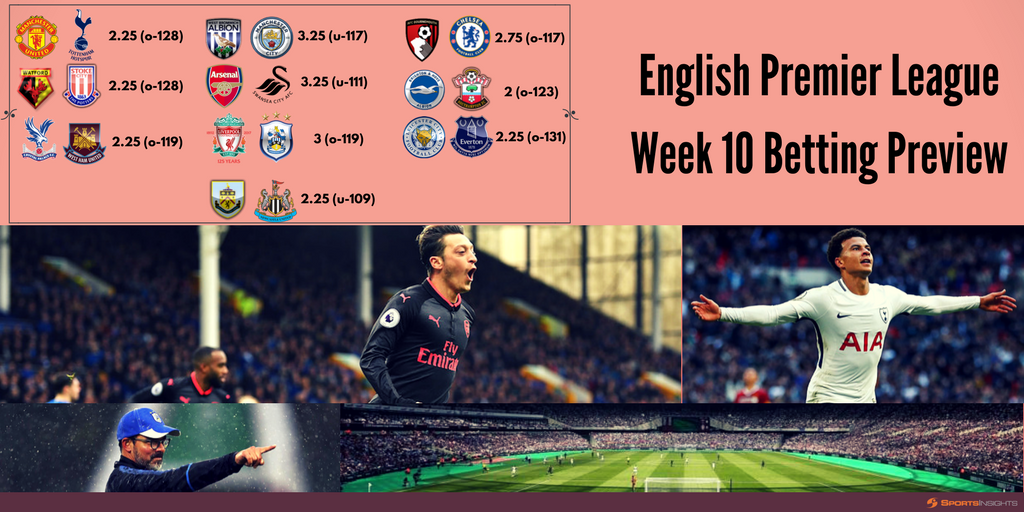 2017-18 Premier League Week 10 Betting Preview
I lucked out last week by staying away from the draws, as there were 0 in Week 9. Both value plays won (Leicester City +170 and Southampton -111), getting us back on track for the year at +7.31 units won.
The marquee matchup of the week was Tottenham/Liverpool, and Spurs put on an impressive display in a 4-1 home victory. Home teams performed well overall including a huge upset by Huddersfield +875 vs. Man United. Here's a look at the latest results, season trends, and biggest payouts.
Week 9 Results:
Home 6 of 10 (+8.27 units)
Away 4 of 10 (+3.72 units)
Draw 0 of 10 (-10.00 units)
Season Results:
Home 40 of 90 (-4.88 units)
Away 28 of 90 (-2.58 units)
Draw 22 of 90 (+2.43 units)
Season Biggest Payouts:
Burnley (+1125) at Chelsea in Week 1
Huddersfield (+875) vs. Man Utd in Week 9
Crystal Palace (+695) vs. Chelsea in Week 8
Tottenham/Swansea Draw (+695) in Week 5
Tottenham/Burnley Draw (+625) in Week 3
The last couple weeks we've seen big upsets by Huddersfield and Burnley, crushing the title hopes of both Chelsea and Man United. Man City has yet to really slip up and has avoided losing as a big favorite. Thus, they're now huge -500 favorites to win the title, and should be in the Champions League title discussion as well.
Title Odds:
Man City -500
Tottenham +1000
Man Utd +1200
Chelsea +2000
Arsenal +4000
Liverpool +5000
Manchester United's loss was massive in terms of the title race, moving from +400 to +1200. Probably an overreaction, but dropping points to Huddersfield while Man City keeps rolling is not ideal at all. Tottenham's win over Liverpool propelled them past Man United in the title race, while Liverpool have dropped to +5000 (and that's probably generous).
Unfortunately Harry Kane will be out for Tottenham this weekend due to injury, which has affected the odds– Spurs have moved from +255 to +270 to win outright while Man United's odds to win moved from +120 to +108. I was actually going to avoid betting this game until news of his absence, and now I think there's value on the draw at +240 odds. Man United are 4-0-0 at home this season while Tottenham are 4-0-0 on the road, and we've seen decent betting activity on both teams to win. The total has dropped from 2.5 to 2.25, mostly due to Harry Kane not playing at all, which is great news for a draw bet. I would have leaned toward Spurs to win on the road, but without Kane I believe this game ends in a 1-1 draw.
My other value play for the week will be another draw, this time between Brighton and Southampton at +222 odds. We have a very low total of just 2 goals, and the 3-way moneyline is very, very tight– another bonus for the draw. While I would have likely bet on this draw anyways, looking back historically in Bet Labs shows that this strategy is very profitable. When the total sits at just 2 goals and the draw line is between +200 and +225, it has a 43% ROI and +25 units won. Take the draw +222 between Southampton and Brighton this weekend and hope for 0-0 or 1-1.
Most Lopsided: 91% on Chelsea (-156), 81% on Watford (+107)
Biggest Line Moves: Leicester (+136 to +116) vs. Everton, Crystal Palace (+149 to +137) vs. West Ham
Value Plays (9-8 season record, +7.31 units, 43% ROI): Man United/Tottenham Draw +240, Southampton/Brighton Draw +222
If you're a new reader and still unsure about betting these plays, they did earn +15.28 units last season with a 19% ROI following the same strategies.
Track all the latest Premier League line moves, betting percentages, market data and more with a Premium or Pro membership.