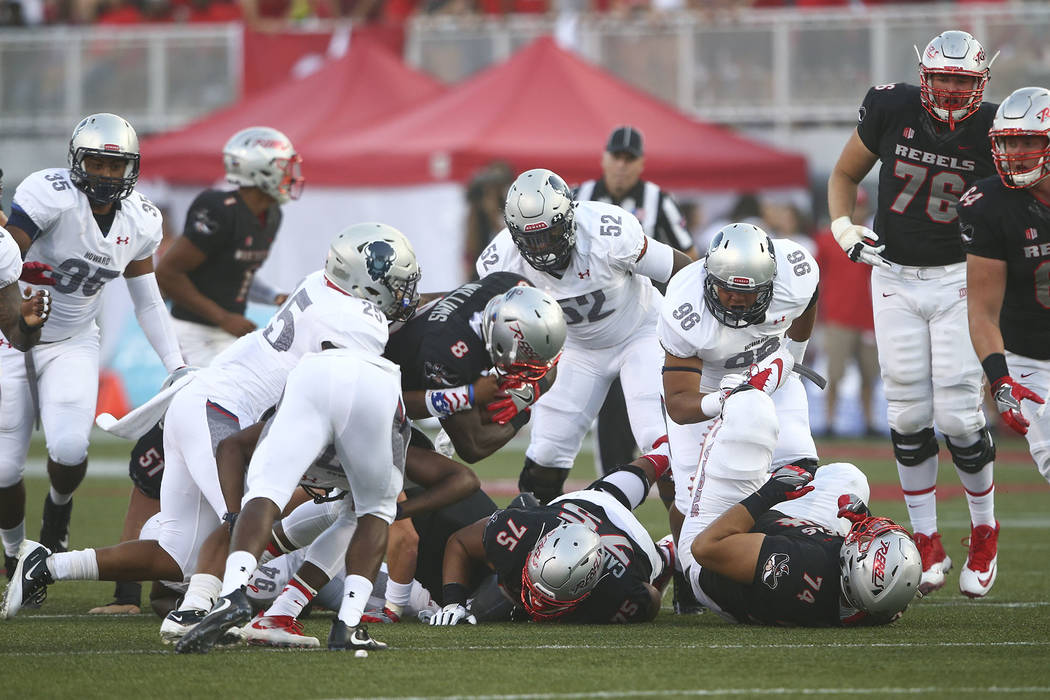 2017-18 College Football Week 1 Betting Recap
*Updated after Sunday night's games
There's still 1 game left on the Week 1 slate (Tennessee/Georgia Tech) but there's plenty to get caught up on. Bettors and fans witnessed the biggest NCAAF upset in history late Saturday night as Howard won 43-40 at UNLV at 45-point underdogs. Howard was listed at 600/1 on the moneyline and closed 550/1 on the moneyline at 5Dimes. That means a $100 bet on Howard to win would have paid $55,000. The upset came just a couple hours after Liberty knocked off Baylor 48-45 as 75/1 moneyline underdogs.
In the marquee game of the week, Alabama handled FSU 24-7. To make matters worse for the Seminoles, they lost QB Deondre Francois to a season-ending knee injury. For Alabama, their season prop bets are still in tact– here were odds before the FSU game: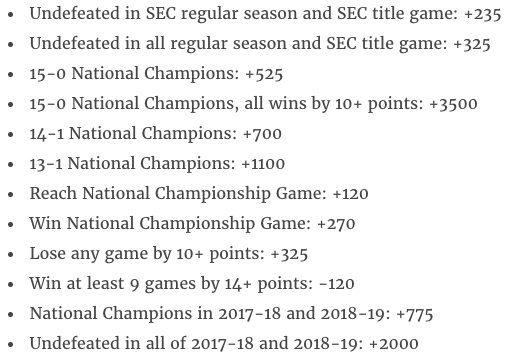 As if that wasn't enough, UCLA overcame the second-largest deficit in FBS history (34 points) to beat Texas A&M 45-44. UCLA reached +1723 on the live moneyline at Pinnacle. Below we've highlighted the rest of the opening week's betting nuggets, trends, upsets, blowouts, bad beats and more.
Week 1 betting trends via Bet Labs:
Underdogs: 46-42 ATS
Visitors: 42-38 ATS
Spread Tickets 40% or less: 35-30 ATS
Unders: 44-42
The ACC struggled, going just 4-9 ATS in Week 1. The Big Ten was the best conference, going 9-5 ATS.
Big underdogs performed well, with teams closing +40 or higher going 7-3 ATS, including Howard's cover and win at UNLV.
Biggest moneyline upsets in Week 1:
Howard +60000 at UNLV
Liberty +7500 at Baylor
Maryland +700 at Texas
A $100 moneyline parlay on Liberty and Howard = $4,567,500
Rhode Island nearly pulled off an upset as 85:1 moneyline underdogs (+34 spread) but lost 30-27 in triple overtime at Central Michigan.
Stony Brook led South Florida in the 2nd half as 100:1 moneyline dogs (+36 spread) but lost 31-17.
Western Michigan closed as 30:1 moneyline dogs and led USC in the 2nd half but couldn't hang on, losing 49-31 on a couple late Trojan TD's.
Jackson State was the highest listed moneyline of the week at 2000/1 at TCU. They lost 63-0.
Biggest blowout wins:
Fresno St (-35 spread) 66-0 vs. Incarnate Word
TCU (-60 spread) 63-0 vs. Jackson St
Air Force (-34.5 spread) 62-0 vs. VMI
TCU opened -65 and closed -60 vs. Jackson State. It was the highest spread of the week and second-highest spread we've ever tracked (FSU -67 vs. Savannah St in 2012).
Betting Nuggets:
Liberty's win as 75/1 moneyline dogs was the biggest we've tracked in our database in terms of the closing moneyline until Howard 600/1 just hours later. There was also a big upset last year in Week 1 with South Alabama beating Mississippi State 21-20 as 30/1 moneyline dogs. Bettors seemed to be eyeing that upset though, as they were available at 70/1 on gameday.
With 5 minutes left in the 1st half, Missouri State/Missouri had already gone over the closing total of 63.5. Missouri State closed +36.5 on the spread and 110/1 on the moneyline and led Missouri 35-34 before halftime, but ultimately lost 72-43.
The Duke line moved 12.5 points from open to close, from -23.5 to -36 against NC Central. The Blue Devils cruised 60-7.
The total for Eastern Washington/Texas Tech was 87.5, tied for third-highest we've ever tracked. The game comfortably went under with TTU winning 56-10.
UNC lost 35-30 but scored a TD with no time left to send the game over the total. (opened 66, closed 57 at Bookmaker)
The Michigan/Florida Over hit after the Gators fumbled in the end zone with under 2 minutes left for a Michigan TD and 33-17 victory. The total ranged from 43 to 47.5 during the week, and Florida had 10 players suspended for the game. Wolverines also covered the -5 spread.
Always get the best line possible:
BC (opened -1.5, closed -3.5) won 23-20. Early bettors covered on the Eagles while late bettors did not. https://t.co/sKgBhFd4Zd

— Sports Insights (@SportsInsights) September 2, 2017
Arguably the best catch of the weekend:
New Mexico State (+26.5, 35% of bets) rallied late but ultimately lost 37-31 at Arizona State. https://t.co/MN3FNaJCs9

— Sports Insights (@SportsInsights) September 1, 2017
No betting nugget here, just a good clip from the Wyoming punter:
Oh no, Wyoming. pic.twitter.com/OucfC1ZKbo

— Deadspin (@Deadspin) September 2, 2017
Cool moment at USC:
Blind USC longsnapper Jake Olson on the extra point. Been part of the program for a long time, special moment. pic.twitter.com/wEQxeqc4Uk

— Bryan Fischer (@BryanDFischer) September 3, 2017
Key Injuries from Week 1:
FSU QB Deondre Francois (knee) out for season
Maryland QB Tyrell Pigrome (leg) questionable next week
Georgia QB Jacob Eason (leg) questionable next week
Purdue RB Markell Jones (leg) questionable next week
Baylor RB JaMycal Hasty (leg) out indefinitely
Hope everyone had a successful opening week to the season. You can keep up with all the latest odds, trends, betting %'s, injuries and more at our Free Live Odds page.