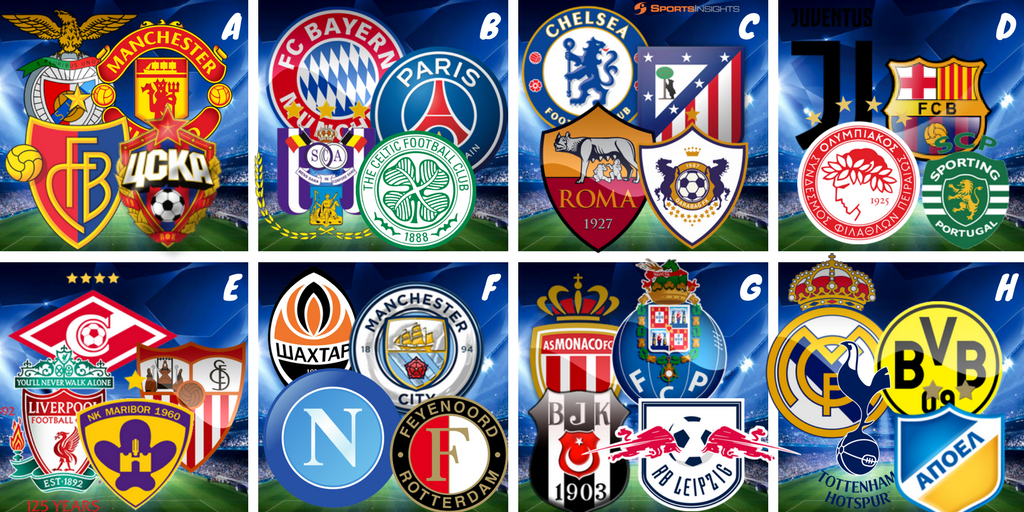 2017-18 Champions League Group Stage
The draw for the 2017-18 Champions League Group Stage took place on Thursday (8/24) and there are some juicy matchups awaiting fans as always. Each team will play 6 games– a home and away series against the other 3 teams in their group. The top 2 teams in terms of points will advance from each group and will move on to the Round of 16. Here's a look at how the group draw turned out:
The complete 2017/18 UEFA Champions League Group Stage draw!

Most exciting group?#UCLdraw pic.twitter.com/Jf9ebJrJ9t

— #UCL (@ChampionsLeague) August 24, 2017
Group H appears to be the toughest, with the top 3 teams very high in quality. Group B may feature the best matchup of Bayern Munich/PSG, but ultimately the games may not matter too much since both should advance with ease. Group G is probably the weakest overall and any of the four teams could make it out of the group stage.
It didn't take sportsbooks too long to start posting odds to win each group– Here's what 5Dimes opened with: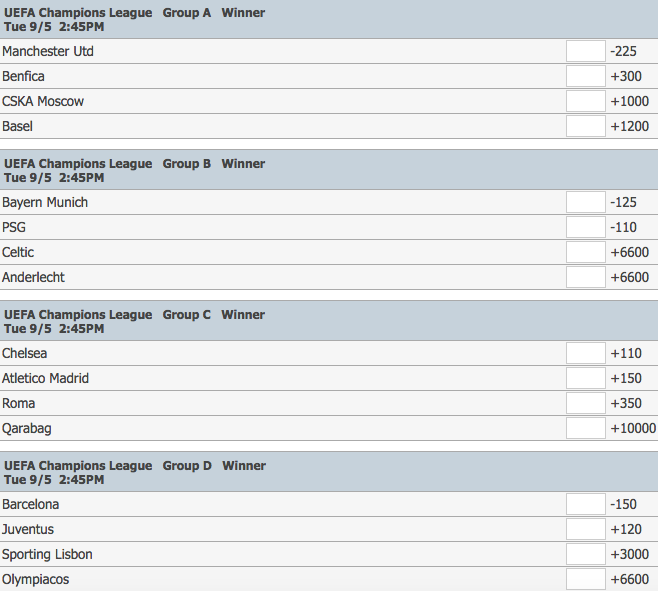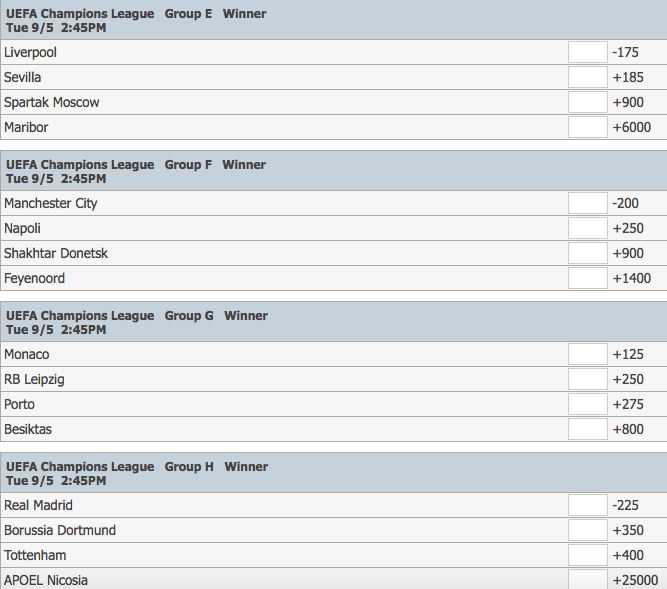 There are 4 Premier League teams favored in their groups (Man Utd, Chelsea, Man City, Liverpool) while Tottenham find themselves in arguably the toughest group. Before thinking about betting on a group winner, you'll want to know the fixtures for the group stages— if a team you want to bet on has a tough first game, you may want to wait until the first match is over or bet the first match individually. Conversely, if a team you like has a favorable opening match, betting them before the group stage may be the best bet.
At first glance I don't see much initial value in the first four groups. Man United are priced fairly and should finish atop Group A, and I'd be more comfortable betting them at -225 than Real Madrid -225 to win Group H.  Juventus are intriguing at +120 to win Group D but I'd probably need the price to be a little higher to be worth betting this early. In the last four groups, I see some potential value on Napoli +250 to win Group F but the price may be higher once more books have odds around the market. Porto at +275 is also intriguing, though not sure they're worthy of a bet just yet.
**September 11th Update**
5Dimes recently posted odds to qualify from each group but there still doesn't seem to be much value. Napoli at -300 to advance from Group F looks pretty solid, but not worth betting right now. They have a tough opening game in Ukraine and you're better off betting them in that game, or waiting until after the first game.
In Group G, I like Porto again this year at -120 to advance because the group is wide open. Monaco is the 'top' team in that group, but they aren't the same team as last year.
In Group H, I do like Tottenham at -130 to advance even though the group will be very tough. Again though, you may just want to bet them in the opening game against Dortmund if you like them to advance.