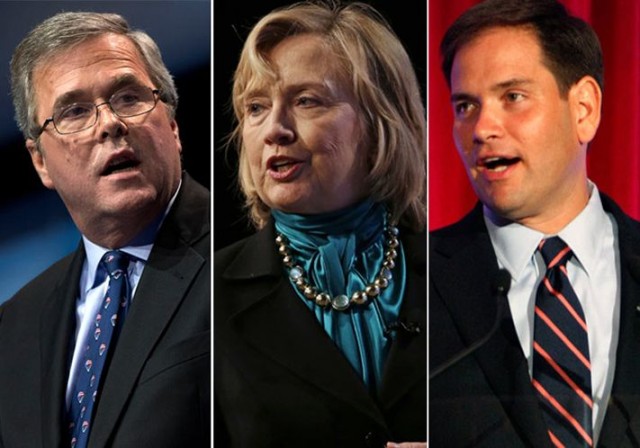 2016 Presidential Election Odds
On Tuesday, November 8, 2016, the United States of America will head to the polls to elect the next leader of the free world.
In an attempt to provide the most in-depth 2016 coverage as possible, the team at Sports Insights will be tracking the odds of all the major candidates to see who's rising, who's falling and who is presenting the most value to bettors.
On the Democratic side, Hillary Clinton has been a steady favorite since Day 1, which should come as no surprise. Hillary has decades of experience as a lawyer, first lady, Senator and Secretary of State. She is also well-versed in presidential campaigning, having narrowly lost the Democratic nomination to Barack Obama in 2008. Hillary is arguably the most popular, well-known woman on planet Earth and she appears poised to break the final glass ceiling.
On December 27, 2013, the first time we began tracking 2016 odds, Hillary stood at +225 at Sportsbook.com. Since then, her odds have improved dramatically. In early May, Hillary was down to even money and she currently stands at +105. In fact, BetOnline is offering a prop bet with the former first lady listed at +120 and the field listed at -150. That places her implied probability of winning at 42.55%.
On the Republican side, it's a wide open race, which presents a lot of value to savvy bettors. Jeb Bush is currently the favorite, but Marco Rubio, Scott Walker, John Kasich and a cast of others are nipping at his heels.
Below is a list of the top candidates along with their odds over time at Sportsbook.com.
| Candidate | 5/27/15 | 5/18/15 | 5/5/15 | 6/10/14 | 12/27/13 |
| --- | --- | --- | --- | --- | --- |
| Clinton (D) | +105 | +105 | Even | +175 | +225 |
| Bush (R) | +850 | +800 | +750 | +1200 | +1500 |
| Rubio (R) | +1200 | +1000 | +1200 | +1500 | +1200 |
| Walker (R) | +1500 | +1500 | +1500 | +5000 | +5000 |
| Kasich (R) | +3000 | +3000 | +3000 | +7500 | N/A |
| Paul (R) | +3500 | +3500 | +3500 | +2000 | +3000 |
| Carson (R) | +4000 | +4000 | +4000 | N/A | N/A |
| Christie (R) | +4000 | +4000 | +3000 | +1500 | +650 |
| Cruz (R) | +4000 | +4000 | +4000 | +5000 | +2000 |
| Warren (D) | +5000 | +5000 | +4000 | +3500 | +3000 |
| Biden (D) | +5000 | +5000 | +5000 | +3000 | +2500 |
| Huckabee (R) | +5000 | +7500 | +7500 | +7500 | N/A |
| Sanders (D) | +6500 | +8500 | +8500 | +7500 | N/A |
| Fiorina (R) | +6500 | +7500 | +7500 | N/A | N/A |
| O'Malley (D) | +7500 | +7500 | +7500 | +5000 | +5000 |
| Santorum (R) | +7500 | +7500 | +7500 | +10000 | +7500 |
| Perry (R) | +7500 | +7500 | +7500 | +5000 | +15000 |
ON THE RISE
-Scott Walker (R): The Wisconsin Governor opened at +5000. Since then, he has moved all the way to +1500, which puts him fourth overall behind only Hillary, Jeb and Rubio. One big reason for Walker's rise: he is a favorite of the Koch Brothers, who are expected to donate hundreds of millions of dollars to his campaign.
-John Kasich (R): The Ohio Governor's odds have improved greatly despite the fact that Kasich has stayed largely under the radar. He opened at +7500 in June of 2014 and now stands at +3000. Kasich is considered a "centrist," which could bode well for him as much of the Republican field is on the far-right end of the political spectrum. He is also one of the only GOP governors to accept Medicaid expansion under Obamacare and he hails from the critically important swing state of Ohio, two factors that set him apart from the rest of his competitors.
-Bernie Sanders (D): Although he's an Independent, the Vermont Senator is running as a Democrat. During the month of May, Sanders' odds moved from +8500 down to +6500. He remains a huge underdog, but Sanders is very well-respected among progressives and could end up being the biggest threat to Hillary on the Democratic side. He may not beat her, but Sanders could give Hillary a run for her money on the campaign trail and during the debates.
-Mike Huckabee (R): The former Arkansas Governor and Fox News host announced his candidacy for president on May 5th. Since then, his odds have improved from +7500 to +5000. He may not fare well in a general election, but he remains a darling among evangelical Christians, which will serve him well in Iowa and South Carolina.
-Carly Fiorina (R): The former CEO of Hewlett-Packard is an interesting candidate for one big reason: she is the only woman in the Republican field. Fiorina has also emerged as a Conservative favorite thanks to her unrelenting attacks on Hillary for not answering questions from the press, accepting foreign donations and erasing her email server. In the month of May, Fiorina's odds improved from +7500 to +6500.
FALLING OFF
-Jeb Bush (R): Bush may have the 2nd best odds overall, but from early March to now he has fallen from +750 to +850. A big reason for the stumble was his headshaking admission that, even knowing what we know now, he still would have invaded Iraq. Despite trying to back off his statement, it's clear that the comment was a huge unforced error that may dog him the entire campaign.
-Chris Christie (R): Once a favorite for 2016, Christie is barely even in the conversation anymore. Thanks to the BridgeGate scandal and an awful New Jersey economy, Christie's odds have ballooned from +650 to +4000. It looks like Christie is joining the race four years too late.
-Ted Cruz (R): Since December of 2013, Cruz's odds have moved from +2000 to +4000. He is a darling of the far-fight, especially among Tea Party members and Christian conservatives, which bodes well for him during the primary season. However, his odds have taken a big hit since Huckabee joined the race, largely because both candidates are targeting the same evangelical audience.
STAYING PUT
-Marco Rubio (R): The Florida Senator currently boasts the third best odds overall and 2nd best among Republicans (trailing only Bush). He opened at +1200 and that's exactly where he stands now. Rubio is a Tea Party favorite who is extremely unique. Unlike the majority of his party, Rubio is young (43) and Latino, which makes him an attractive candidate in a general election. The only question with Rubio is whether or not he can survive the Republican primary.
-Rand Paul (R): An outlier among Republicans, Paul is an anti-war libertarian who is very popular among young people, largely thanks to his crusade against NSA spying. His odds have dipped slightly from December 2013 to now (+3000 to +3500), but he still possesses the sixth best odds overall. If you stand with Rand, now is a good time to jump on the bandwagon as he could end up emerging as a front runner during the debates.
-Elizabeth Warren (D): Arguably the most popular politician in the Democratic Party, Warren has said time and time again that she will not run for president. However, a "Draft Warren" campaign continues to try to persuade her to change her mind. Currently, Warren stands at +5000, the tenth best odds overall and second best among Democrats. If she decides to run, her odds will skyrocket, which presents a great "buy low" opportunity for bettors who think she will eventually throw her hat in the ring.
-Joe Biden (D): Among Democrats, Biden possesses the third best odds, trailing only Clinton and Warren. As a longtime Senator and Vice President, he has a wealth of experience which could make him a formidable candidate if he decides to run.
-Ben Carson (R): A retired neurosurgeon, Carson is a widely popular figure on the far-right. He has the 7th best odds overall and could make noise during the Republican primary. However, he has also denied evolution, called Obamacare "the worst thing since slavery" and also compared homosexuality to bestiality, positions that make him largely unelectable in a general election.
Who do you think will win the 2016 Presidential Election? Are any candidates offering value? Please leave any thoughts, comments or questions in the section below.