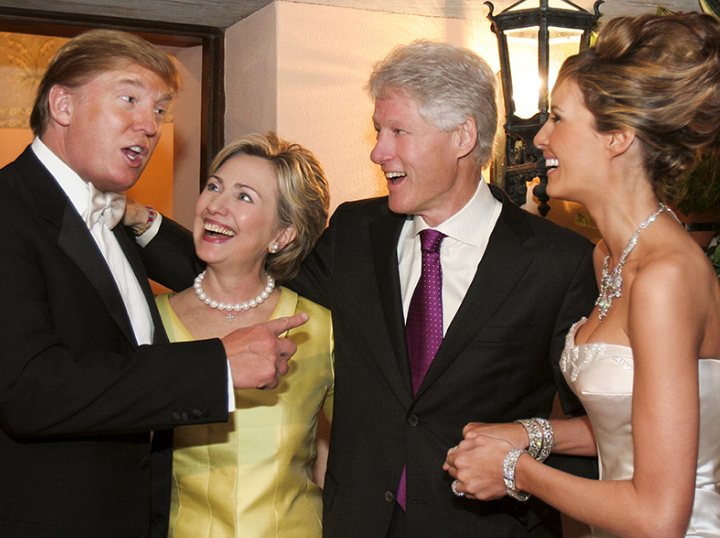 2016 Presidential Election Betting: Trump vs Clinton Debate Props
Tonight, while much of the sporting world will be focusing on Monday Night Football and late-season baseball, two of America's most polarizing figures will be squaring off in "the greatest political show on Earth."
For the very first time, Hillary Clinton and Donald Trump will be going to head-to-head on the debate stage. The highly anticipated showdown, which takes place at Hofstra University and kicks off at 9 PM ET on CNN, is the first of three nationally televised debates. The second and third debates are scheduled for October 9th and October 19th.
Clinton and Trump enter the first debate in a virtual dead-heat. The former Secretary of State holds a slight edge in the polls (46% to 44%) but, as we documented in our previous post, Trump has been on the rise over the past month and a half, cutting into Clinton's lead with each passing day.
Clinton is down to -200 at Bookmaker, while Trump stands at +168.
Meanwhile, @realDonaldTrump has risen from +365 to +168 since August 25th. (21% to 37% implied probability) #Debates

— Sports Insights (@SportsInsights) September 26, 2016
Trump is also enjoying his best odds of the campaign at Ladbrokes, a major British book. This is interesting because it shows how Trump's rise isn't limited to a US-based audience. His comeback bid is gaining steam with bettors across the pond as well.
Donald Trump's odds to win U.S. election have moved to 5/4 @Ladbrokes, the shortest they've been, per @LadsAlex. Hillary Clinton 8/13.

— David Payne Purdum (@DavidPurdum) September 26, 2016
Tonight's debate will be crucial for both candidates. Clinton needs a strong performance to reassert herself as the front-runner. Meanwhile, Trump needs to prove himself as a serious statesman and avoid policy-based gaffes or stumbles which could derail his comeback bid.
BREAKING DOWN THE DEBATE PROPS
In recent days, several books have released prop bets for tonight's debate.
Trump vs. Clinton Debate: Bookmakers Release 47 Prop Bets https://t.co/EKb72Yx2UQ pic.twitter.com/AbrlOtrLC0

— SportsbookReview (@SBRreview) September 26, 2016
No book has posted more props than 5Dimes, a sharper book that has higher limits. Here are some of the most intriguing props that they are offering.
Will Clinton say "Love Trumps Hate"? Yes +330, No -490
Will Clinton say "Benghazi"? Yes -110, No -130
Will Trump say "Monica Lewinsky"? Yes +340, No -510
Will Trump say "Crooked Hillary"? Yes +100, No -140
Will Trump say "Shut up"? Yes +450, No -750
Will either candidate say "Wall Street"? Yes -380, No +260
Will either candidate say "Woman Card"? Yes +205, No -285
Will either candidate say "Muslim Ban"? Yes +190, No -270
Will either candidate say "Fracking"? Yes +160, No -210
Will either candidate say "Marijuana"? Yes +180, No -260
Will either candidate say "Bernie Sanders"? Yes -195, No +155
Will either candidate say "Vladimir Putin"? Yes -120, No -120
Will either candidate say "Osama Bin Laden"? Yes +115, No -155
Will either candidate say "Tax Return"? Yes -600, No +400
Will either candidate say "Zika Virus"? Yes +270, No -390
Will either candidate say "Ronald Reagan"? Yes +145, No -185
Will either candidate say "Megyn Kelly"? Yes +350, No -530
Will either candidate say "John McCain"? Yes +150, No -190
5Dimes is also offering props on who will say certain words or phrases first.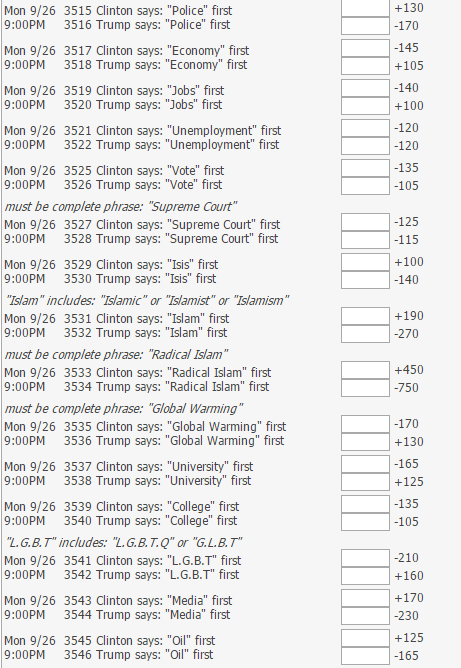 Here are some more props being offered at Bovada, a squarer book with lower limits.
Which will have a higher Nielsen rating? MNF +1000, Debate -2500
Will Trump call Clinton a liar? Yes -300, No +200
Will Trump mention Bill Clinton? Yes -200, No +150
Will Clinton mention Melania Trump? Yes +205, No -310
Will Clinton say "bigot" or "bigotry"? Yes -230, No +160
Will Clinton say "deplorable"? Yes +170, No -250
Will Trump say "Crooked Hillary"? Yes +110, No -250
Will Trump say "Build the Wall" or "Build a Wall"? Yes -350, No +225
BetOnline is also offering some interesting debate over/unders.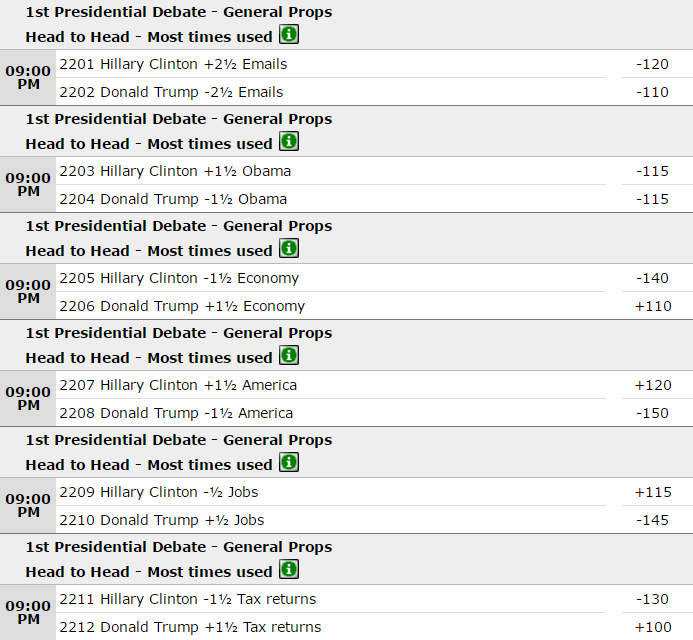 STAFF PICKS
Josh Appelbaum, Customer Service Manager: "Woman Card" +205 (5Dimes)
Unlike Trump, Hillary has very few canned phrases. However, "Woman Card" is one of them. Trump often accuses her of "playing the woman card" by lobbying for equal pay, paid family leave and supporting Planned Parenthood. Clinton has embraced this accusation and turned it into a strength by replying "If that's playing the woman card, deal me in." She even sells "deal me in" t-shirts and bumper stickers on her web site. Take the plus money and wait for Hillary to recite her only canned phrase, which will be followed by thunderous applause from the women in the audience. It's a lay-up.
David Solar, Content Manager: Facebook +220 (5Dimes)
Tonight marks the first American presidential debate that will be streamed on Facebook Live, but that won't be the only mention of the world's largest social network. Social media has exploded in the past four years, with people constantly turning to their phone for breaking news and analysis. It's a major part of our culture, and the candidates will struggle to ignore it.
Over at 5Dimes, the odds of either candidate saying "Twitter" are -210 while the odds for saying "Facebook" are +220. I don't fully understand this wide gap between the two social media platforms, especially given that Facebook's audience is significantly larger.
Donald Trump has certainly made his fair share of divisive comments on Twitter, but I think that the two platforms tend to be lumped together in conversation. For that reason, I will gladly take "Facebook" at plus money.
Nicole Patti, Marketing Coordinator: "Monica Lewinsky" -400 (BetOnline)
Late last year, during a call with NBC's "Today," Trump said Bill Clinton's affair with Lewinsky is fair game on the campaign trail. Shocker? Not really. This past weekend, one prominent Boston newspaper reported that Trump allegedly threatened to invite Gennifer Flowers, another one of Clinton's ex-mistresses, to tonight's debate, as a means to mock Hillary and throw her off her game. However, Trump knows that he is losing big with female voters and can't afford to push them away any further by skewering Hillary over the Lewinsky affair. While I don't think it's beneath Trump to mention Lewinsky during tonight's debate, I find it highly unlikely that he'll actually do it. This is why I'm going with "No."
Mark Gallant, Sports Information Specialist: "Crooked Hillary" +140 (BetOnline)
One of Trump's favorite phrases could result in a decent payout during tonight's debate. At +140, I feel that Trump saying "Crooked Hillary" has great value at BetOnline. At Bovada, the same wager has a +110 payout.
Travis Reed, Bet Labs Manager: "Bernie Sanders" +155 (5Dimes)
This prop is particular in that his complete name must be said. Hillary usually refers to him as "Senator Sanders" and she seems to be the more likely of the candidates to bring him up in order to sway his supporters to vote for her. Also, if Trump refers to him, he could easily call him "Crazy Bernie," which doesn't count for this prop.
WHAT DO YOU THINK?
Will you be watching tonight's debate? Are you going to place a wager on any of the props listed above? Will Hillary hang on and win the General Election on November 8th? Or will Trump finish his remarkable comeback and become the next President of the United States?
Please feel free to leave your thoughts in the comments section below.