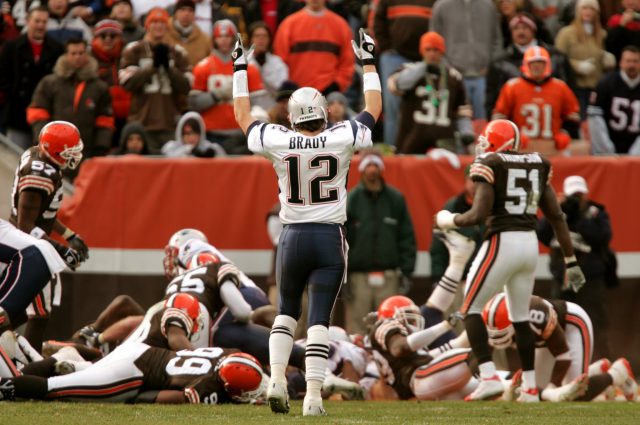 2016 NFL Week 5 Line Moves That Matter
Every week in this space we highlight the most interesting line moves at the market-setting offshore sportsbooks — typically Bookmaker and Pinnacle — which take the highest limits and therefore attract the sharpest bettors. By contrasting the opening and current lines with the public betting trends from our seven contributing offshore sportsbooks, we're able to determine how public betting has affected the line.
We are also proud to announce that in addition to our public betting percentages, we now offer real money percentages, which reflect the percentage of total dollars wagered at one of the sharper offshore sportsbooks. This allows bettors to easily monitor all the factors influencing line movement.
Using the data available to Sportsbook Insider subscribers, I have examined the latest trends to determine what's driving line movement in the most interesting Week 5 matchups.
New England Patriots at Cleveland Browns (Sunday at 1:00 PM eastern)
After being shutout in their Week 4 loss against Buffalo, the New England Patriots will look to get back in the win column this Sunday when they travel to face the Cleveland Browns. They should receive a major boost with two-time MVP Tom Brady returning from his four-game Deflategate suspension.
In this week's most heavily bet game, New England opened as 10-point favorites at the market-setting Bookmaker sportsbook. It's extremely rare to see double-digit road favorites, but that hasn't stopped public bettors from hammering the Patriots.
At the time of publication, New England was receiving 89% of spread bets and 89% of total dollars wagered. Although those numbers will likely drop before kick-off, the Patriots will likely be the biggest liability of the season for sportsbooks.
The screenshot below displays the breakdown of our contributing sportsbooks.

With public money steadily taking the road favorite, the Patriots moved from -10 to -10.5 at Bookmaker. Since the start of the 2003 season, "10" has been the third most common margin of victory, which makes this a fairly significant line move.
New England has been the most public team in our database, receiving a majority of spread bets in 82.1% of their games. Even so, this level of one-sided public betting would be almost unprecedented. No NFL team has received more than 89% of spread bets since December 7, 2008 when the Patriots (-7) received 91% of public support against the Seattle Seahawks. We will continue to monitor these betting trends, but you can guarantee that sportsbooks will be rooting for Cleveland on Sunday.
Philadelphia Eagles at Detroit Lions (Sunday at 1:00 PM eastern)
When the Eagles traded away their starting quarterback, Sam Bradford, many people believed that their season was effectively over. With a new head coach and rookie starting quarterback, Philly's odds of winning the Super Bowl dropped from 80/1 to 100/1 while their odds of winning the NFC East dropped from +550 to +650. At 3-0, the Eagles have been arguably the season's biggest early surprise.
Carson Wentz, who has played just one preseason game due to injury, has been phenomenal and looks like a legitimate franchise quarterback. The North Dakota State product has passed for 769 yards in three games, putting him on pace for over 4,000 yards. The rookie has also been extremely efficient, completing 64.7% of his passes while throwing for five touchdowns and zero interceptions.
Following their Week 4 bye, the Eagles opened as 2.5-point favorites at Bookmaker and have received 82% of spread tickets and 89% of total dollars wagered. This one-sided public betting has caused Philadelphia to move from -2.5 to -3.
[click image below to enlarge]

As you can see, the line dropped from 2.5 to 2 within minutes of opening. As public money started coming down on the Eagles, the line quickly ballooned from Philly -2 to -3 where it has remained all week.
San Diego Chargers at Oakland Raiders (Sunday at 4:25 PM eastern)
In this showdown between AFC West rivals, the Raiders opened as 4-point favorites at Bookmaker. Although public betting has been evenly split, the line has moved from Oakland -4 to -3.5. This line movement can be easily explained by our money percentages, which show that San Diego is actually receiving 81% of total dollars wagered.
[click image below to enlarge]

This discrepancy between the ticket percentage and money percentage indicates that early sharp money likes the Chargers plus the points. That's not entirely surprising considering that road underdogs have been exceptionally profitable against divisional opponents.
NFL road 'dogs in divisional games

This Season: 9-5 ATS (64.3%)
Since 2003: 440-370 ATS (54.3%)

— David Solar (@TheDavidSolar) October 4, 2016
It's also worth noting that there's been fascinating line movement on this game's total. According to our public betting trends, 77% of tickets and 92% of total dollars wagered have taken the over. Despite that overwhelming public support, the total dropped from 52.5 to 50 at Bookmaker. That reverse line movement indicates that early sharp money hammered the under.
Interested in checking out our new money percentages and line charts for every Week 5 game? Sign up now for a 4-day trial of Sportsbook Insider Pro. 
Pro subscribers have access to real-time odds, public betting trends, money percentages, bet signals (including steam moves and reverse line movement alerts), injury alerts, value meter, line watcher, line predictor, and many other unique features.  We have already released two NFL Best Bet for Week 5 including:
San Diego Chargers at Oakland Raiders
Arizona Cardinals at San Francisco 49ers
Have any questions for the staff at Sports Insights? Make sure to utilize our live chat or call us directly at 877-838-2853.