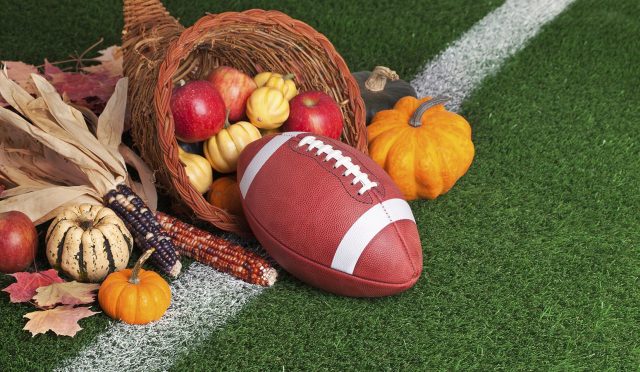 2016 NFL Week 12 Opening Line Report
Week 12 is here and it's time for some Thanksgiving football. Fortunately, it looks like we actually will get to see a few decent games this year as we try to avoid small talk at our family parties. Minnesota and Detroit are tied atop the NFC North, the Cowboys are looking for their tenth straight win, and we can only assume the Steelers and Colts will put up some points to wrap up the night.
All 32 teams are playing for the first time since Week 3, so hopefully a handful of lines will provide value. For what it's worth, three lines have already moved a point or more since opening.
The Steelers opened at -2 in Indianapolis but, after receiving almost 70% of spread bets, they have already moved up to -3. The total in that game is 53.5, which is the highest this week. Both teams have potent offenses, but it seems like the public feels that Ben Roethlisberger, Antonio Brown and crew are due for a breakout in the nice indoor conditions.
Another early move involves the Bengals, who took a huge blow yesterday. Giovani Bernard tore his ACL and is done for the year, while their star receiver, A.J. Green, is likely done for the year as well after suffering a hamstring injury. They face the Ravens on the road this week and early bettors have been pounding Baltimore. The Ravens have already moved from -3 to -4.5 and, with over 80% of early spread bets taking the chalk, that number could move even higher.
The final major line move may come as a surprise. The Patriots, who opened -9 at the Jets, have dropped to -7.5 in the early going despite receiving a large majority of the bets, as is generally the case. The initial line move, however, was caused by the Jets naming Ryan Fitzpatrick as their starter over Bryce Petty. The Jets are coming off a bye week and the books are clearly more comfortable with Fitzpatrick behind center. Since Tom Brady's return, the Patriots have consistently received over 75% of spread bets, but the books have been reluctant to move the lines. This week, the line will likely stay between seven and nine points regardless of how much public support New England receives.
Based on the lookahead lines provided by CG Technology, the biggest move since April is the 10.5 point swing in Cleveland. This was the one week that Cleveland was actually favored on the lookahead line, but they are now a touchdown underdog against the Giants. Last week, I took a look at the Browns' chances of going winless this season. So far, so good.
The Titans and Raiders have also earned a full touchdown point swing in their direction. The Titans are currently two point favorites against the lowly Bears, while the Raiders are four point favorites against the reigning NFC champion Panthers team.
One thing to keep an eye on this week is the weather. With December approaching, we can expect to see some cold and windy days which could cause bettors to pound the under. This past week, the totals in a couple of games with inclement weather dropped by a handful of points from open to close. If you're not a member, feel free to check our free odds page throughout the week and look at each game's weather by clicking the blue plus signs on the left side of the page.
Here is the full game list. Odds from Bookmaker are used for the opening and current lines unless otherwise noted. The lookahead lines come from CG Technology.
| Matchup | Current Line | Opening Line | Lookahead Line |
| --- | --- | --- | --- |
| MIN @ DET | DET -3 | DET -3 | MIN -2.5 |
| WAS @ DAL | DAL -7 | DAL -7 | DAL -3.5 |
| PIT @ IND | PIT -3 | PIT -2 | IND -1.5 |
| SD @ HOU* | PK | PK | HOU -4.5 |
| TEN @ CHI | TEN -2 | TEN -2 | CHI -5 |
| JAX @ BUF | BUF -7 | BUF -7 | BUF -5 |
| CIN @ BAL | BAL -4.5 | BAL -3 | CIN -1.5 |
| ARI @ ATL | ATL -4 | ATL -4.5 | ATL -2.5 |
| SF @ MIA | MIA -7.5 | MIA -7 | MIA -5 |
| LA @ NO | NO -7 | NO -7 | NO -1.5 |
| NYG @ CLE | NYG -7 | NYG -7 | CLE -3.5 |
| SEA @ TB | SEA -5 | SEA -4.5 | SEA -5 |
| CAR @ OAK* | OAK -4 | OAK -4 | CAR -3 |
| KC @ DEN | DEN -3.5 | DEN -3.5 | DEN -3 |
| NE @ NYJ | NE -7.5 | NE -9 | NE -2.5 |
| GB @ PHI | PHI -3 | PHI -3 | GB -3.5 |
* Originally off the board at Bookmaker, consensus line used
Bye Week: None
Coming Off Bye: Atlanta, Denver, New York Jets, San Diego
Purchase a Sportsbook Insider Pro membership and get NFL picks, contrarian plays, dollar percentages and bet signals, along with a fully customizable live odds page, line watcher, line predictor, the number of bets on every game, and more.
If you have any thoughts or questions, feel free to reach out to the Sports Insights staff by utilizing our live chat feature, commenting below, or emailing us at help@sportsinsights.com.