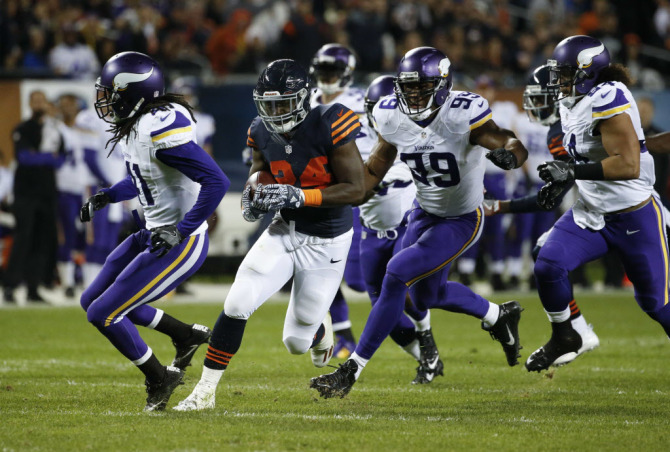 2016 NFL Season: Week 8 Betting Recap
Every Tuesday morning, the team at Sports Insights will examine some of the most interesting trends and results from the past week's NFL action. We'll also look at our betting systems, prop bets, futures movement, bad beats and more.
Based on the closing line at Pinnacle, underdogs went 5-8 ATS in Week 8. In the 2016-17 season, underdogs have gone 61-56 ATS (52.1%).
Home teams went 7-5 ATS in Week 8 and have gone 57-57 ATS this season.
Home underdogs went 2-3 ATS Week 8, but they have gone 20-17 ATS (54.1%) in the '16-'17 season.
Miami Dolphins in home games (Since 2003)

As Underdog: 19-20 ATS
As Favorite: 18-48 ATS

h/t @Bet_Labs

— Sports Insights (@SportsInsights) October 31, 2016
Even after going 1-4 ATS in Week 8, underdogs still are profitable in division games. On the season, division underdogs are 23-15 ATS (60.5%).
Betting against the public was not a profitable Week 8 strategy. Teams receiving less than half of spread bets went 6-7 ATS.
For the fourth straight week, the Patriots had the largest level of public support. New England (closed -5.5 at Pinnacle) received 84% of spread bets, which is the highest percentage of spread bets a team has received this season.
NFL teams receiving at least 80% of spread bets (since 2003)#Patriots 11-7 ATS
All other teams 77-100 ATS

— Sports Insights (@SportsInsights) November 1, 2016
New England remains the only NFL team to receive more than 80% of spread bets this season. The Patriots have received this level of support three times and covered the spread in all of those games.
Following the money was another profitable investment strategy in Week 8. Teams receiving more than half of spread dollars went 8-5 ATS (61.5%).
The AFC West went 3-1 ATS in Week 8 and has the best ATS record in the NFL. AFC West teams have gone 19-11 ATS (+7.35 u) this season.
Bettors following the line movement had a profitable week. When the line got at least a half-point bettor (i.e. moving from +4 to +4.5, or from -5 to -4.5), teams went 7-3 ATS.
Teams receiving less than 50% of spread tickets and over 50% of dollars went 3-2 ATS in Week 8.
Taking 'dogs straight up in Week 8 was not a profitable strategy (3-9 SU, -4.98 u). Still, taking every 'dog this season has earned bettors +13.55 units.
The biggest moneyline upset in Week 8 was the Chicago Bears (+205) beating their NFC North rival, the Minnesota Vikings. Only 29% of moneyline bets took the Bears.
In Week 8, NFL Overs went 9-4 (+4.70 u). Taking every over has gone 66-54 (+8.77 u) in '16-'17.
There are several key players listed as questionable, and we'll be tracking their status throughout the week. Some of these players include: Steve Smith Sr. (Ankle), LeSean McCoy (Hamstring), Randall Cobb (Hamstring), and Alex Smith (Concussion). Check out the latest updates on our free NFL injury page.
Although he missed four games due to a suspension, Tom Brady is the favorite to win the NFL MVP. Since returning, Brady has thrown 12 touchdowns and 0 interceptions, while completing 73.1% of his passing (the best percentage in the NFL).
Tom Brady (+210) listed as the NFL MVP favorite @paddypower. pic.twitter.com/Ad0AERHuXv

— Sports Insights (@SportsInsights) November 1, 2016
Following yet another loss, Bookmaker has posted odds for when the Browns (0-8) will get their first victory. At the time of publication, a winless season (+200) is the favorite.
At the midway point, the New England Patriots are favorites at +210 to win the Super Bowl at 5Dimes. The Dallas Cowboys and Seattle Seahawks have the second-shortest odds at +975.
Bengals wide receiver AJ Green has dethroned Julio Jones as the NFL's leader in receiving yards. Prior to the season, Green was +2500 to lead the league in receiving yards.
Make sure to bookmark our free NFL odds page for the latest lines, public betting trends, futures and more.
Have any questions for the staff at Sports Insights? Utilize our live chat to speak with a customer service representative or e-mail us at help@sportsinsights.com.