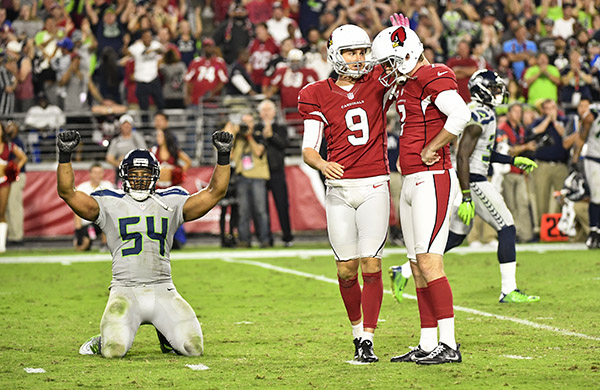 2016 NFL Season: Week 7 Betting Recap
Every Tuesday morning, the team at Sports Insights will examine some of the most interesting trends and results from the past week's NFL action. We'll also look at our betting systems, prop bets, futures movement, bad beats and more.
Based on the closing line at Pinnacle, underdogs went 8-6 ATS in Week 7. On the season, underdogs have gone 56-48 (53.8%).
Home teams went 7-6 ATS in Week 7, however they have still posted a losing record (50-52 ATS) on the season.
In Week 7, home underdogs went 3-1 ATS. They have gone 18-14 ATS (56.3%) this season .
Underdogs remain profitable in division games after going 3-2 ATS in Week 6. In the 2016-17 season, division underdogs have went 22-11 ATS.
Betting against the public was not a profitable strategy in Week 7. Teams receiving less than 50% of spread bets went 5-9 ATS.
The Patriots for the third straight week received the largest percentage of spread bets. New England (closed -7.5 at Pinnacle) received 82% of spread bets

.

New England is the only team in the NFL to receive over 80% of spread bets more than once this season. The Patriots have covered both of those games.
NFL Teams receiving over 50% of spread dollars went 10-3 ATS in Week 7.

— Sports Insights (@SportsInsights) October 25, 2016
Following the money was a profitable strategy in Week 7: teams getting over half of spread dollars went 10-3 ATS.
In Week 7, teams coming off a win went 4-1 ATS.
With the Vikings failing to cover against the Eagles, every NFL team hasn't failed to cover the spread at least once.
Although the #Browns are winless, they don't have the worst ATS record this season. 3 teams (CAR, CHI, and SF) have worse ATS records.

— Sports Insights (@SportsInsights) October 25, 2016
The NFC East went 2-1 ATS in Week 7 and is the most profitable division in the NFL. NFC East teams have gone 16-9 ATS this season.
Bettors following the line movement struggled in Week 7. When the line got at least a half-point worse (i.e. moving from +5 to +4.5 or -5.5 to -6), teams went 5-7 ATS.
Teams receiving less than 50% of spread tickets and over 50% of dollars went 2-0 ATS in Week 7.
Although NFL underdogs went 7-7 straight up in Week 7, moneyline bettors would have earned +2.08 units taking every 'dog.
The biggest moneyline upset in Week 7 was the visiting San Diego Chargers (+186) defeating the Atlanta Falcons 33-30 in overtime.
In the '16-'17 season, NFL underdogs have gone 48-58 (45.3%) with +18.52 units won on the moneyline.
In Week 7, NFL Unders went 9-6, however taking Unders has not been a profitable strategy in this season (50-57).
Week 7 featured one bad beat: Seattle Seahawks (+2.5) at Arizona Cardinals. The Cardinals marched down the field on their first possession in overtime and Chandler Catanzaro kicked a 45-yard field goal to take the lead 6-3. In less than five minutes, Russell Wilson and his Seahawks marched down the field and Steven Hauschka tied the game with a 36-yard field goal. Carson Palmer answered right back, leading his Cardinals almost 70-yards into the red zone. This drive gave Catanzaro perfect field position for an easy chip shot

—

or so you'd think. Catanzaro's kick went off the upright and bounced out. Although the Cardinals did not lose the game thanks to a shanked field goal by Hauschka, the team failed to cover the 2.5-point spread.
Doink. #SEAvsAZ pic.twitter.com/ztSyGoL7OC

— NFL (@NFL) October 24, 2016
Matt Ryan leads the league with 2348 passing yards. Before the season he had the third-shortest odds (+850) to lead the league.
Even though his team was on a bye, Ezekiel Elliott still leads the league with 703 rushing yards. Before the season he was tied for the third-shortest odds (+900) to lead the league.
Julio Jones leads the league with 830 receiving yards. Before the season he was tied for the shortest odds (+350) to lead the league.
There are several key players listed as questionable, and we'll be tracking their status throughout the week. Some of these players include: Jordan Reed (Concussion), LeSean McCoy (Knee), Muhammad Wilkerson (Ankle), Carlos Hyde (Shoulder), and Kam Chancellor (Groin). Check out the latest updates on our free NFL injury page.
Make sure to bookmark our free NFL odds page for the latest lines, public betting trends, futures and more.
Have any questions for the staff at Sports Insights? Utilize our live chat to speak with a customer service representative or e-mail us at help@sportsinsights.com.