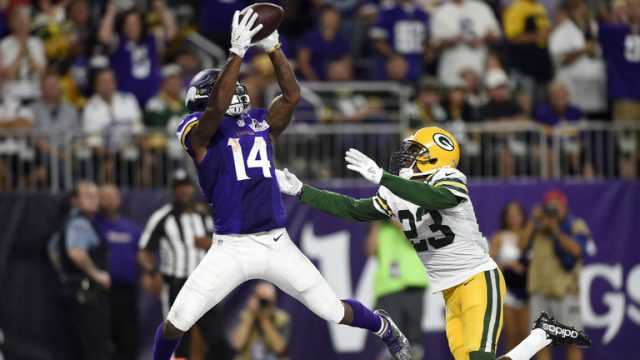 2016 NFL Season: Week 2 Betting Recap
Every Tuesday morning, the team at Sports Insights will examine some of the most interesting trends and results from the past week's NFL action. We'll also look at our betting systems, prop bets, futures movement, bad beats and more.
After going 10-6 ATS in Week 1, underdogs went 9-7 ATS in Week 2. On the season underdogs have gone 19-13 based on the closing line at Pinnacle.
Underdogs have historically provided additional value in games with low totals. This season underdogs have gone 9-5 ATS when the closing total is 44 or less.
Home underdogs continue to provide profitable returns in Week 2 of the NFL season. They went 3-1 ATS last week, pushing their record to 35-20 ATS (63.6%) since the start of the 2003 season.
Home teams went just 5-11 ATS in Week 1, but bounced back with a 9-7 ATS record in Week 2. On the season, home teams have gone 14-18 ATS.
It was another week of mixed results for betting against the public. Teams receiving less than 50% of spread bets went 7-9 ATS, teams receiving less than 40% of spread bets went 3-4 ATS, and teams receiving less than 30% of spread bets went 2-1 ATS.
Several months ago, we added money percentages — which reflect the total dollars wagered on each side at one of the sharper offshore sportsbooks. This year teams receiving at least 50% of the money have gone 17-16 ATS, teams receiving at least 60% of the money have gone 10-7 ATS and teams receiving more than 70% of the money have gone 4-2 ATS.
In our betting against the public report, we explained teams receiving less than 25% of spread bets had historically produced the greatest returns. On Sunday night, the Minnesota Vikings (closed +1.5 vs, Green Bay) received just 24% of spread bets. That marks the most one-sided public betting on the season. The Vikings won straight up, which was a major book for sportsbooks.
We tracked more bets on #GBvsMIN than the next two most popular games combined. Vikings covering was huge for the books.

— Sports Insights (@SportsInsights) September 19, 2016
We always recommend buying on bad news and selling on good news. In Week 2, teams coming off a loss went 6-4 ATS against teams coming off a win.
The over went 9-7 in Week 2, pushing the record to 18-14 on the season. When less than 50% of public bettors are taking the over, that record moves to 5-2.
For the second consecutive week, underdogs went 8-8 straight up. Taking every underdog on the moneyline this season would have resulted in +8.16 units won.
In this week's biggest moneyline upset, the Tennessee Titans (closed +231) defeated the Detroit Lions on a late touchdown pass from Marcus Mariota to Andre Johnson.
https://twitter.com/BestNFL_Plays/status/777978280850825216
The Ravens, who trailed 20-2 late in the second quarter, reached +475 on the live moneyline before coming back to beat the Ravens 25-20. The spread for this game ranged between Baltimore -4 and -7, which shows that it's crucial to shop for the best line and get the best of the number.
The Colts closed as 5-point underdogs at Pinnacle, but most books closed Indy +6. It's also worth nothing that the line was available at +6.5 or +7 throughout the week. Anybody who took that line is likely fuming after taking a bad beat on Sunday. Trailing 23-20 with two minutes remaining in the fourth quarter, the Broncos were unable to pick up a first down on third-and-one. Instead of running out the clock (thereby allowing Indy to cover), they kicked a field goal to make it 26-20. Many Colts backers were still sitting pretty until Von Miller stripped Andrew Luck, and Shane Ray returned it for a touchdown. That play was devastating to anybody who took the Colts or the under (closed 47).
https://www.youtube.com/watch?v=5L1AErnJUcQ&feature=youtu.be&a
After two weeks, Andy Dalton leads the league with 732 passing yards. He closed with the 18th-best odds (+6600) to lead the league in passing.
DeAngelo Williams leads the league with 237 rushing yards. He did not have preseason odds to lead the league in rushing yards.
>Stefon Diggs leads the league with 285 receiving yards. He was +12500 to lead the league in receiving yards before the season.
There were several key injuries last week. Adrian Peterson is expected to be out indefinitely with a knee injury. Two starting quarterbacks, Cleveland's Josh McCown and New England's Jimmy Garoppolo, are also expected to miss their Week 3 games. Other major injuries include: Jay Cutler (Hand), Jamaal Charles (Knee), Rob Gronkowski (Hamstring), Brandon Marshall (Knee) and Julio Jones (Ankle). Check out the latest updates on our free NFL injury page.
Updated Super Bowl Odds via 5Dimes
New England Patriots +565
Pittsburgh Steelers +725
Green Bay Packers +850
Carolina Panthers +875
Arizona Cardinals +1000
Seattle Seahawks +1200
Denver Broncos +1850
Minnesota Vikings +1900
Kansas City Chiefs +2200
New York Giants +2500
Houston Texans +2700
Cincinnati Bengals +2850
Baltimore Ravens +3800
Dallas Cowboys +4000
New York Jets +4700
Philadelphia Eagles +5000
Oakland Raiders +5500
Indianapolis Colts +6600
San Diego Chargers +6600
Jacksonville Jaguars +8000
Tampa Bay Buccaneers +9500
Washington Redskins +9500
Detroit Lions +10500
Atlanta Falcons +11500
Chicago Bears +15500
New Orleans Saints +17500
Tennessee Titans +19500
San Francisco 49ers +21500
Miami Dolphins +24500
Los Angeles Rams +29500
Buffalo Bills +37500
Cleveland Browns +58500
My Week 2 betting system for ESPN focused on road underdogs in divisional games. Last week's system picks went 2-1 ATS, pushing the record to 4-2 ATS on the season. Since the inception of this column last year, my picks have gone 29-21 (58.0%).
Make sure to bookmark our free NFL odds page for the latest lines, public betting trends, injuries, futures and more.
Have any questions for the staff at Sports Insights? Utilize our live chat to speak with a customer service representative or e-mail us at help@sportsinsights.com.