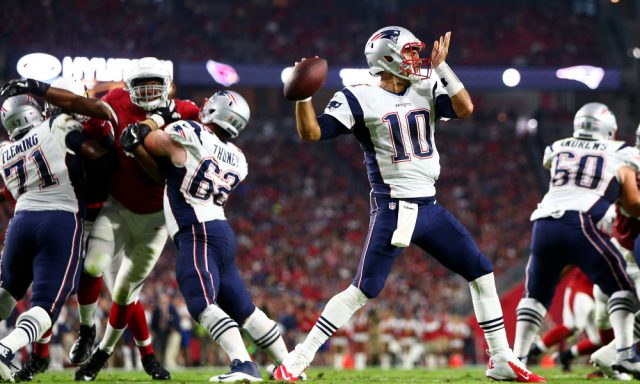 2016 NFL Season: Week 1 Betting Recap
Every Tuesday morning, the team at Sports Insights will examine some of the most interesting trends and results from the past week's NFL action. We'll also look at our betting systems, prop bets, futures movement, bad beats and more.
It was an excellent start to the season for many contrarian betting strategies. In Week 1, underdogs went 10-6 ATS while underdogs of at least 6-points went 3-0 ATS. Visitors were also very profitable, going 11-5 ATS. Road underdogs went 8-3 ATS.
The over went 9-7 during Week 1 including a 6-1 record in games with a closing total of 45 or higher.
There were mixed results for betting against the public last week. Teams receiving less than 50% of spread bets went 6-8 ATS, teams receiving less than 40% of spread bets went 4-5 ATS and teams receiving less than 30% of spread bets went 1-1 ATS.
The Jacksonville Jaguars (closed +3.5 vs. Green Bay) received only 26% of spread bets, which made them the least popular team in Week 1. It's interesting to note that they were hammered by sharp money at +4.5, but ultimately lost by four points.
It's crucial to shop for the best line and get the best of the number. In Thursday's NFL Kickoff Game, the Broncos opened as 2-point favorites with an over/under of 43 at BetOnline way back in April. The Panthers closed as 3-point favorites with an over/under of 40.5. The final score was Denver 21, Carolina 20. That means you could have won betting either side of the spread or total, depending on which line you took.
In the biggest upset of the week, the New England Patriots (closed +9 on the spread, +330 on the moneyline) defeated the Arizona Cardinals. The Pats received 50% of spread bets and 58% of moneyline bets. The Pats hadn't been such large underdogs since January 3, 2010 against the Houston Texans.
Patriots were +330 on the moneyline last night, their biggest straight up win we've tracked. Previous high was +240 vs. Miami in 2003.

— Sports Insights (@SportsInsights) September 12, 2016
Since 2003, the Patriots have gone 24-12 ATS as an underdog and 8-2 ATS as an underdog of at least 4.5-points.
The Chiefs, who trailed 24-3 midway through the third quarter, reached +1190 on the live moneyline before coming back to beat the Chargers in OT 33-27. San Diego still covered the 6.5-point closing spread, but this was a bad beat for anybody who took the Chargers moneyline.
It was also a tough loss for anybody who took Titans/Vikings Under 40.5. Both offenses struggled early, and the Vikings held a 12-10 lead entering the fourth quarter. However, the Vikings posted three straight scores (including a 24-year fumble return touchdown) to take a 25-10 lead. The under still looked good until DeMarco Murray scored on a meaningless four-yard touchdown pass with just 28 seconds remaining.
This week features some of the most competitive games in recent memory, including three games that were decided by 1-point: Bengals over Jets, Giants over Cowboys and Raiders over Saints). Interestingly, the Bengals and Giants were both listed as 1-point favorites throughout the week, before closing as 1-point underdogs.
There were several key injuries last week. Robert Griffin will be out indefinitely due to a shoulder injury, although the downgrade to Josh McCown is negligible to the spread. Keenan Allen (Knee) is expected to miss the entire season while Sammy Watkins (Foot), Demaryius Thomas (Hip), Rob Gronkowski (Hamstring) and Jamaal Charles (Knee) are all listed as questionable. Check out the latest updates on our free NFL injury page.
Drew Brees threw for a league-high 423 yards in Week 1. He closed as the +500 favorite to lead the league in passing yards.
DeAngelo Williams ran for a league-high 143 yards in Week 1. He did not have preseason odds to lead the league in rushing yards.
A.J. Green hauled in a league-high 180 receiving yards in Week 1. He closed with the sixth-shortest odds (+1600) to lead the league in receiving yards.
Good news for Saints fans. Over the past thirteen seasons, Drew Brees has been the league's second most profitable quarterback — trailing only Tom Brady — after a loss.
Since 2003, Drew Brees has gone 45-29 ATS (60.8%) following a loss. NO (+5 at NYG) coming off a 1-point loss to the Raiders.

— David Solar (@TheDavidSolar) September 13, 2016
Although teams who missed the playoffs last season had mixed results, my Week 1 system picks on ESPN went 2-1 ATS. Since the inception of this column last year, my picks have gone 27-20 (57.4%).
Have any questions for the staff at Sports Insights? Utilize our live chat to speak with a customer service representative or e-mail us at help@sportsinsights.com.