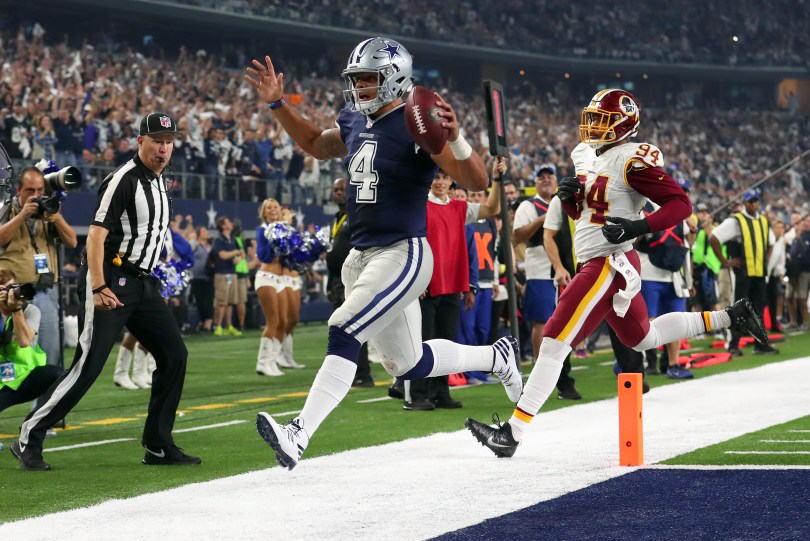 2016 NFL Season: Week 12 Betting Recap
Every Tuesday morning, the team at Sports Insights will examine some of the most interesting trends and results from the past week's NFL action. We'll also look at our betting systems, prop bets, futures movement, bad beats and more.
Based on the closing line at Pinnacle, underdogs went 8-7-1 ATS in Week 12. This season they are 89-82-6 ATS.
In Week 12, road teams also went 8-7-1, extending their season record to 86-81-6
Visiting 'dogs went 5-4-1 in Week 12 and are now 60-53-5 ATS.
In Week 12, division 'dogs went 3-2 ATS, pushing their record to 32-23-1 (+7.76 u).
Teams that received over half of spread bets went 8-7-1 ATS. This season teams that have received more than 50% of spread bets are 90-78-6 ATS.
Best #NFL ATS teams#Cowboys 9-2#Patriots 8-3#Redskins 8-3#Saints 7-3#Falcons 7-4#Raiders 7-4#Chargers 7-4#Lions 7-4#Broncos 7-4

— Sports Insights (@SportsInsights) November 28, 2016
The New England Patriots received the highest level of support in Week 12. The Pats (closed as 9-point favorites) received 82% of spread bets, but failed to cover the spread despite winning 22-17.
Teams that received less than half of the spread money went 8-7-1 ATS. This season teams receiving this level of support are 86-79-6 ATS.
The NFC East went 2-2 ATS yet again, but remains the most profitable division in the league. In '16-'17, NFC East teams are 28-13-1 ATS (+11.70 u).
When the line got at least a half-point better (i.e. moving from +4 to +4.5), teams went 7-5-1.
In Week 12, favorites went 13-3 straight up, pushing their record to 105-70 (60%) this season. However, bettors would be down -16.36 units if they took every favorite this season.
NFL underdogs on the moneyline this season

Dogs of +6 or less: 63-67, +25.18 units
Dogs of +6.5 or more: 6-38, -20.23 units

— Sports Insights (@SportsInsights) November 28, 2016
For the second week in a row, the Tampa Bay Buccaneers pulled off the biggest moneyline upset. The Bucs (+197) defeated the Seattle Seahawks 14-5. Tampa Bay received only 22% of spread bets and 26% of spread money.
NFL overs went 8-8 in Week 12, but taking the under has gone 92-85 this year.
There was one notable tough break for bettors in Week 12. Late in the fourth quarter of the Patriots-Jets game, LeGarrette Blount rushed for 23 yards on a 3rd-and-2, bringing New England into the red zone. With a 22-17 lead and recognizing the Jets had no timeouts remaining, Tom Brady took three knee-downs, ending the game. This was especially noteworthy because the Pats closed as 9-point favorites, but also were available at -7.5 earlier in the week. If Blount managed to score a touchdown on that aforementioned play, New England would have covered both numbers. Should Blount have been stopped short on third down, the Pats would have likely kicked a field goal and, if made, would have covered the 7.5-point spread.
Elliott (+400) is the favorite to win the MVP at 5Dimes, but Brady (+325) is the favorite at BetOnline.

Always shop for the best line. https://t.co/k91EJk1Iar

— Sports Insights (@SportsInsights) November 29, 2016
With five weeks left in the regular season, New England (+140) is still the favorite to win the Super Bowl at Westgate Superbook. Also in the top-5: Dallas (+450), Seattle (+600), Oakland (+1200), and Atlanta/Pittsburgh (+1400).
After Week 12, there were shake ups in multiple contested division races. (Odds via Bovada)

AFC South: Houston Texans +100, Tennessee Titans +150, Indianapolis Colts +400
AFC West: Oakland Raiders +100, Kansas City Chiefs +140, Denver Broncos +500
NFC North: Detroit Lions -160, Green Bay Packers +275, Minnesota Vikings +325

At Top Bet, Jason Garrett (+150) is now the favorite to win Coach of the Year. His Cowboys are 10-1, which is the best record in the NFL. Keep in mind; this is all without long time star quarterback Tony Romo.
The Cleveland Browns (0-12) still have not won a single game. A bye week could help, but their next opponent, Cincinnati, will not be a cakewalk.  The Browns were 7.5-point 'dogs in the lookahead lines and after their Week 12 loss, the Browns are now only +125—which translates to a 44% implied probability—to go winless.
Make sure to bookmark our free NFL odds page for the latest lines, public betting trends, futures and more.
Have any questions for the staff at Sports Insights? Utilize our live chat to speak with a customer service representative or e-mail us at help@sportsinsights.com.