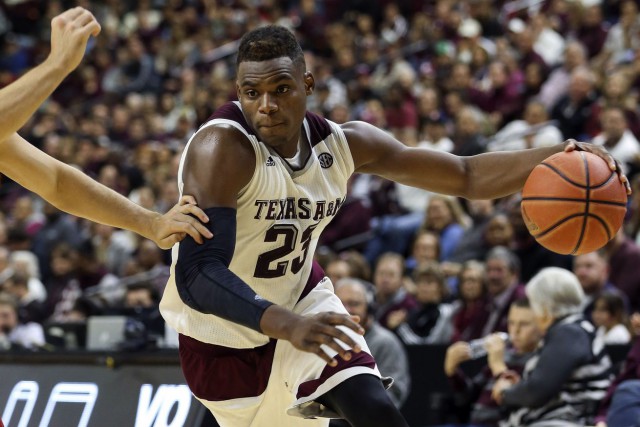 2016 March Madness: Sweet 16 Line Moves That Matter
Throughout the past NFL season, our weekly Line Moves That Matter articles would highlight the most interesting line moves at the market-setting offshore sportsbooks — typically CRIS and Pinnacle which take the highest limits and therefore attract the sharpest bettors. By contrasting the opening and current lines with the public betting trends from our seven contributing offshore sportsbooks, we were able to explain what factors were influencing line movement.
A few months ago we added money percentages to our site which allows us to track the total amount of dollars wagered at one of the largest offshore sportsbooks. This gives us a more complete overview of the sports betting marketplace and allows us to more easily separate sharp money from square/public money.
Last week we analyzed the three most interesting line moves in the Round of 64 which highlighted contrarian value and sharp on three teams: Cal State Bakersfield, Iowa and Dayton. Although these leans only went 1-2 against the spread (ATS), many of the featured betting systems performed very well.
In one of our more popular articles, we explained why bettors should be wary of trendy underdogs. That system went 6-5 ATS in the opening weekend, pushing the overall record to 86-59 ATS (59.2%). We also discussed our latest ESPN contrarian system which examined the correlation between the volume of bets and the value derived from betting against the public. The picks included with that article went 4-3 ATS and the system itself went 6-4 ATS.
Although the only picks we fully endorse are our Best Bets, sharp money indicators like reverse line movement help offer insight into which teams are offering value and whether public perception is creating artificial line value.
Knowing that our contrarian strategies have continued to be profitable, we wanted to examine the line movement in two Sweet 16 games with lop-sided public betting.
Texas A&M Aggies vs. Oklahoma Sooners (Thursday at 7:37 PM eastern)
In the West Region, 2-seed Oklahoma opened as a 1.5-point favorite against 3-seed Texas A&M at the market-setting Pinnacle sportsbook. In early betting the Sooners have received 80% of spread bets, which has caused the line to move from -1.5 to -2.5.
The line graph below displays how public betting has affected the spread at Pinnacle.

Since there have been no bet signals triggered on this game, we can ascertain that public money is solely responsible for this one-point line move. In other words, opportunistic bettors can get a free point based purely on public perception.
We always recommend betting against the public and buying back on artificially inflated lines. Since 2003, tournament teams receiving less than 30% of spread bets have gone 34-19 ATS (64.2%) when public betting caused at least a half-point of line movement.

We should also point out that this extremely one-sided public betting has historically created excellent value for contrarian bettors. Over the past decade only twelve NCAA Tournament teams have received less public support than Texas A&M, and these teams have proved to be exceedingly lucrative.
Since '05, NCAA Tournament teams receiving less than 20% of spread bets have gone 11-1 ATS. Texas A&M (+2.5) currently receiving exactly 20%

— Sports Insights (@SportsInsights) March 23, 2016
It will be interesting to see whether there's any buy back on the Aggies prior to tip-off, but regardless we like the value on Texas A&M +2.5.
Maryland Terrapins vs. Kansas Jayhawks (Thursday at 9:40 PM eastern)
In the South Region, the top-seeded Jayhawks opened as 6.5-point favorites and have received 69% of spread bets. The screenshot below, which is available to Sportsbook Insider customers, displays the public betting trends at our seven contributing sportsbooks.
Despite this one-sided public betting, the line hasn't moved since opening. This lack of line movement can likely be explained by our money percentages, which indicate that Maryland has received 51% of total dollars wagered. This type of schism between the ticket count and handle indicates that early sharp money has been taking the Terrapins.
Although we have only been archiving these money percentages for a short period of time, we have already found some interesting results. In fact, teams receiving less than 35% of spread bets and more than 50% of total dollars wagered have gone 30-21 ATS (58.8%) when the number of bets on the game is at least the daily average.

The sample size is small, but this type of split represents the "Pros vs. Joes" model that sports bettors have discussed for years. It's also worth noting that we have identified similarly profitable results for NBA teams fitting these criteria.
We have also found that underdogs of at least 3-points have gone 54-37 ATS (59.3%) during the Sweet 16 and Elite 8, which further indicates that the Terrapins offering value. On Thursday morning, we saw the first big wave of sharp money hammering Maryland.
Although Maryland is receiving just 33% of spread bets, the Terps have moved from +6.5 to +6. (via @PinnacleSports) pic.twitter.com/AgumLETjPl

— Sports Insights (@SportsInsights) March 24, 2016
Reverse line movement refers to betting line movement that contradicts the public betting percentages, and it's an excellent indicator of sharp money. This half-point move validates our lean towards Maryland, but bettors should be sure to shop for the best line since the Terps are still available as 6.5-point underdogs at several offshore sportsbooks.
---
Want our official Best Bet picks for March Madness?
Sign up for an extended trial of our Sportsbook Insider Pro and access all of our picks instantly! That includes not only NCAAB, but also NBA and NHL. Schedule a one-on-one demo with our customer service manager and we'll tack four free days onto your subscription.
These numbers are subject to change before kickoff, so bettors should be sure to visit our free college basketball odds page for the latest lines, injuries, public betting trends and more.
Have any questions for the staff at Sports Insights? Utilize our live chat to speak with a customer service representative or e-mail us at help@sportsinsights.com.
David Solar is the Content Manager for Sports Insights and can be reached directly at David@SportsInsights.com