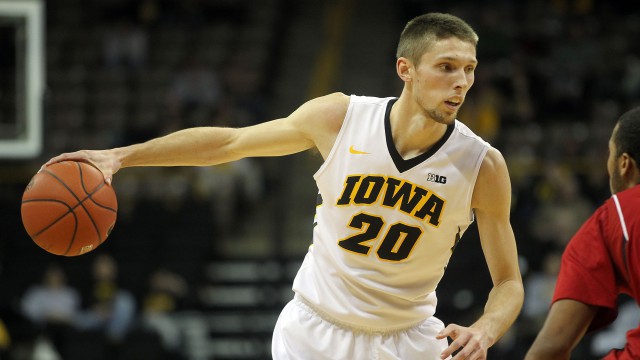 2016 March Madness: Round of 64 Line Moves That Matter
Throughout the past NFL season, our weekly Line Moves That Matter articles would highlight the most interesting line moves at the market-setting offshore sportsbooks — typically CRIS and Pinnacle which take the highest limits and therefore attract the sharpest bettors. By contrasting the opening and current lines with the public betting trends from our seven contributing offshore sportsbooks, we were able to explain what factors were influencing line movement.
With the first round of the NCAA Tournament starting on Thursday afternoon, we wanted to analyze the most interesting line moves and determine whether any sides were being undervalued. We have created several profitable March Madness betting systems, but there was one new feature that we were particularly excited about utilizing.
A few months ago we added money percentages to our site which allows us to track the total amount of dollars wagered at one of the largest offshore sportsbooks. This gives us a more complete overview of the sports betting marketplace and allows us to more easily separate sharp money from square/public money.
Although the only picks we fully endorse are our Best Bets, sharp money indicators like reverse line movement help offer insight into which teams are offering value and whether public perception is creating artificial line value.
Betting against the public is one of the most popular methods used at Sports Insights, and that's particularly true during high-profile events like March Madness and the NFL Playoffs. Using our Bet Labs software, we found that teams receiving less than 50% of spread bets have gone 362-331 ATS (52.2%) while teams receiving no more than 40% of spread bets have gone 195-164 ATS (54.3%) with +20.95 units won.
Knowing that our contrarian strategies have been lucrative, we chose to analyze three teams that are being ignored by the betting public.
Syracuse vs. Dayton (Friday at 12:15 PM eastern)
In Friday's first game, 7-seed Dayton opened as a 1-point underdog at Pinnacle against 10-seed Syracuse. It's always surprising to see a higher seed open as a 'dog, but this line was perplexing for several reasons. For starters, it's been extremely profitable to back the 7-seed in the first round of the tournament.
The 7-seed (25-18 ATS, +5.78 units) has been the most profitable seed in the Round of 64. #MarchMadness

— Sports Insights (@SportsInsights) March 14, 2016
You would expect that bettors would leap at the opportunity to take the higher-seeded team as an underdog, but clearly bettors are being influenced by the name recognition of Syracuse. At the time of publication, Dayton was receiving just 40% of spread bets yet they had moved from +1 to -1 at Pinnacle. This reverse line movement is an excellent indicator that sharp money has been pounding the Flyers.
The line graph below displays how public betting has affected the spread at Pinnacle.

For anybody that's unfamiliar with our service, the icon shown on the line graph indicates that a steam move was triggered on this game. On Monday morning at 10:46 AM eastern, there was a steam move triggered on Dayton (PK) at Pinnacle. The Pinnacle NCAAB steam move has gone 241-203 ATS (54.28%) this season and has historically been one of our top performing bet signals. This gives us further evidence that sharp money is on the Flyers in this matchup.
Dayton is offering value to bettors, and could be an excellent pick for people looking to create a contrarian bracket.
Temple vs. Iowa (Friday at 3:10 PM eastern)
In one of this week's more peculiar games, Iowa opened as a 7-point favorite at Pinnacle and have received just 25% of spread bets. Despite this one-sided public betting, the Hawkeyes have moved from -7 to -7.5 across the sports betting marketplace. Once again, this indicates that sharp money likes Iowa as a contrarian favorite.
The screenshot below, which is available to Sportsbook Insider subscribers, shows the individual betting percentages from our contributing sportsbooks.

During the regular season it's extremely rare to find a majority of public bettors taking an underdog, but the NCAA Tournament is an entirely different animal. Bettors become enamored with Cinderella stories, which can create value for opportunistic bettors.
Earlier this week we explained why bettors should be wary of the trendy underdog, and created a new betting system that has gone 80-54 ATS (59.7%) with +21.56 units won. Iowa and Dayton fit these criteria, which makes them both solid value plays.
Iowa ended their season by losing five of their final six games, which is clearly influencing public opinion. At Sports Insights we encourage readers to buy on bad news and sell on good news as part of our contrarian strategy. For that reason, this might be the ideal opportunity to buy low on the Hawkeyes.
Cal State Bakersfield vs. Oklahoma (Friday at 4:00 PM eastern)
Buddy Hield may be the presumptive favorite to win the Wooden Award, but there's reason to believe there may be value fading Oklahoma in Friday's showdown. The Sooners opened as 13.5-point favorites and have received 83% of spread bets, which has caused the line to jump from -13.5 to -14.5.
Since there have been no bet signals triggered on this game, we can safely assume that public money is solely responsible for this one-point line move. That means that opportunistic contrarian bettors can pick up a free point purely based on public perception. Our latest article for ESPN Insider explains how bettors should take advantage of artificially inflated lines and points to value on Cal State Bakersfield in this matchup.
We have also found that there has been tremendous value in games with overwhelmingly one-sided public betting, which once again points towards value on the Roadrunners.
Since 2005, teams receiving less than 20% of spread bets have gone 8-1 ATS in the Round of 64. (h/t @Bet_Labs)

— Sports Insights (@SportsInsights) March 15, 2016
Additionally, we found that Oklahoma's Lon Krueger (4-8 ATS) has been one of the worst coaches to bet on during the NCAA Tournament. While Krueger has historically struggled during March Madness, CSU's Rod Barnes has gone 13-2 ATS (+10.27 units) in postseason games.
We should also point out that, despite Oklahoma's impressive record, they have actually been one of the worst teams for bettors this season.
Although 2-seed Oklahoma boasts a 25-7 record, they were only 12-18 ATS (-6.49 units) this season — the worst mark for any tournament team.

— Sports Insights (@SportsInsights) March 15, 2016
According to our public betting, Cal State is receiving just 17% of spread bets yet they have received 34% of total dollars wagered. This schism indicates that several large bets (typically from wise guys or betting syndicates) have taken the 'dog.
---
Want our official Best Bet picks for March Madness?
Sign up for an extended trial of our Sportsbook Insider Pro and access all of our picks instantly! That includes not only NCAAB, but also NBA and NHL. Schedule a one-on-one demo with our customer service manager and we'll tack four free days onto your subscription.
These numbers are subject to change before kickoff, so bettors should be sure to visit our free college basketball odds page for the latest lines, injuries, public betting trends and more.
Have any questions for the staff at Sports Insights? Utilize our live chat to speak with a customer service representative or e-mail us at help@sportsinsights.com.
David Solar is the Content Manager for Sports Insights and can be reached directly at David@SportsInsights.com