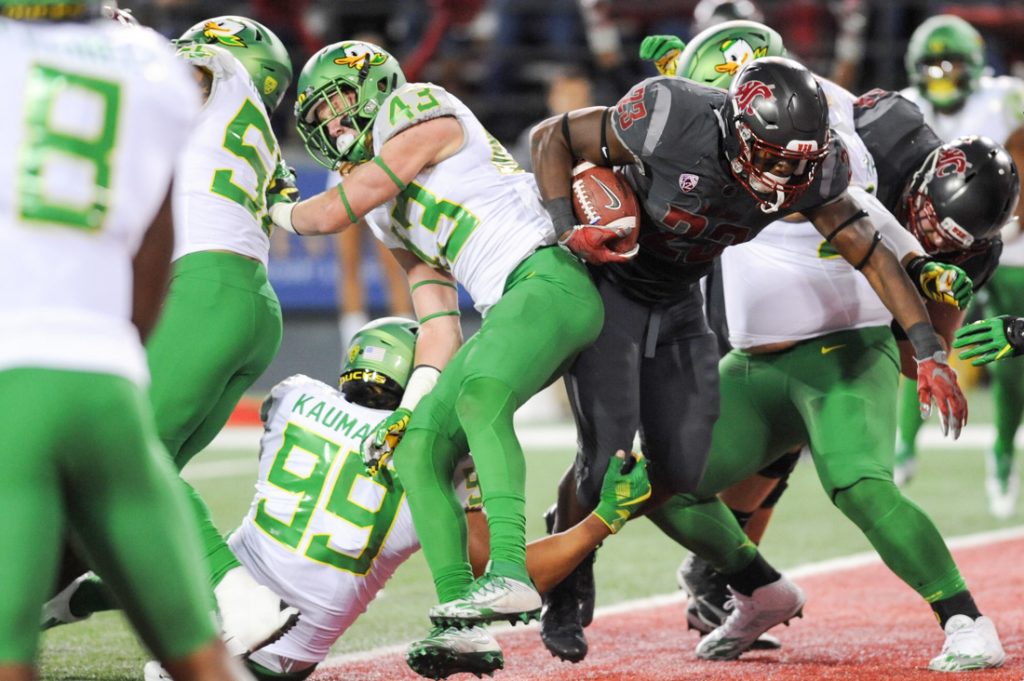 2016 College Football: What Should Bettors Know For Week 6?
In this weekly column, we will summarize key events from the past week, provide bettors with information need to make smarter college football bets, and help readers determine which teams are offering value.
Quick Hits
Oregon (+8 vs. Washington) currently receiving 21% of spread bets. Since 2005, they've never received less than 24% (9/8/07 at Michigan).

— Sports Insights (@SportsInsights) October 4, 2016
What are the Week 6 line moves that matter? Here are three games that bettors should know about. (2016 College Football Week 6 Line Moves That Matter)
Despite Louisville's loss to Clemson, Lamar Jackson (-210) remains the favorite to win the Heisman for the third week in a row. (2016 Heisman Odds)
In a tightly-contested race, Alabama (+255) is still the favorite to win the NCAAF National Championship. (2016-17 College Football National Championship Odds)
NC State is being largely ignored by bettors, but find out why they are offering value on Saturday. (NCAAF Game of the Week: Notre Dame at NC State)
Worst NCAAF ATS in 2016:

FAU 0-5
Bowling Green 0-5
Oregon 0-4
UConn 0-4
Arkansas St 0-4

— Sports Insights (@SportsInsights) October 3, 2016
Key Injuries
Keon Hatcher (Knee), is upgraded to probable Saturday (10/8) vs. Alabama
Myles Garrett (Ankle), is upgraded to probable Saturday (10/8) vs. Tennessee
Jalen Hurd (Lower Body), is downgraded to doubtful Saturday (10/8) at Texas A&M
Patrick Mahomes II (Shoulder), is downgraded to doubtful Saturday (10/8) at Kansas State
Devante Mays (Ankle), is downgraded to doubtful Saturday (10/8) at Colorado State
Click here for all NCAAF injuries
Key Line Movement
Washington State vs. Stanford, 10:30 PM Eastern: After an embarrassing 44-6 loss to Pac-12 rival Washington last week, #15 Stanford hopes to bounce back at home. Since Heisman candidate Christian McCaffrey arrived, the team is 11-4 ATS (+6.24 u) at home. Although Stanford is the third most profitable home team in that span, Washington is offering value despite getting only 30% of spread bets.
The screenshot below illustrates Washington State's line movement and shifts in betting trends throughout the week.

As an underdog, the Cougars are receiving more than half of spread dollars– 58% to be exact. Since opening +8.5 at the market-setting Pinnacle, Washington State jumped 1.5 points to +7. This reverse line movement indicates that sharps are backing Washington State.
Sportsbook Insider Pro subscribers have access to real-time odds, public betting trends, money percentages, bet signals (including steam moves and reverse line movement alerts), injury alerts, value meter, line watcher, line predictor, and many other unique features. We also have seven pending NCAAF Best Bets which are only available with an active Pro subscription.
Sign up now for a 4-day trial of Sportsbook Insider Pro and start winning today!
Have any questions for the staff at Sports Insights? Make sure to utilize our live chat or call us directly at 877-838-2853
Join us live Saturday mornings at 11am ET
We're now holding our members-only live Sports Betting Hangouts Saturday mornings to prepare you for a full day of College Football. Members, simply log into your account Saturday morning to access the hangout.
Not a member? Start a trial today to join our Sports Betting Hangouts held six days a week, plus all the other Sportsbook Insider Pro benefits.