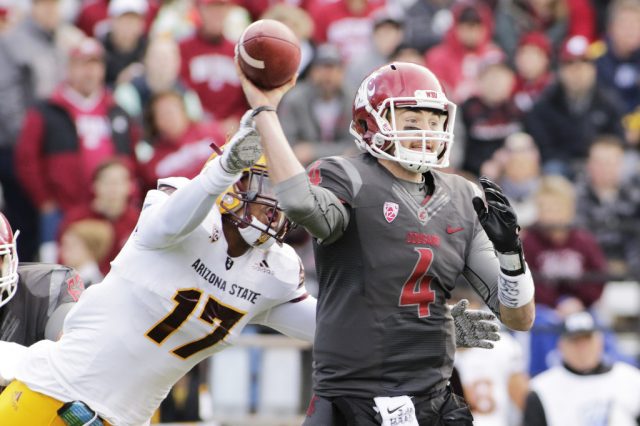 2016 College Football Week 8 Line Moves That Matter
Every week in this space we highlight the most interesting line moves at the market-setting offshore sportsbooks — typically Bookmaker and Pinnacle — which take the highest limits and therefore attract the sharpest bettors. By contrasting the opening and current lines with the public betting trends from our seven contributing offshore sportsbooks, we're able to determine how public betting has affected the line.
We are also proud to announce that in addition to our public betting percentages, we now offer real money percentages, which reflect the percentage of total dollars wagered at one of the sharper offshore sportsbooks. This allows bettors to easily monitor all the factors influencing line movement.
Over the past few weeks, this column has focused on games in which public money was largely responsible for moving the line. This week, I wanted to switch things up by looking at how steam moves can cause major line movement. For anybody unfamiliar with this term, a steam move is a sudden, drastic and uniform line movement across the entire sports betting marketplace. Steam is the result of a sudden overload of money placed at multiple sportsbooks, and it's a fantastic indicator of sharp money.
Many bettors try to chase steam and find a slow-moving sportsbook that's still hanging the original number. For example, if several sportsbooks adjust the spread from Notre Dame +14 to +13 within a short window, you would know that sharp money took the Fighting Irish getting two touchdowns. Bettors with access to numerous accounts could quickly shop for the best line and find a sportsbook that's still hanging Notre Dame +14.
It's also important to realize that not all sportsbooks are created equal. Past research has found that following market-setting sportsbooks like CRIS and Pinnacle have historically produced the greatest profits. Conversely, square sportsbooks like Bovada or Sportsbook.com will frequently move on air, meaning they will adjust their odds simply because that's what the sharper books did.
Our Sportsbook Insider Pro membership includes a feature which alerts members whenever a game gets steamed, including the team, triggering line and, most importantly, the sportsbook where the line was triggered. We track the records of each sportsbook to determine whether they have been profitable over the course of the current season and/or previous seasons.
This season, the Pinnacle NCAAF steam move has gone 249-190 (56.3%) with +22.9 units won — that includes a 98-85 record on the spread and 147-105 record on the total. That means $100/game bettors would have earned $2,290 by following this move every time an alert was triggered. Pinnacle steam moves haven't only been profitable for college football bettors. The Pinnacle MLB steam move has earned +22.4 units this season and +342.3 units since their inception in 2007.
Using the data available to Sportsbook Insider subscribers, I have examined three Week 8 matchups where steam has caused major line movement.
Texas A&M at Alabama (Saturday at 3:30 PM eastern)
Alabama opened as 16.5-point favorites at Bookmaker in one of this weekend's most heavily bet games, but early public money has been taking the road underdog. According to our public betting trends, Texas A&M has received 54% of spread bets and 64% of total dollars wagered. Even though Alabama is only receiving about one-third of the money, the Crimson Tide have moved from -16.5 to -18.
[click image below to enlarge]

On Tuesday afternoon, there was a Pinnacle steam move triggered on Alabama which caused the line to move across the sports betting marketplace. This indicates that sharp money liked Alabama, but that line is no longer available. Getting an extra point can increase your long term winning percentage by 1-2%, so it's crucial that bettors aren't chasing steam moves when the value has already been sucked out.
UL Monroe at New Mexico (Saturday at 9:00 PM eastern)
In one of the smaller games on tap this weekend, New Mexico opened as 12.5-point favorites at Pinnacle. Although the Lobos have received just 29% of spread tickets, they have moved five points from -12.5 to -17.5. This line movement can be partially explained by our money percentages, which show that New Mexico is actually receiving 96% of total dollars wagered.
It may seem like public money is responsible for moving the line, but it's almost unheard of for public money to cause a five-point line movement — especially considering how few bets we have tracked on this game.
The truth is that the line moved dramatically because UL Monroe quarterback Garrett Smith (Lower Body) was ruled out for the season while New Mexico quarterback Lamar Jordan (Hamstring) was upgraded to probable. This announcement caused oddsmakers to adjust their number, and therefore triggered a steam move on New Mexico -12.5.
[click image below to enlarge]

If you follow Sports Insights on Twitter, you may have seen that we ruled Garrett Smith out for the season at 8:01 AM eastern on Tuesday morning — more than 90 minutes before the steam move was triggered at Pinnacle. This news may have slipped through the cracks given the small-conference matchup, but opportunistic bettors could have capitalized on sportsbooks that didn't react to this injury.
#NCAAF #ULMonroe – Garrett Smith, Lower Body – is out for the season

— Sports Insights (@SportsInsights) October 18, 2016
The screenshot below, which is available for every game, displays the pending bet signals (steam moves, reverse line movement and contrarian plays) that have been triggered. As you can see, the timestamp on our tweet preceded the steam move by an hour and 40 minutes.

Bettors who follow our injury updates or receive our steam move alerts could have reacted quickly and taken New Mexico -12.5. Following the five point line move, those same bettors could hypothetically take UL Monroe +17.5 to set up an interesting middling opportunity.
Washington State at Arizona State (Saturday at 10:00 PM eastern)
Washington State opened as 7-point road favorites at Bookmaker, and early public betting has been evenly split. At the time of publication, the Cougars were receiving 54% of spread tickets and 47% of total dollars wagered, yet they have moved from -7 to -8. That's because there was a Pinnacle steam move triggered on Washington State -7 on Wednesday afternoon.
[click image below to enlarge]

The line chart above, which is available to Sportsbook Insider Pro subscribers, shows that there was a steam move triggered which caused the line to move from Washington State -7 to -7.5. About four hours after this steam move was trigged, the line ticked up from -7.5 to -8.
It's also worth noting that there's been some fascinating line movement on the total. Although 62% of tickets are taking the over, 72% of total dollars wagered are on the under. With nearly three-quarters of the money taking the under, the total has dropped from 70 to 63.5 at Bookmaker. That 6.5-point line move indicates that sharp money is on the under, which is confirmed by several of our bet signals including a steam move triggered on Under 66.
Interested in checking out our new money percentages and line charts for the entire slate of Week 8 games? Sign up now for a 4-day trial of Sportsbook Insider Pro.
In addition to the features shown in this post, subscribers also have access to our entire suite of live odds, public betting trends, steam moves, smart money alerts and our in-house Best Bet picks. This week we have six pending college football Best Bets including:
Arkansas at Auburn
Mississippi State at Kentucky
Texas at Kansas State
Have any questions for the staff at Sports Insights? Make sure to utilize our live chat or call us directly at 877-838-2853.