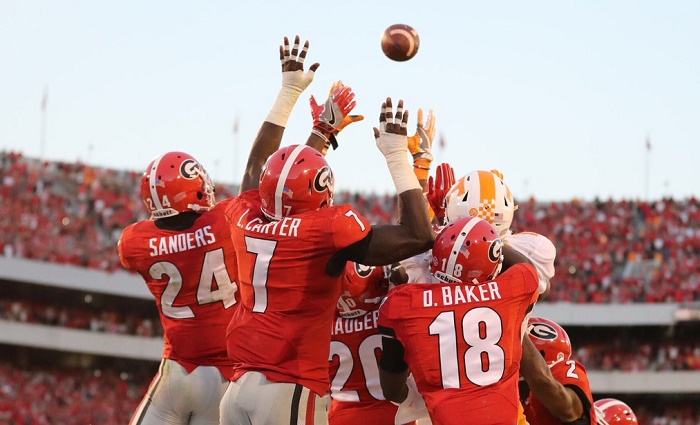 2016 College Football: Week 6 Opening Line Report
Week 5 was another fun one, but Week 6 is right around the corner with more juicy matchups. Again we've compared the summer lines from Golden Nugget to openers and current odds from BetOnline and sharp offshore books to see how perception has changed over time:
Matchup
Oct 3
(BetOnline Current)
Oct 2
(BetOnline Open)
July 8
(Golden Nugget)
Alabama at Arkansas
Bama -14
Bama -13
Bama -8.5
Tennessee at Texas A&M
Texas A&M -7
Texas A&M -6.5
Tenn -5
Washington at Oregon
Wash -8
Wash -6.5
Oregon -2
FSU at Miami FL
Miami -3
Miami -1.5
FSU -7
LSU at Florida
LSU -2.5
LSU -1
LSU -7.5
Texas vs. Oklahoma (at Dallas, TX)
Okla -10.5
Okla -6.5
Okla -12
#9 Tennessee at #7 Texas A&M (3:30 pm ET Saturday)
This is probably the most intriguing game of Week 6, as both teams head into the matchup with an unblemished 5-0 record. The Vols have come back in a number of games already including last week's hail mary win at UGA, and bettors have to wonder if their luck is running out. The lookahead line for this game was Tennessee -5, but BetOnline opened Texas A&M -6.5 on Sunday morning. This was an 11.5 point swing but bettors didn't seem to mind, as Texas A&M even moved to -7.5 by Sunday afternoon.
Sharp books were able to see how this line was being bet at BetOnline, yet still opened Texas A&M -5 on Sunday night. Bettors pounced, moving the line to Texas A&M -7 where it currently sits around the market. Public betting has been roughly 50/50 so sharper early money was clearly taking the Aggies at home:

#6 Washington at Oregon (6:30 pm ET Saturday)
BetOnline opened this line Washington -6.5 on Sunday morning but was quickly bet above the key number of -7. Most sharper books then opened Washington -8 or -8.5 and even briefly moved to -10 where we triggered a profitable bet signal on the Ducks, but the line currently sits at -7.5 or -8. Oregon is clearly not the same team this year, but they've covered 7 straight as an underdog dating back to 2009, and are catching more than a touchdown at home in this one. Washington is coming off a huge win over Stanford while Oregon lost again on the road to Washington State last week. We preach a lot about overvalued lines, selling high on teams while buying low on others, and fading the public in the most-bet games. This matchup is set up for all of that as currently more than 60% of tickets are taking Washington, so if Oregon hits +10 again that definitely looks like a great value play.
#1 Alabama at #17 Arkansas (8:00 pm ET Saturday)
Over the summer Golden Nugget listed Alabama -8.5 on the road at Arkansas. The Hogs have performed well this year, going 4-1 so far and ranked #17 nationally. Despite Arkansas' impressive start, Bama opened -13 at BetOnline on Sunday morning and moved to -14 by Monday morning which is where most of the market is at now. Oddsmakers clearly view Bama as a superior team and don't even expect this game to be close. Currently bets are fairly split with 46% on Bama and 54% on Arkansas, so books are likely to be happy with settling on the key number of 14. Bama tends to play up to their opponents while failing to cover bigger spreads against lesser schools, so if you can get Bama below -14 this weekend that's probably the sharper side. The only major injury concern in this game is Arkansas WR Keon Hatcher who is questionable with a hamstring problem.
#21 Florida State at #10 Miami FL (8:00 pm ET Saturday)
This is another game which has moved quite a bit since the lookahead line over the summer. FSU was -7 back in July but have dropped two games this season already while Miami is undefeated and ranked in the top 10. On Sunday morning BetOnline opened Miami -1.5 and quickly moved to Miami -3 where most of the market currently sits. Public bettors seem to be done backing the Seminoles this year as they're getting just 33% of spread tickets as a road underdog. FSU is still probably more talented overall than Miami, but results are what stick in people's minds. With all that said, this may be a nice opportunity to fade the public in a highly bet night game, and take FSU +3.
Keep up with all the latest market odds, betting percentages, key injuries and more at our Free Live Odds page.