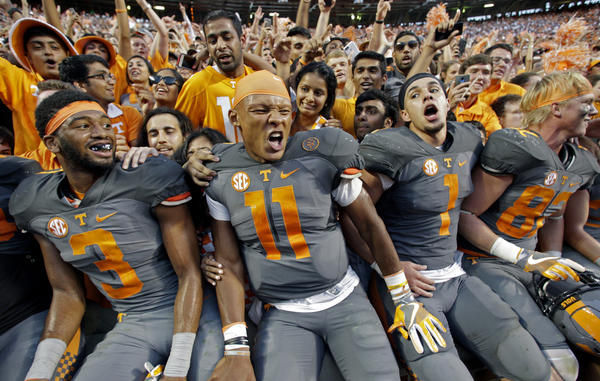 2016 College Football: Week 4 Betting Recap
Week 4 brought us some interesting finishes, especially for bettors. There were 2 real bad beats late Saturday night, a number of big road upsets, and some impressive conference victories. Below we'll run down Week 4 trends, upsets, nuggets, Heisman watch, and new major injuries.
Trends via BetLabsSports.com
Visitors: 30-27 ATS
Dogs: 29-29 ATS
Less than 30% spread tickets: 11-7 ATS
Best Conference: ACC 8-3 ATS
Overs: 34-25
Biggest Moneyline Upsets
Duke +919 (+21.5 spread) at Notre Dame
Central Arkansas +550 at Arkansas St
Idaho +464 at UNLV
Colorado +429 at Oregon
Buffalo +400 vs. Army
After going just 7-57 straight up last week, underdogs performed much better this week going 14-42 straight up.
Interestingly, David Purdum reported that there was not 1 moneyline ticket on Duke at CG Technology.
Betting Nuggets
Late Saturday night bad beat #1: UCLA (+2 to +4) gave up a TD with 24 secs left, then had a fumble returned for TD with no time left to lose 22-13. Here it is:
UCLA +3

MOOSED pic.twitter.com/suhU9T8TXb

— Rob Perez (@World_Wide_Wob) September 25, 2016
According to David Purdum, there was about a $200k swing at Westgate on that result since the public was so heavy on Stanford.
Late Saturday night bad beat #2: Cal (+3 to +4) gave up 31 4th quarter points including an onside kick return for TD with 48 secs left to lose 51-41.
USF (17-9 ATS) and UCLA (13-6 ATS) have been the two most profitable schools in our database when receiving <30% of public support as an underdog. Both fit the mold this week but neither covered, including the back-breaker on UCLA.
There was a very curious ending to Nevada/Purdue (Purdue opened -3, reached -6, closed -3). With Nevada down 24-14 with 14 seconds left and 3rd down on the 27, they decided NOT to kick a FG which would give themselves a chance to get the ball back with an onsides kick. Instead they ran a play to get a first down with 6 seconds left, and the game ended on an incomplete pass in the end zone.
Alabama beat Kent 48-0 to cover the -43 spread while also going under the closing total of 49.
As of Saturday morning, Old Dominion was the only team getting >70% of money wagered but <30% of tickets at William Hill, indicating sharper and bigger money, especially considering it was a smaller matchup. ODU got the cover, winning 33-19.
Westgate needed South Florida to cover vs. FSU in a highly bet game, while The Greek was actually seeing sharp money on USF. The line came down at both books but FSU got the easy win and cover after a slow start.
Tennessee opened -11 over the summer and then -8 last Sunday night. They were bet down to -6.5 by Monday morning, and to -3.5 by kickoff behind nearly 80% of tickets on the Gators. Florida took a 21-0 lead and looked great until the Vols came back to win AND cover 38-28. Tennessee reached +900 on the live moneyline to come back and win.
UNC reached +1075 on the live moneyline against Pitt but came back to win 37-36 on a TD with 2 seconds left.
Wisconsin at Michigan State was very lopsided on Sparty but line dropped to -3.5 by Friday night after it opened -6. Wisky got a big road win 30-6 and will continue to face a tough Big Ten schedule in October.
If you bet on Missouri -51, your bet was likely voided despite them winning 79-0 over Delaware State. The 2nd half was played with 10 minute quarters after Missouri led 58-0 at halftime.
Les Miles was fired as head coach of LSU. He was +240 to be let go before January 1, 2017. LSU opens -13 vs. Missouri in their first game with Ed Orgeron as interim HC.
Lamar Jackson entered the week as the +130 Heisman favorite and put up another huge day with 5 passing TDs and 2 rushing TDs. He's certainly not going anywhere among the candidates this season.
At BetOnline, Jackson is receiving the most tickets to win it along with McCaffrey and Fournette.
Alabama RB Damien Harris (ankle) questionable for Saturday (10/1) vs. Kentucky
Cincy QB Hayden Moore (ankle) questionable for Saturday (10/1) vs. South Florida
UGA RB Nick Chubb (ankle) questionable for Saturday (10/1) vs. Tennessee
Rutgers WR Janarion Grant (ankle) doubtful for Saturday (10/1) at Ohio St