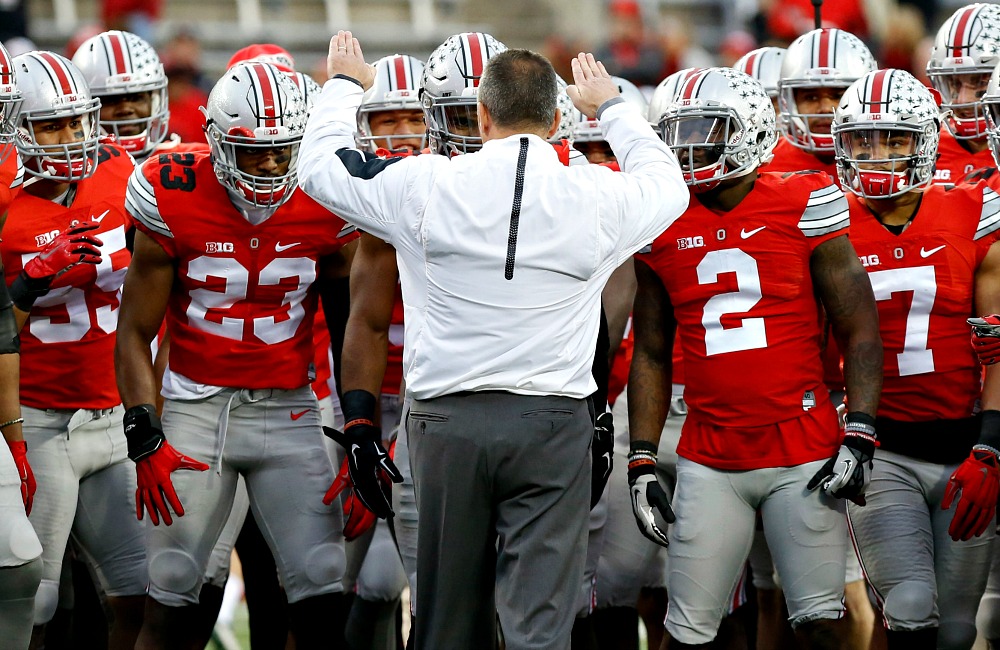 2016 College Football: Week 3 Opening Line Report
Week 3 of the season has some incredibly intriguing matchups, and below we've highlighted the notable games along with early line and betting movement around the market.
Keep in mind that BetOnline opens odds the earliest on Sunday afternoon, and will move lines considerably due to early action. Most of the market then opens by Sunday night, and that's where you'll see additional early sharp action.
Houston at Cincinnati (730 pm Thursday)
College football fans are getting a great matchup early in the week with Houston traveling to Cincy on Thursday night. Houston opened -6 at CRIS and -7 at Pinnacle, and has moved to -7.5 around the market. Nearly 80% of tickets are taking the road favorites in this one, and the Cougars will be getting back QB Greg Ward Jr. after he was held out last week vs. Lamar. I think getting Cincinnati above a touchdown at home is providing decent value, and public bettors may even push this line up to 8 during the week. If you're unsure whether the line will move to -7 or up to -8, you can check out our Line Predictor.
Ohio State at Oklahoma (730 pm Saturday)

This is the most bet game of the weekend, and most of the market opened Ohio State as a -2 or -2.5 road favorite. Right now 76% of tickets are taking the Buckeyes, but the market is unwilling to move to -3 right now, an indication that books are expecting sharp money when he hits Oklahoma +3. Both these teams were in the preseason Top 5 of the AP Poll, and Ohio State has been a popular pick at many books to win the NCAAF Title. A loss for Ohio State at Oklahoma wouldn't eliminate them entirely from contention, but this would be a huge win for the Buckeyes. Back in July, Golden Nugget actually listed this lookahead line at Oklahoma -6.5, so just a couple games into the season has already shifted the odds nearly 10 full points. The Sooners losing their first game of the season to Houston may actually take some pressure off them in this game and of course had an effect on this line, but at this point I'd be laying off the +2.5 and hoping it moves to +3.
Florida State at Louisville (12 pm Saturday)

As of Monday morning, this is the second most-bet game of the weekend behind just Oklahoma-Ohio State. BetOnline was the first to open odds, and they seemed to be a bit off opening Louisville -1. Bettors hit FSU immediately, moving them all the way to -4.5 before coming back down to -2.5 where they're currently at. However, sharper books like CRIS, Pinnacle, and 5Dimes are listing FSU at -3, indicating that they don't want to drop the number under 3 or else sharps will hit it again. Surprisingly the majority of bets are on Louisville, and this is partly due to their impressive performance over Syracuse last Friday night. Here's a look at the early line graph thus far:

If your book is still offering FSU at -2.5 or lower, that seems like a bet you want to jump on.
Alabama at Ole Miss (330 pm Saturday)

Surprise, surprise, the Crimson Tide are big faves even on the road in Oxford, MS. BetOnline opened Bama -8.5, while CRIS opened -9 and Pinnacle -9.5. Those books have remained on -9.5 despite the majority of tickets on Bama, while 5Dimes and BetUS have already moved to -10. Bama tends to play better against the good teams, especially against the spread. The majority of public bettors will likely continue to pound Alabama, so it will be interesting to see if sharps help move this to double-digits, or if it comes down to -9 or -8.5.
Michigan St at Notre Dame (730 pm Saturday)

Public bettors so far are jumping on Michigan State, which is different from the norm when dealing with a Notre Dame game. The Irish opened -6 at BetOnline and at -7.5 at CRIS, Pinnacle, and 5Dimes and that's where they currently sit as of Monday morning. Even if the public continues to take Sparty, I'd be surprised if this line came down under a touchdown but I'm hoping it does. At -7, I think there's value on Notre Dame, and especially so if they move to -6.5.