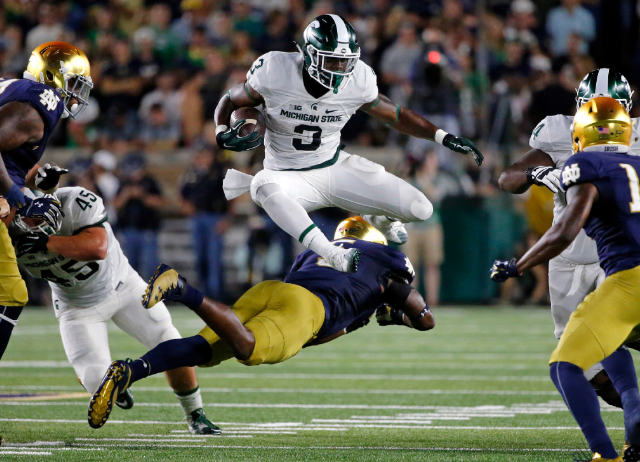 2016 College Football: Week 3 Betting Recap
Week 3 brought us a number of marquee matchups but actually not a lot of drama. North Dakota State got a great upset win at Iowa, Ole Miss hung tough with Alabama, and Michigan State and Cal got nice wins against Notre Dame and Texas respectively. However, Louisville completely blew out FSU and Ohio State crushed Oklahoma, two games that were supposed to be very competitive. Here's a look at some trends, upsets, betting nuggets, Heisman watch, and key injuries heading into Week 4.
BetLabsSports.com Trends
Home: 34-29 ATS
Favorites: 35-28 ATS
<30% tickets: 13-11 ATS
Unders: 34-31
The MAC (10-3 ATS) and AAC (7-2 ATS) were the two best performing conferences in NCAAF Week 3.
Moneyline Upsets
Akron +674 at Marshall
N Dak St +550 at Iowa
Troy +273 at Southern Miss
Mich St +242 at Notre Dame
Cal +238 vs. Texas
Georgia St was 100:1 at Wisconsin and were close throughout, but ultimately lost. Ohio (28:1) was also within 2 points in the 4th quarter at Tennessee but lost by 9.
Underdogs went just 7-57 on the moneyline this week (-36 units)
Betting Nuggets
On Thursday night, Cincinnati was covering for all but 6 minutes vs. Houston then lost by 24: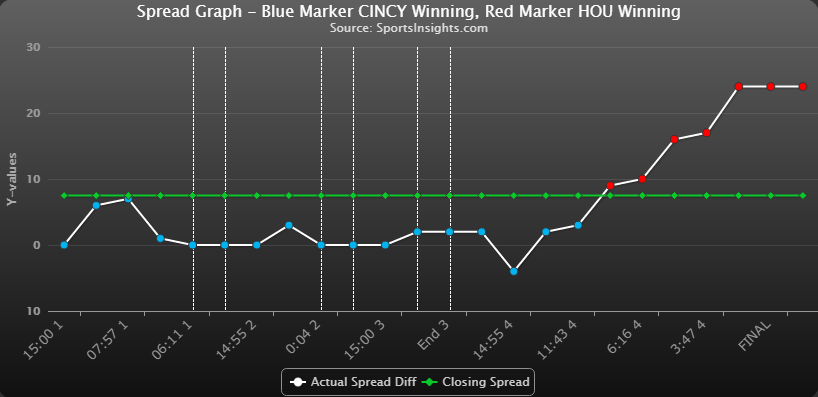 Alabama (-10.5) at Ole Miss lived up to expectations, especially for bettors: it was close throughout, then Bama led by 18 in the 4th quarter, followed by Ole Miss scoring 2 TDs to get the cover and lose 48-43.
Ole Miss closed with just 25% of spread tickets, pushing coach Hugh Freeze's career ATS record to 8-0 when receiving less than 30% of spread tickets, covering by an average of 9.88 points per game.
The highest closing spread was Clemson -53.5 with their opponent South Carolina State the highest moneyline underdog at 700:1. Clemson won by 59 and covered, but bets were voided due to 12 minute quarters in the 2nd half. This is also a good reminder to check the rules of your sportsbook before placing wagers so you know what to expect when these oddities occur.
Teams getting <50% spread tickets but >50% dollars at our books and William Hill were LSU and USC, but neither covered.
Westgate's biggest needs were UCF, New Mexico, Fresno St, Akron, Notre Dame, Oklahoma and Tulane, who combined to go 2-5-1 ATS.
Oregon closed +3 at Nebraska and lost 35-32, pushing the closing line. They still haven't failed to cover as an underdog since 2009, a string of 8 straight games, including 6 outright wins.
FSU at Louisville was supposed to be one of the games of the week, but was a blowout the whole way. This game featured 2 of the of 3 ACC faves, and 3 of top 10 Heisman candidates (Cook, Francois, Jackson). However, it was Lamar Jackson and Louisville who completely stole the show. FSU still has the best ROI of any FBS school in the last 10 years on the 2nd half line when trailing at halftime, but failed to cover on Saturday.
Fading ranked underdogs when they get at least 65% of tickets has historically performed well (10% ROI last 10 years) but Texas A&M (+3.5) and Michigan State (+7) both covered Saturday and won outright as dogs.
Since 2005, BC (35) and Virginia Tech (34) have had the most closing totals below 42 points. This weekend's matchup closed at 41 and despite BC getting shutout, the game went over (VT won 49-0). BC is still the best Under team over that span, Va Tech the 9th best.
Ohio State/Oklahoma were in a lengthy delay but once they kicked off, it was all Buckeyes, winning 45-24:
Good night. Go Bucks. pic.twitter.com/tUyt3GvUHg

— Ohio State Football (@OhioStateFB) September 18, 2016
If you bet Cal on the moneyline, you likely went through a series of emotions towards the end of the game on this boneheaded play (Context: Officials deemed the play a fumble that Texas did not recover, so Cal kept the ball).
Fading the preseason Top 5 went 2-1-2 ATS this week and is now 8-4-3 ATS this year.
Many books have been thrilled with their futures liability. FSU was a popular pick to win both the ACC and NCAAF title. Iowa attracted a lot of cash to win the NCAAF title at Westgate, and were a popular pick to win the Big Ten at William Hill.
Louisville QB Lamar Jackson put on a show against FSU, going 13-20 for 216 yards and 1 passing TD, and 17 rushes for 146 yards and 4 rushing TDs. He was 110:1 to win the Heisman before the year, 18:1 before the Cuse game, and 8:1 before the FSU game.
Florida QB Luke Del Rio is already doubtful next week against Tennessee with a knee injury.
Arizona could be without RB Nick Wilson (ankle) and QB Anu Solomon (leg) next week vs. Washington.