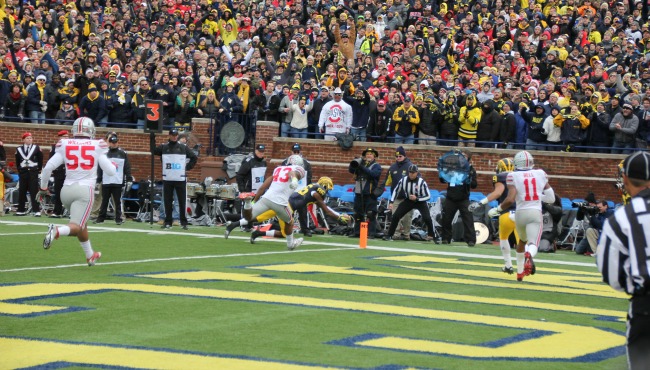 2016 College Football: Week 13 Opening Line Report
Louisville was the big shock in Week 12, losing to Houston 36-10 last Thursday night. There were also big upsets by Florida and Oregon on the road, as well as Kansas coming back to knock off Texas, which essentially means HC Charlie Strong is out of a job. You can check out all of last week's happenings with our Week 12 Betting Recap.
Week 13 is probably the best week of the season due to what's on the line for so many teams, and the fact that so many are rivalry games. The table below shows the summer lookahead lines from Golden Nugget compared to openers and current lines from BetOnline:
Matchup
Nov 21
(BetOnline Current)
Nov 20
(BetOnline Open)
July 8
(G Nugget)
LSU at Texas A&M
LSU -5
LSU -4
LSU -6
Nebraska at Iowa
Iowa -3
Iowa -2.5
Iowa -1.5
Arizona St at Arizona
Arizona St -3
Arizona St -6
Arizona -4.5
TCU at Texas
Texas -2.5
Pick 'Em
Pick 'Em
Houston at Memphis
No Line
No Line
Houston -5.5
Notre Dame at USC
USC -17
USC -17
USC -5
Auburn at Alabama
Bama -17
Bama -20.5
Bama -15
Florida at Florida St
FSU -6.5
FSU -4.5
FSU -11.5
Georgia Tech at Georgia
UGA -4.5
UGA -4.5
UGA -13
South Carolina at Clemson
Clem -23.5
Clem -24
Clem -20.5
Michigan at Ohio St
Ohio St -6.5
Ohio St -7
Ohio St -3
#16 Auburn at #1 Alabama (Saturday 3:30 pm ET)
Alabama was -15 on the summer lookahead line then opened -20.5 at BetOnline on Sunday morning. This was a bit too high as they were bet down to -17.5 throughout the day. Most of the sharper market like CRIS and 5Dimes opened Alabama -18 and are now at -17.5. The slight majority of tickets (56%) has come in on Auburn which partly explains the early line movement. Alabama never dropped to -17 so you can tell it was mostly public, square money taking Auburn so far.

At this point books will be happy to lay -17.5 or -18 in hopes of attracting Auburn tickets, but I could see sharp money swooping in on Bama at some point. Auburn is also dealing with some crucial injuries to QB Sean White and RB Kamryn Pettway, both still listed as questionable. If neither or both are unable to play, you'll likely see this line move up towards Alabama, so make sure you're paying attention to what is moving the line.
#13 Florida at #15 FSU (Saturday 8:00 pm ET)
As we've mentioned all season, Florida has exceeded expectations and continues to win, and they'll face Alabama in the SEC Title Game with a chance to make the NCAAF Playoffs– But first they'll take on bitter rivals FSU on the road. FSU opened -4.5 at BetOnline on Sunday and were quickly bet up all the way to -8.5 before coming back down to -6.5, where most of the market currently sits. Around 60% of tickets have taken FSU so far and that appears to be both public and sharp money. It appears that books are comfortable at -6.5 but I would imagine that books will move this line back up to -7 at some point. Next week is the more important game for Florida so I'm not sure how they'll react this week.
#3 Michigan at #2 Ohio State (Saturday 12:00 pm ET)
Hard to argue the importance of this one, where the winner will be in the NCAA Playoffs. Again this game opened right around the key number of -7, and the Buckeyes are getting 61% of spread tickets at the time of publication. However, some books have actually dropped to -6.5, signifying early sharp bettors taking Michigan and the points. Public bettors will likely take Ohio State at -6.5 throughout the week so if the line jumps to -7 again you may want to think about taking Michigan.
For all the latest odds and betting percentages, visit our Free NCAAF Odds page. We provide memberships that include all sports, bet signals, best bet picks, alerts and more.