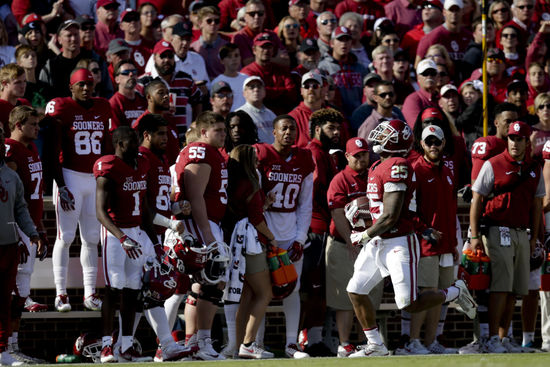 2016 College Football: Week 12 Opening Line Report
Week 12 has really opened up after losses to 3 of the top 4 teams: Clemson, Michigan, and Washington. There have now been 55 moneyline upsets above +300 odds this season (compared to just 2 in the NFL). Here's a look at the new AP Top 10 Poll:
1. Alabama
2. Ohio State
3. Louisville
4. Michigan
5. Clemson
6. Wisconsin
7. Washington
8. Oklahoma
9. Penn State
10. West Virginia
Below shows the summer lookahead lines for Week 12 from Golden Nugget compared to the opening and current lines from BetOnline:
Matchup
Nov 14
(BetOnline Current)
Nov 13
(BetOnline Open)
July 8
(G Nugget)
Louisville at Houston
Off Board
Off Board
Hou -2.5
Oklahoma at West Virginia
Okla -3
Okla -6
Okla -9.5
Virginia Tech at Notre Dame
ND -1
ND -3
ND -6.5
Arkansas at Mississippi State
Ark -1
Pick 'Em
Miss St -2
Ole Miss at Vanderbilt
Miss -9.5
Miss -8
Miss -11
USC at UCLA
USC -10.5
USC -9
UCLA -2.5
Oregon at Utah
Utah -12
Utah -10
Ore -3.5
Stanford at California
Stan -10.5
Stan -11.5
Stan -10
Louisville at Houston (Thursday 8:00 pm ET)
This line is currently off the board although Houston QB Greg Ward, Jr has recently been upgraded to probable. Over the summer Golden Nugget listed Houston -2.5 and that looked to be smart even after the season began. However, Louisville has been impressive, most notably against other good teams, and they should open anywhere from -7 to -14 on the road. Current frontrunner QB Lamar Jackson was 110:1 to earn the Heisman Trophy before the season and he will be your eventual winner.
Oklahoma at West Virginia (Saturday 8:00 pm ET)
This game is very interesting for a number of reasons but most notably it's the uncertainty of books on where to open the line. Over the summer Golden Nugget had this line at Oklahoma -9.5. CG Technology then opened Sunday morning with a line of Oklahoma -4.5, and hours later BetOnline opened Oklahoma -6. That line didn't last very long as it was bet down to Oklahoma -1.5 before adjusting back to Oklahoma -3.

Despite these high lines, the rest of the market opened Oklahoma -3, including sharper books like CRIS and 5Dimes, and that's where the line remains. This is already the most bet game on the entire NCAAF slate this weekend and the 8 pm ET start on Saturday will only attract more bets. The public is currently split with 54% of early tickets taking Oklahoma with no line movement from the sharp books, so I'm extremely curious how this game plays out through the week. I would expect sharps to jump on Oklahoma if they drop to -2.5 at any point.
Florida at LSU (Saturday 1:00 pm ET)
This is the make-up game from October 8 that was postponed due to weather and is crucial to the SEC Title race for the Gators. CG Technology opened this line at LSU -12.5 on Sunday afternoon while BetOnline opened LSU -10.5, but those lines proved to be too short. Around the market LSU is now at -14 as the Gators have a number of injury concerns on both sides of the ball. LSU is coming off a big win at Arkansas while Florida handled South Carolina at home last week, so both teams should feel good about themselves. The majority of bettors have jumped on Florida early with 63% of tickets but the line has not budged, indicating that's just public money. In this one I'd expect sharper money to come in on LSU if they drop below -14.
Washington State at Colorado (Saturday 5:30 pm ET)
CG Technology opened Colorado -4 on Sunday, then BetOnline opened Colorado -6.5. Similar to the Oklahoma/WVU game, these lines proved to be a bit too high as the rest of the market opened Colorado -3.5 where the line currently sits. Not many people expected this to be a big game at the beginning of the year but these teams have deserved some recognition. Early bettors are taking the underdog and the points despite Colorado being the best team in the nation ATS this year at 9-1. Though the majority of public tickets are taking Washington State, I don't exactly think they're the square side, so definitely keep an eye on those public betting %'s. If the public continues to hammer Washington State you may want to lay off and consider Colorado as a contrarian favorite.