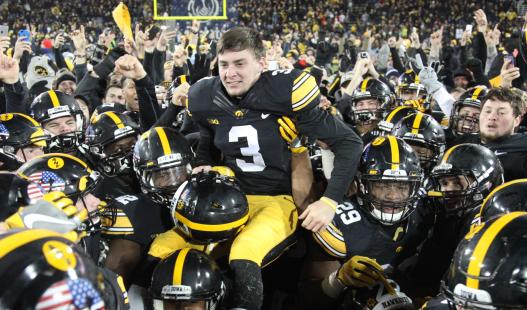 2016 College Football: Week 11 Betting Recap
There was a huge shakeup in the playoff race on Saturday as the thrilling season continued. Pittsburgh knocked off #2 Clemson 43-42 on a late 48-yard field goal as +1000 moneyline dogs and +22 on the spread. Then #3 Washington lost at home to USC 26-13 as 8.5-point favorites. As if that wasn't enough, #4 Michigan lost on a last second field goal at Iowa 14-13 as 24-point favorites. Cue the playoff controversy and drama, as always.
Week 11 Trends via BetLabsSports.com
Visitors: 33-21 ATS
Favorites: 30-25 ATS
Overs: 31-27
Biggest Week 11 Moneyline Upsets
Iowa +1203 vs. Michigan
Pittsburgh +991 at Clemson
Georgia Tech +447 at Virginia Tech
UL Monroe +401 at Georgia State
Rice +348 at Charlotte
Duke +336 v UNC
It was a great week for moneyline dogs overall, going 16-43 overall for +16.86 units won. On the season, underdogs have now earned over +30 units.
There have now been 55 underdogs at +300 or better odds to win in college football this season, compared to just 2 in all of NFL this year.
Betting Nuggets
The Texas Tech/Oklahoma State total opened at 90 which is the highest we've ever tracked but it closed at 87.5 and the game finished right in between which we'll explain below. The closing totals for Texas Tech games this season are now: 86.5, 80, 82.5, 78.5, 68, 82, 85.5, 87, 85.5, 87.5.
From 2005-2011 there was only 1 closing total at 80 points or higher. Since 2012 there have now been 29. Overs have gone 16-14 in those games.
The South Carolina/Florida total closed at 37.5, tied for the second-lowest of the season (UMass/BC 37.5, UConn/Maine 37). Florida won 20-7 and Unders are now 27-24 when games close at 37.5 or lower since 2005.
Totals were a big theme in Week 11 and we almost saw the most combined points in a game:
.@unlvfootball beats @wyo_football 69-66. Game was one point shy of single-game combined FBS points record (Boise State 69, Nevada 67, 2007) pic.twitter.com/n2Z9lGKPGw

— ESPN Stats & Info (@ESPNStatsInfo) November 13, 2016
There are bad beats every week but there were certainly some noteworthy ones this week:
-Penn State (opened -7, closed -6) returned a fumble for TD with 29 seconds left for a ridiculous cover, winning 45-31. Indiana led 31-28 with less than 4 minutes to go but gave up a touchdown, turned the ball over on downs which resulted in a field goal, then the fumble return to end it.
-Louisiana Tech (ranged from -21 to -22.5) led by 14 points late in the 4th quarter against UTSA but then returned an onside kick for a TD, intercepted a pass in UTSA territory, and decided to run the ball in for a touchdown with 5 seconds remaining to win 63-35 and cover.
-In the Texas Tech/Oklahoma State game (opened 90, closed 87.5), Texas Tech scored a late touchdown with less than 2 minutes left but missed the extra point to make it 45-44. Bettors that were on the Over 89 or 90 still had a chance when Oklahoma State drove late, but they decided to only get a first down by sliding and kneeling and not scoring a touchdown, thus ending the game.
Teams are now 28-16 ATS the week after losing to Alabama over the last 5 years after LSU (-7) easily beat Arkansas.
Georgia State has fired head football coach Trent Miles. He went 9-38 straight up but a very solid 27-18-2 ATS.
Heading into Week 11, Temple and Colorado were the only NCAAF teams with 1 or fewer ATS losses this year. Oregon and Arizona were only teams with 1 or fewer ATS wins. Oregon and Arizona failed to cover yet again while Colorado covered again. Temple had the week off.
Best ATS this season:
Colorado 9-1
Temple 9-1
Alabama 8-2
Wisconsin 8-2
Central Florida 8-2
Colorado St 8-2
Eastern Michigan 8-2
Worst ATS this season:
Arizona 1-9
Oregon 1-8
Cincinnati 2-8
Nevada 2-8
Georgia Southern 2-8
Heisman Watch
Louisville QB Lamar Jackson entered the week anywhere from -1500 to -3000 to win the Heisman Trophy so the award looks like it's locked up. The Cardinals were in trouble against Wake Forest this weekend down 12-10 heading into the 4th quarter, but scored 34 unanswered points to win 44-12. Jackson will be your Heisman winner this season.
Key Injuries
Baylor QB Seth Russell suffered a gruesome ankle injury against Oklahoma but was somehow still in good spirits as he got carted off. Unfortunately he'll be out for the remainder of the season.