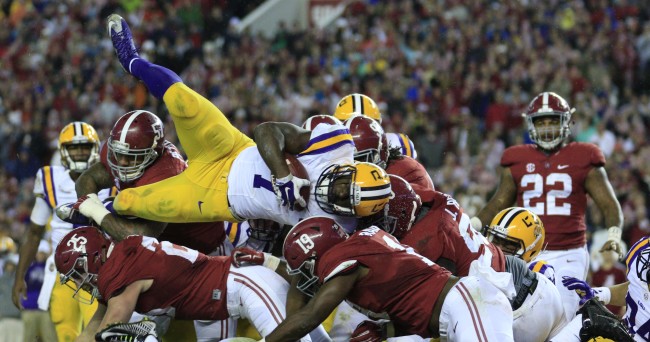 2016 College Football: Week 10 Opening Line Report
In Week 9 we saw four different undefeated teams go down (Baylor, Boise, Nebraska, West Virginia), but the top teams including Clemson, Michigan, Ohio State, Washington, and Louisville all got wins to keep their playoff hopes alive.
As I've done all year, the table below shows summer lookahead lines from Golden Nugget as well as opening and current offshore odds. I've also done more in-depth write-ups on some of the bigger matchups and what is causing the early line movement:

Matchup
Oct 31
(BetOnline Current)
Oct 30
(BetOnline Open)
July 8
(G Nugget)
Oregon at USC
USC -16
USC -14
USC -1.5
FSU at NC State
FSU -7
FSU -6.5
FSU -15
Florida at Arkansas
Fla -5
Fla -3.5
Ark -2.5
Alabama at LSU
Bama -7
Bama -7
LSU -2.5
Texas at Texas Tech
Off Board
Off Board
TTU -4
Nebraska at Ohio St
Ohio St -17
Ohio St -13.5
Ohio St -11
Navy vs. Notre Dame
ND -6.5
ND -4.5
ND -13.5
As you can see from the table, every game has moved at least a touchdown since the summer except for Ohio State/Nebraska, which is nearly there. The Florida/Arkansas game has re-opened Florida -3 but quickly moved to Florida -5 even after Arkansas QB Austin Allen was upgraded to probable. Although Texas and Texas Tech are both 4-4 this season, we should see a very high total in the mid-to-high 80s which could make for an exciting game, although TTU QB Patrick Mahomes could miss out with an injury.
Navy vs. Notre Dame (11:30 am ET Saturday, played in Jacksonville, FL)
Navy has been impressive so far this season while Notre Dame has struggled, and BetOnline opened the Irish at -4.5. I included this game because public bettors have been very high on Navy this season, receiving more than 80% of tickets in two straight weeks. Notre Dame is also a very public team but bettors are starting to steer clear of them this season. Right now the slight majority of tickets is actually coming in on Navy, yet Notre Dame has moved to -6.5, and looks like they could move to -7 around the market soon.

With the game being played at a neutral site, Notre Dame should have an advantage since their fans tend to travel well anywhere. If you can grab the Irish below -7, that looks to be the sharp play right now.
Alabama at LSU (8 pm ET Saturday)
In this weekend's biggest matchup, Alabama is getting nearly 80% of spread tickets as 7-point road favorites at LSU. This game is already receiving more than twice as many bets as any other game this weekend, and it appears sportsbooks will need to take some LSU money during the week. Alabama opened -7 at BetOnline on Sunday, which is nearly a 10-point difference from the lookahead line over the summer (LSU -2.5). Neither of these teams has any injury concerns, and are both coming off a Bye week, so this should be a well-played game. Bettors love the Crimson Tide with extra time to prepare and it will be interesting to see whether this line increases to -7.5 or drops to -6.5. Sportsbooks around the market will be keeping a particularly close eye on the tickets and money in this one.
Nebraska at Ohio State (8pm ET Saturday)
Nebraska covered but lost last week at Wisconsin, while Ohio State won but failed to cover against Northwestern. The Buckeyes have been vulnerable over the last couple weeks while Nebraska continues to impress, even with their road loss at Wisky. Public bettors have noticed this, as 67% of early tickets are taking the road underdogs. However, Ohio State has moved from -13.5 to -17 around the market despite just 33% of tickets, a clear indication that sharper money is taking the Buckeyes. At -17 the value is mostly gone, but if it dips again it may be a good spot to take the big home favorites.