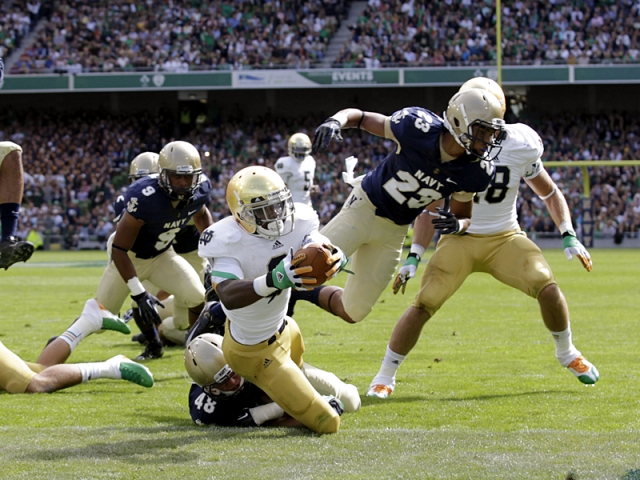 2016 College Football Week 10 Line Moves That Matter
Every week in this space we highlight the most interesting line moves at the market-setting offshore sportsbooks — typically Bookmaker and Pinnacle — which take the highest limits and therefore attract the sharpest bettors. By contrasting the opening and current lines with the public betting trends from our seven contributing offshore sportsbooks, we're able to determine how public betting has affected the line.
We are also proud to announce that in addition to our public betting percentages, we now offer real money percentages, which reflect the percentage of total dollars wagered at one of the sharper offshore sportsbooks. This allows bettors to easily monitor all the factors influencing line movement.
Using the information available to Sportsbook Insider subscribers, I have examined the latest public betting trends to determine what's moving the line in three Week 10 matchups.
Navy vs. Notre Dame (Saturday at 11:30 AM eastern)
After blowing a 20-point lead last week, Notre Dame's Justin Yoon kicked a 23-yard field goal with just 30 seconds left to give the Fighting Irish a 30-27 victory. Despite that win, Brian Kelly's squad is sitting on a 3-5 record — a massive disappointment considering the team's preseason Top 10 ranking. Conversely, Navy has exceeded expectations with a 5-2 record including an impressive victory over Houston.
Playing on neutral turf in Jacksonville, Florida, Notre Dame opened as 5.5-point favorites at the market-setting Pinnacle sportsbook. Although the Fighting Irish are receiving just 39% of spread tickets, they have actually moved from -5.5 to -6.5. This reverse line movement can be easily explained by our money percentages, which show that Notre Dame is receiving 70% of total dollars wagered.
[click image below to enlarge]

The line chart above, which is available to Sportsbook Insider Pro subscribers, shows that there was a steam move triggered on Notre Dame -5.5 on Monday morning. This caused the line to move from Notre Dame -5.5 to -6.5. It's also worth noting that several oddsmakers (including sharper sportsbooks like Bookmaker and 5Dimes) have already moved to Notre Dame -7. This highlights the importance of always shopping for the best line.
Iowa at Penn State (Saturday at 7:30 PM eastern)
In this battle between Big Ten rivals, Penn State opened as 5.5-point home favorites at Pinnacle. Although the public betting has been evenly split, the Nittany Lions have moved from -5.5 to -7.5. This two-point line move can also be explained by our money percentages, which show that Penn State is receiving 73% of total dollars wagered.
[click image below to enlarge]

Although it's important to understand which side is receiving the majority of tickets, it's far more important to understand which side is receiving a majority of the money since that's what's responsible for major line moves. Bettors should also understand that these money percentages can fluctuate significantly, especially later in the week when limits are raised and sharper bettors start taking sides.
Penn State sits at #12 in the first release of the College Football Playoff rankings, and it's worth monitoring whether that ranking changes public perception later in the week. Even after the two-point line move, I would anticipate that casual bettors will gravitate towards the home favorite in this matchup.
Alabama at LSU (Saturday at 8:00 PM eastern)
In this week's most heavily bet game, Alabama opened as 7-point favorites and the betting has been extremely one sided all week. According to our public betting trends, the Crimson Tide have received 80% of spread tickets and 71% of spread dollars.
[click image below to enlarge]

With the market steadily pounding Alabama all week, oddsmakers have been forced to adjust their number multiple times, eventually landing at the current line of Alabama -8.5. Based on these trends, it appears that public money is largely responsible for this 1.5-point line move.
The screenshot below displays the public betting percentages at each of our contributing sportsbooks.
[click image below to enlarge]

Interested in checking out our new money percentages and line charts for the entire slate of Week 10 games? Sign up now for a 4-day trial of Sportsbook Insider Pro.
In addition to the features shown in this post, subscribers also have access to our entire suite of live odds, public betting trends, steam moves, smart money alerts and our in-house Best Bet picks. This week we have six pending college football Best Bets including:
Iowa at Penn State
Oregon at USC
Washington at California
Have any questions for the staff at Sports Insights? Make sure to utilize our live chat or call us directly at 877-838-2853.