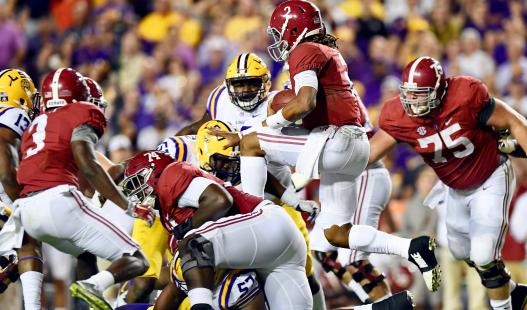 2016 College Football: Week 10 Betting Recap
In Week 10 Alabama narrowly beat LSU 10-0 in a game that was scorelesss at halftime. Ohio State demolished Nebraska 62-3 in the other marquee matchup, but there were also a number of big upsets around the nation. Below shows some of the biggest as well as trends, nuggets, and futures.
Week 10 Trends via BetLabsSports.com
Visitors: 31-29 ATS
Favorites: 34-27 ATS
Unders: 31-30
Faves getting <50% tickets: 11-6 ATS
Biggest Week 10 Moneyline Upsets
UTSA +843 at Middle Tenn St
Charlotte +698 at Southern Miss
Illinois +313 v Michigan St
Mississippi St +298 v Texas A&M
Betting Nuggets
Miami Ohio (opened +3.5, closed -1) beat Central Michigan 37-17 on Friday night. Redhawks have now won 4 straight to go Over their Season Win Total of 3.5. You can view the Season Win Totals prior to the season for every school right here.
Kansas closed +31 at WVU, the 18th time that the Jayhawks have closed above +30 in conference games since 2010 (now 6-12 ATS in those games after losing by 28). That's twice as many as the next closest teams– New Mexico with 9 times (5-4 ATS) and Colorado with 7 times (0-7 ATS). The rest of the NCAAF has closed above +30 in conference play a total of 97 times in that span.
Texas Tech has closed with only 2 totals less than 80 pts this season. On Saturday the Texas/TTU total opened at 80 and reached 85 behind more than 90% of the money, and the game ended with 82 points. The lowest closing total of the season for a Texas Tech game has been 68.
Unders between military academies have now gone 27-7 since 2005 and more than 90% of early tickets were on the Air Force/Army Under. The total originally opened 51 before dropping to 46 amid some injury concerns for Air Force QB Nate Romine. Nonetheless, the game went under both the opener and closing total with Air Force winning 31-12.
Alabama/LSU was by far the most bet game of the day, receiving nearly twice as many bets as any other game of the day. Public bettors cashed, as 70% of tickets took the Crimson Tide (-7) to cover on the road which they did, winning 10-0.
Heisman Watch
Louisville QB Lamar Jackson entered the week at -300 odds to win, with the next closest (Dashaun Watson) listed at +700. The Cardinals were -26 at BC this weekend and crushed them 52-7. There were some very lofty prop bets for Jackson's game at BC and he came through big time, throwing for 4 TDs and rushing for 3 more. In case you needed a reminder why he's the clear frontrunner, here's his game-by-game log this season:

Key Injuries:
As we get later into the season, more and more key players are banged up and there are a number of key QBs, RBs, and WRs questionable for next week. Track all player injuries for free here.