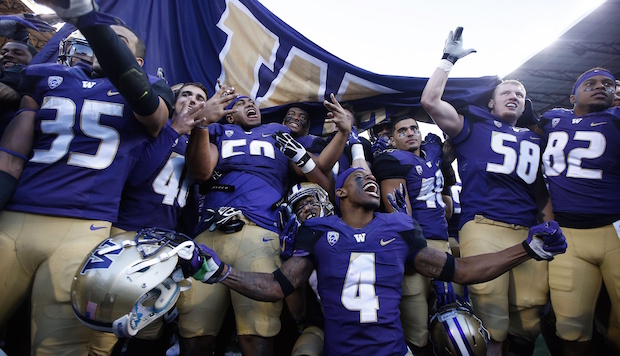 2016 College Football: Season Betting Recap
Conference Championship games are now over and the only regular season game left to be played is Army/Navy on Saturday. Below we've recapped the entire season thus far including betting trends, biggest upsets, nuggets, futures and more.
Season Trends
Via our friends at SharpFootballAnalysis.com: From 1980-2014, there were 6 seasons where favorites hit more than 52% of games ATS. In each of the subsequent seasons, favorites hit <50%. Then in 2015, favorites hit at 52.35%, so we were expecting a bounce back year for underdogs and that did not disappoint. Underdogs went 423-381 ATS in 2016 for a 52.6% ATS rate (favorites went 381-423 ATS for a 47.4% rate).
Road teams went 405-374 ATS
Unders went 422-392
Best Teams ATS
Temple 12-1
Colorado St 10-2
Colorado 10-3
Worst Teams ATS
Arizona 2-10
UConn 2-9
Florida Atlantic 2-9
Oregon 2-9
Biggest Moneyline Upsets
South Alabama +3000 at Mississippi State
Eastern Washington +2750 at Washington State
Kentucky +1726 at Louisville
Iowa +1203 vs. Michigan
Albany +1125 at Buffalo
SMU +1102 vs. Houston
Underdogs of +250 or greater on the moneyline did exceptionally well this season, going 88-423 for +44.15 units won. All underdogs were up +54.5 units on the moneyline this season.
Betting Nuggets
Miami Ohio became the first team ever to start the season 0-6 and then win 6 in a row.
Boise State went 10-2 in the regular season but 0-12 ATS on the 2nd half line, a feat that is very difficult to do.
Fresno State and Old Dominion were the only undefeated ATS teams at home (5-0).
Temple went 6-0 ATS on the road. Wisconsin, Colorado, and Colorado State went 5-0 ATS on the road and BYU went 4-0 ATS on the road.
The ACC performed the best in non-conference games (30-21 ATS) while Conference USA was the worst (20-29 ATS).
Ohio was the best UNDER team, going 11-1.
Pittsburgh was the best OVER team, going 11-1.
The LOWEST total for any Texas Tech game this season was 68 points. The HIGHEST total for a BC game all season was 57 points.
Unders have gone 2-0 between Military Academies this season, and are now 27-7 since the 2005 season. There's no total out yet for Army/Navy but be on the lookout because steam will hit the Under early.
Here were the most-bet games of the season:
1. Louisville/Clemson
2. Stanford/Washington
3. Alabama/LSU
4. Ohio St/Oklahoma
5. Michigan/Ohio St
The team getting the majority of spread tickets went just 1-4 ATS in those games, further proving how crucial it is to look at ticket #'s when fading the public. It's also interesting to note that Michigan/Ohio St was a noon start yet still attracted the 5th most tickets of any game this season.
Conference Winners w/Preseason Conference Title Odds
Big 12: Okla -115
ACC: Clemson +165
SEC: Bama +185
MAC: WMU +240
MWC: San Diego St +285
CUSA: WKU +350
Pac-12: Wash +650
AAC: Temple +750
Big Ten: Penn St +6000
Heisman Odds throughout the season:
Lamar Jackson was incredible from start to finish despite Louisville dropping two late games. The last available odds on Jackson were -1950 at 5Dimes with the field listed at +900. Jackson was +11000 (110:1) to win it before the season started.
Potential Playoff Teams

Team
Preseason
Playoff Odds
Preseason
Title Odds
Highest
Title Odds
Current
Title Odds
Alabama
+125
+600
+600
-325
Clemson
+155
+800
+1200
+1000
Ohio State
+195
+1000
+1000
+550
Washington
+500
+4000
+6600
+1000
Before the season, LSU, Michigan, Clemson, and Ohio State received the most MONEY wagered at William Hill to win the NCAAF Title. Over at CRIS, it was FSU, Alabama, Clemson, LSU, and Ohio State receiving the most TICKETS to win the NCAAF Title. At Westgate, LSU received the most money wagered to win the NCAAF Title. Clearly LSU was a popular pick but were not able to qualify for the 4-team playoff. Clemson and Ohio State were also popular (and smart) picks to win it all, as there are now hedging opportunities.
Major Coaching Moves:
Tom Herman (Houston to Texas)
Charlie Strong (fired from Texas)
Ed Orgeron (LSU interim to permanent HC)
Darrell Hazell (fired from Purdue)
Trent Miles (fired from Georgia State)
Mark Helfrich (fired from Oregon)
Kevin Wilson (fired from Indiana)
Brian Polian (fired from Nevada)
Charlie Partridge (fired from FAU)
Ron Caragher (fired from San Jose St)
Tommy Tuberville (stepped down from Cincinnati)
Jeff Brohm (Louisville to Purdue)
And finally here are links to Season Win Totals, Conference Title Odds, and Game of the Year Free Picks.