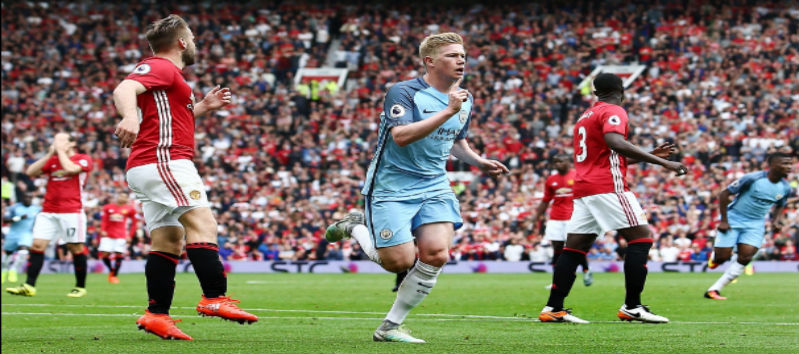 2016-17 Premier League: Week 5 Betting Preview
Week 4 was much better for moneyline dogs, with Man City +260, Watford +246, Crystal Palace +240, Everton +115 and Bournemouth +110 all securing victories. Unfortunately my value picks went 1-2 after a late Hull goal tied Burnley, and Man United couldn't quite grab the equalizer against Man City. Value picks are still slightly profitable so far with +0.95 units on the season, and we've got a long ways to go.
Week 4 Results
Arsenal -160 vs. Southampton
Liverpool -140 vs. Leicester
Tottenham -105 at Stoke
Bournemouth +115 vs. West Brom
Everton +116 vs. Sunderland
Burnley/Hull Draw +215
Crystal Palace +240 at Middlesbrough
Watford +246 at West Ham
Man City +260 at Man Utd
Swansea/Chelsea Draw +325
Season Trends Through 5 Weeks
Home: 14 wins of 40 (-8.90 units)
Away: 16 wins of 40 (+1.06 units)
Draw: 10 wins of 40 (-3.70 units)
Chelsea at Liverpool kicks off the Premier League slate on Friday afternoon at 3 pm ET. There are just 5 games on Saturday with another 4 on Sunday, so the schedule this weekend is a little bit different. Let's get into the action for some of the games presenting value.
Starting with Friday's Chelsea/Liverpool game, I initially was ready to back the home team at plus odds, but had to catch myself. Liverpool have an extra day of preparation and recovery which is minor but still noteworthy. So far there's also been some small market-wide line movement on Liverpool but that could surely just be public money jumping on the Reds early on. Right now less than 10% of tickets is on the draw, and although I haven't found much success betting draws this year, I'm not about to shy away if I like the value. In this case I do like the value, and you can get the draw at +260 odds.
Another pick I like is Watford +1 goal (-110 odds) against Manchester United. This is mostly due to reverse-line movement, as Man United are a very popular bet among public bettors but they've moved from -185 to -155 at Watford. I don't necessarily make value picks solely on the market, but in this case there's definitely some sharper money on Watford in order to bring the line down. Watford get the benefit of a United team with only 2 full rest days (Man United traveled to Feyenoord and lost in the Europa League on Thursday night) and are playing at home. Although Watford has dropped both home games thus far (to Chelsea and Arsenal in back-to-back weeks), I think they can get a result or at least keep it close vs. United. At +1 goal and even money, I really like the value on Watford, and you may even get a better number closer to gametime after public bettors continue to hammer United.
Lastly, I'm taking Southampton -140 vs. Swansea. Nearly 60% of moneyline tickets so far is taking big dogs Swansea at +475 which has brought the line down, and I think there's some additional value on the favorite at this point. I've been low on Swansea all season long and although they earned a great point against Chelsea in Week 4, I think that result was a bit of an abomination. Southampton should have won at Arsenal and will be motivated to get back in the win column, especially at home against an inferior opponent who will definitely concede. Back the home team at -140 here and fade the public bettors taking a big road underdog.
Most lopsided: Tottenham, Man City, West Ham, Man Utd
Biggest Line Moves: Everton (-135 to -156), Watford (+540 to +450), Burnley (+625 to +565)
Value Picks: Chelsea/Liverpool Draw +260, Watford +1 vs. Man Utd, Southampton -145 vs. Swansea