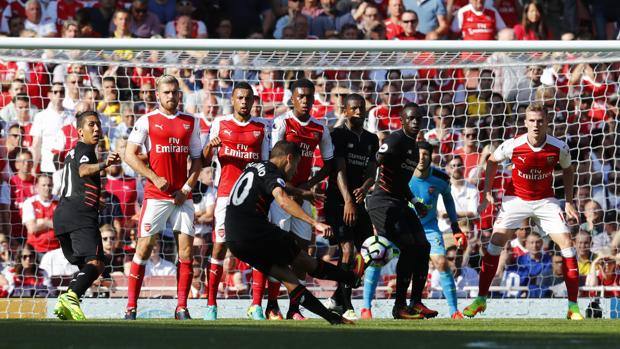 2016-17 Premier League: Week 2 Betting Preview
The opening weekend of the Premier League started off strong, with our value picks going 2-0 on Saturday (Stoke/Middlesbrough +225 Draw, Hull +0.5), but Sunday brought 2 losses (Arsenal +140, Bournemouth +0.5). Overall, value plays went 2-2 but still earned +1.25 units. Based on our betting percentages, the most lopsided public bets went just 2-4 (Leicester, Crystal Palace, Southampton, Tottenham, Man United, Chelsea) with the lone wins coming from Manchester United and Chelsea.
Here were the results in Week 1:
Hull +376 vs. Leicester
West Brom +282 at Crystal Palace
Swansea +191 at Burnley
Liverpool +190 at Arsenal
Man United -130 at Bournemouth
Man City -475 vs. Sunderland
Chelsea -190 vs. West Ham
Everton/Tottenham Draw +254
Southampton/Watford Draw +285
Middlesbrough/Stoke Draw +238
Defending champions Leicester City were upset by Hull in the opening match of the season, the first time that the previous season's winners had lost the first game the following season. Leicester City didn't quite look themselves and the departure of midfielder N'Golo Kante will take some time getting used to. Around the league there were 4 big road wins, 3 draws, and only 3 home victories.
Moving on to Week 2 and I'll start with Saturday's crucial matchup of Leicester City vs. Arsenal. These teams finished 1-2 last season in the league, but both got off to horrid starts this season with losses to Hull and Liverpool respectively. Arsenal opened as the small favorites on the road which may surprise some, but the Gunners defeated Leicester City in both league meetings last season. Despite Arsenal's trouble against some of the bigger clubs, they've found success against teams like Leicester and I like Arsenal to get a big road win this week at +155 odds.
Another match on Saturday where I think there's some value is Hull City vs. Swansea City. Both of these clubs got big wins in their opening match and Swansea are a small favorite to win again this week at home. [easy-tweet tweet="I was impressed by Hull last week and I like the draw at +265 against Swansea."]
Often times public bettors shy away from betting the draw, which is why you'll usually see betting percentages very lopsided on the favorite. The draw just isn't that enticing for the average bettor even though that's where the value lies sometimes. Everton/West Brom is a great example this week where most public bettors see a line of Everton +160 and get sucked in. Right now nearly 65% of tickets are taking Everton. However, with a low total of just 2 goals, I think a 1-1 draw is the most likely outcome, so taking the draw at +225 odds is where I'd lean.
Sunday's 'marquee' matchup is West Ham vs. Bournemouth, hardly an exciting match for neutrals. However, there appears to be some value on Bournemouth here as West Ham played midweek in the Europa League and have had to come to terms with some major injuries early in the season. Since opening, West Ham have dropped from -115 to +102 despite getting over 80% of tickets at CRIS. Although I lost on Bournemouth last week, I'll be taking them +0.5 goals again this week.
Most lopsided bet games: Liverpool (92%), Manchester United (89%), Manchester City (88%), Chelsea (85%), Tottenham (84%), West Ham (81%)
Value picks: Arsenal +155, Hull/Swansea Draw +265, Everton/West Brom Draw +225, Bournemouth +0.5 goals
And in case you missed it, here was my Premier League Season Preview written prior to the beginning of the year.