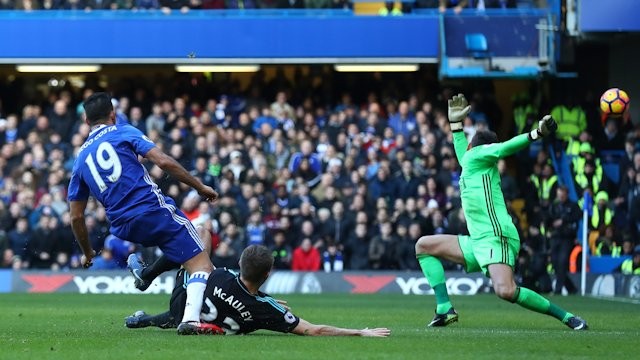 2016-17 Premier League: Week 16 Betting Preview
Home teams absolutely dominated Week 15, going 8-0-2. Unfortunately our two value plays suffered as neither Swansea/Sunderland nor Leicester/Man City were able to finish in a draw. Week 16 is right around the corner with Tuesday/Wednesday matchups instead of the weekend so don't wait to place your bets. Below shows Week 15 results, season trends, updated title odds, and a preview for Week 16.
Week 15 Results
Chelsea -358 vs. West Brom
Arsenal -320 vs. Stoke
Southampton -142 vs. Middlesbrough
Swansea +107 vs. Sunderland
Man Utd +119 vs. Tottenham
Watford +211 vs. Everton
Burnley +226 vs. Bournemouth
Hull/Crystal Palace Draw +232
Leicester City +441 vs. Man City
Liverpool/West Ham Draw +540
Season Trends
Home: 70 wins of 150 (+13.57 units)
Away: 42 wins of 150 (-42.98 units)
Draw: 38 wins of 150 (-0.60 units)
Title Odds at 5Dimes and Current Points
Chelsea +100 (37)
Arsenal +400 (34)
Man City +460 (30)
Liverpool +675 (31)
Tottenham +3000 (27)
Man Utd +3300 (24)
Chelsea are now the clear title favorites while books still don't feel great about Arsenal's chances. However, keep in mind it took until about March of last season for books to deem Leicester City the title favorites, and we know how that worked out.
There's really no marquee matchup in Week 16, and a number of road teams have a great chance of winning including Arsenal, Liverpool, Chelsea, Leicester, Man Utd, and Southampton. It's also a little bit tougher to analyze the market on such a short week, but there are still opportunities to be had.
First up will be the Draw between Bournemouth and Leicester at +244 odds. Both teams are coming off huge victories in Week 15– Bournemouth came back to beat Liverpool 4-3 and Leicester dominated Man City winning 4-2. Sportsbooks think that there will be a winner in this one, as both teams have better than +200 odds to win and the public agrees. The betting percentages are lopsided on both sides to win, with very little love for the draw (getting less than 10% of tickets). The public is also hammering the Over 2.5 right now but I don't see goals flying in for these teams like last week. This should be a tighter game than people expect so take the Bournemouth/Leicester Draw at +244 odds.
The other value play will be another Draw, this time between Southampton and Stoke City at +225 odds. There are a few reasons why I like this draw in particular– First off, the public is hammering Southampton at +150 odds despite their inconsistency this season. They've won 5, lost 5, and drawn 5 this season, so it's hard to tell what you'll get with them. I'm surprised the public loves them so much this week, especially since Stoke have been playing well lately. Stoke's also a tough place to travel to get a win, so I wouldn't want to side with the public here. I'm a bit tempted to take Stoke on the goal-line, but I'm not really convinced they'll win, so the value on Draw +225 is better.
Most Lopsided Around Market: 91% on Middlesbrough (+525), 79% on Arsenal (-116), 71% on Southampton (+150)
Biggest Line Moves at Pinnacle: Man Utd -122 to -147, Swansea +316 to +291, Chelsea -267 to -283
Value Plays (+9.31 units): Bournemouth/Leicester Draw +244, Stoke/Southampton Draw +225