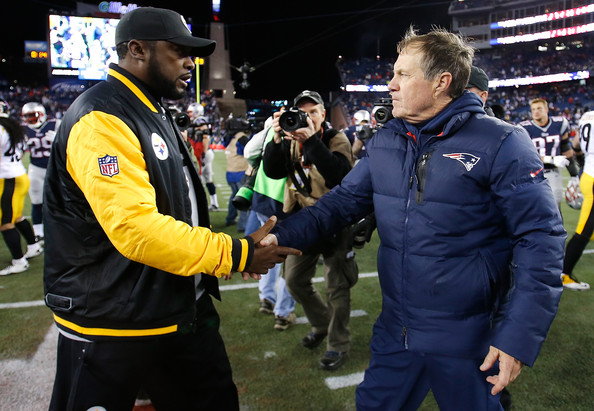 2016-17 AFC Championship Game Preview
The New England Patriots host the Pittsburgh Steelers in what will be another fascinating Conference Championship game. They are two of the hottest teams in the league, both undefeated since their Week 10 losses.
The Steelers and their "Killer B's"—Ben Roethlisberger, Antonio Brown, Le'Veon Bell, and Chris Boswell (No, that was not error. Give the man his due after kicking six freakin' field goals last week)—face a Patriots team that is dominant in all three phases of the game. The bad news for Pittsburgh fans is that New England has thrived against Steel City in recent years.
Since 2003, the Patriots are 6-3 ATS and 7-2 straight up (including a 3-0 record at home) with Brady under center versus the Steelers in the regular season and postseason combined (discounting '08 when Brady was injured). In the most recent game, Brady and Co. defeated Pittsburgh 27-16 and covered the 7.5-point spread, but that was under different conditions. Landry Jones was the starting quarterback, Rob Gronkowski was healthy, and the game was in Pittsburgh.
The table below displays the closing spread in the last 10 meetings between New England and Pittsburgh as well as the public betting trends.
| Date | Closing Line | Betting Percentage (Spread) | Result |
| --- | --- | --- | --- |
| 10/23/16 | NE -7.5 | 82% on NE | W |
| 9/10/15 | NE -7.5 | 65% on NE | L |
| 11/3/13 | NE -5.5 | 70% on NE | W |
| 10/30/11 | NE -3 | 72% on NE | L |
| 11/14/10 | PIT -4.5 | 58% on NE | W |
| 11/30/08 | NE -1 | 56% on NE | L |
| 12/9/07 | NE -10.5 | 61% on PIT | W |
| 9/25/05 | PIT -3 | 56% on PIT | W |
| 1/23/05 | NE -2.5 | 63% on NE | W |
| 10/31/04 | NE -3 | 61% on NE | L |
The Patriots opened as 6-point favorites at the market-setting Bookmaker sportsbook and the line has been fairly rigid since opening. The graph below illustrates the line movement in the AFC championship game throughout the week.

New England has received the majority of the spread tickets throughout the week and currently is getting 57% of spread bets. The same can't be said about the spread dollars, which has moved a considerable amount and are split. Pittsburgh is receiving 51% of spread dollars, yet there hasn't been much fluctuation in the line.
The Patriots moved to -5.5 shortly after opening, but that line has fallen back to the opening number. It's worth noting that we have not recorded a single steam or reverse line move on our bet signals page, which suggests that public money is responsible for these line moves. There's a chance we could see some sharp action later in the week when there are higher limits, so continue to monitor these lines.
There's also some interesting movement in this game's total. Weather reports indicate that there will be winds stronger than 10 miles per hour throughout the game. Oddsmakers at Bookmaker have already made adjustments based on that report, moving the opening total (50.5) down a half-point.
Interested in analyzing this data for both of the NFL conference championship games? Sign up for a 4-day trial of our Sportsbook Insider Pro software, for instant access to all of our betting/money percentages, bet signals, and Best Bet picks for all sports.
Have any questions for the staff at Sports Insights? Make sure to utilize our live chat or call us directly at 877-838-2853.